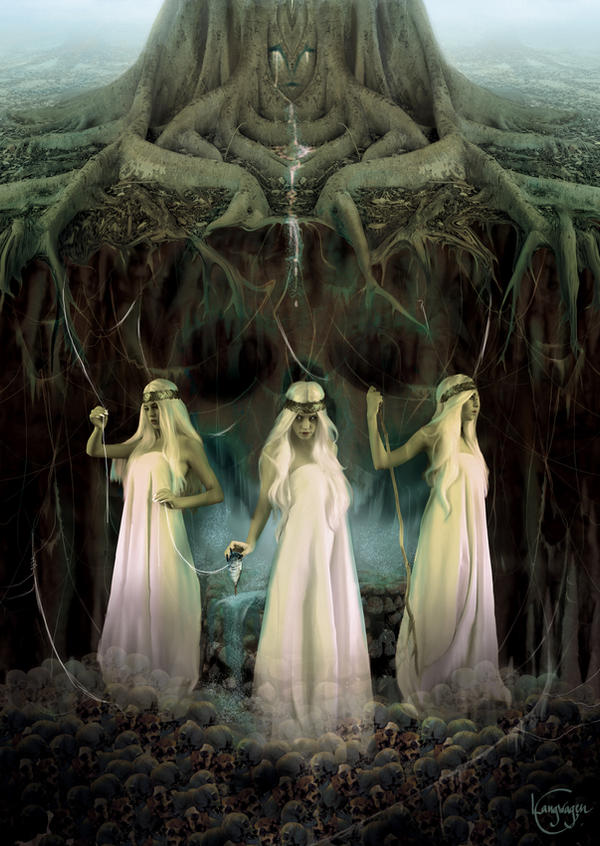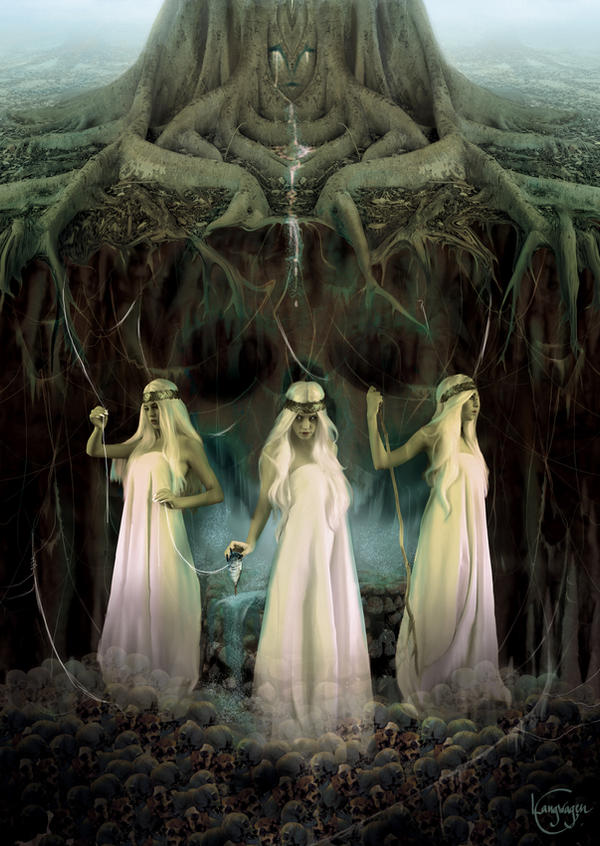 Watch
Dianae
s "Gods, godesses and mythology" contest.

A close-up version here
cassiopeiaart.deviantart.com/a…
I've spent a number of days on this piece, not getting it right until today. I knew when I saw the contest that i wanted to do something from the Norse mythology since I've always found it very fascinating. When looking for ideas I came across the beautiful stock models in
faestock
s gallery and I instantly knew that I would have to do the Norns. I was aiming for a quite dark, frightening look but I still wanted the norns to be hot and beautiful... Like dangerously attractive, they hold your life in their hands, you better treat them well!!

( All done in photoshop)
The Norns, also called the Three Weird Sisters are three godesses part of the Norse mythology. In my own language they are called "nornorna" and they are the Godesses of Faith. They live at the roots of the world tree Yggdrasil where they guard the Well of Faith while they are spinning the threads of life. Every human has a life thread that the norns control, they decide when it's time to cut it off and thereby end that particular persons life. They also decide if your life thread will be crooked and torn ( gives a hard life of suffering) or if its a sturdy, smooth thread (which gives an easy and enriching life ) and they also decide which other peoples threads will interact with yours. They are the ones deciding your faith before you are even born!
Thank you to these fantastic stockists:

for the models
faestock.deviantart.com/art/De…
faestock.deviantart.com/art/De…
faestock.deviantart.com/art/De…

for the tree
rogue-stock.deviantart.com/art…

for the big skull in the back
setenay.deviantart.com/art/sto…

for the skulls on the ground
alastock.deviantart.com/art/09…
alastock.deviantart.com/art/09…
alastock.deviantart.com/art/sk…

for the well
thejader.deviantart.com/art/Ol…

(myself) for the cave
castock.deviantart.com/art/Sta…
My art is NOT stock. You do NOT have my permission to use my artworks for anything other than reposting it UN-EDITED with full credit to Cathrine Langwagen and a link back to my website www.cassiopeiaart.com by the image if you do. My art is NOT in the public domain, it is copyrighted to me Cathrine ( or Katrine / Kat ) P. Langwagen and I reserve all rights to distribute, modify, post or sell my artworks. If you want to use my artworks for any project or business idea you may have, you have to purchase a licence from me. Please contact me at info@cassiopeiaart.com to discuss this with me.
.......