Others from this series: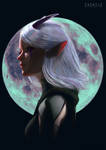 **EDIT**
had a layer order error with the horns, now fixed!
Hi again!
This time I couldn't resist to do a small fanart, because you should go and watch The Dragon Prince! It has better writing than most other random series these days. And the characters are quite diverse as well!
I wanted to write about so many things. Maybe the fanart topic would be more appropriate here, but that's quite boring with lots of legal terms and rules, so maybe another time instead. (also i'm sure it is talked about too much already anyway)
Let's discuss "
style
" instead.
I often see beginners and even professionals say things like
"
i don'T know about my style, i don't think i have found it yet
" or even "
i don't have a style lol
".
This is a terribly wrong approach to the term, i think, because you already DO have a style. Let me explain.
Style is essentially YOU. Yourself: the themes you choose, the color choices, the thickness and flow of your line-art, the forms and shapes you put into your work, the biometry of your character, the settings you decide on.
This all brings together a piece (music, visual art, sculpture, novel, whatever your art preference is) - so even if you are a beginner, you already have these things at your disposal.
The fact that you feel that you haven't gotten to the technical place that you wish to be, is altogether different.
Technique and complexity comes with experience. There is no going around that.
I know, everyone wants instant fame and recognition these days. I can never decide if it is trolling or actually just a confused child when they post literal stick figures into a group and ask why they don't have commissions. This does sound harsh to judge beginners, I know, but it is a MUST to be honest and ask yourself: how much time to you put into your work? And do you want to be a professional or a hobbyist?
Now this is from a professional perspective, so apply only to that:
You will never be good enough, and you will never be a professional if you don't practice AND research. Both are very important.
Practice is for the boring technical parts like shading, composition, anatomy, all the fundamentals you'll need. And research for your own personal growth;
Because this is what gives you a "distinct style"
Art is more about research, science, particular interests, and personality, and less about the technical aspects.
Think of the terms of writing: you cannot write about things that you have no idea about. You will first have to read a lot about a certain topic to form an opinion and have enough knowledge to even start explaining the things you wish to convey. This also applies to visual art of course. You can't draw a bicycle until you've seen one and looked at each individual part of it. Every single cog of the machine.
You will need to expand your visual library (follow as many artists and designers you can) and your knowledge about... well basically anything that interests you.
I know, not many people like nonfiction, but i think that is quite an important part of being an artist to know actual facts about things and apply that into your art.
(especially if you aspire to create stories - heh , this is why i decided not to publish anything while i'm a dumb teenager lol )
You'll have to try out everything that you like and figure out which things work for you best.
If you are curious do some studies in multiple artists' styles. There are these meme sheets for it: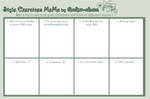 (see cool examples in that comment section!)
You can not only try to draw in multiple styles, but also do the art in multiple techniques : do traditional painting, traditional inking, digital drawing, photobashing, 3d, whatever you can expand your toolset.
You will learn so much, not only about art, but yourself as well!
It is important to recognize that each of us are completely different individuals with different experiences what sent us on divergent paths.
We all can do things completely differently and achieve maybe seemingly similar but still completely unique results.
Our brains are unique, so there is no such thing as the "ultimate art tutorial" at all. And never will be. You are the only one who can find it for yourself.
everyone can be an artist
But you will need determination and self discipline for it.
If you are posting into art groups asking for "how to art even" that is a dead giveaway of laziness, even entitlement.
I'm not even sorry for saying this.
You can just google every single technical word, listen to endless materials on YouTube, follow all the tutorials posted into millions of art communities.
Nobody will tell you how to do it and nobody will give you instant skills for it.
(i tried it so many times. directly giving all my tools, resources, many hours of my life teaching just to receive laziness and disinterest and complaining about not being popular)
Art is just as hard as ANY other job is. It is a life journey, and a career. It takes years, or even a full lifetime.
It is not about picking up a pencil and being amazing,
but discovery, self reflection, bettering yourself as a person , learning new things - and as a result,
You will fail
and fail again, so many times, just to discover what is that little thing that makes your experiences unique and possibly very interesting to everyone else:
and create something beautiful
I would love to hear your stories and opinions about your "style" journey!
Or just tell me something that you just learned :
Did you know there are horses with curly fluffy hair? This is a
Bashkir Curly, you're welcome: external-preview.redd.it/Xq4mg…
Elsewhere:
Facebook
www.facebook.com/cashileart
Instagram
instagram.com/cashileart
ArtStation
www.artstation.com/artist/cash…
FA
www.furaffinity.net/user/cashi…
ArtAmino
aminoapps.com/page/art/5673092…
DrawCrowd
drawcrowd.com/cashileart039f
Newgrounds
cashile.newgrounds.com/
Image details
Image size
2480x3508px 2.64 MB