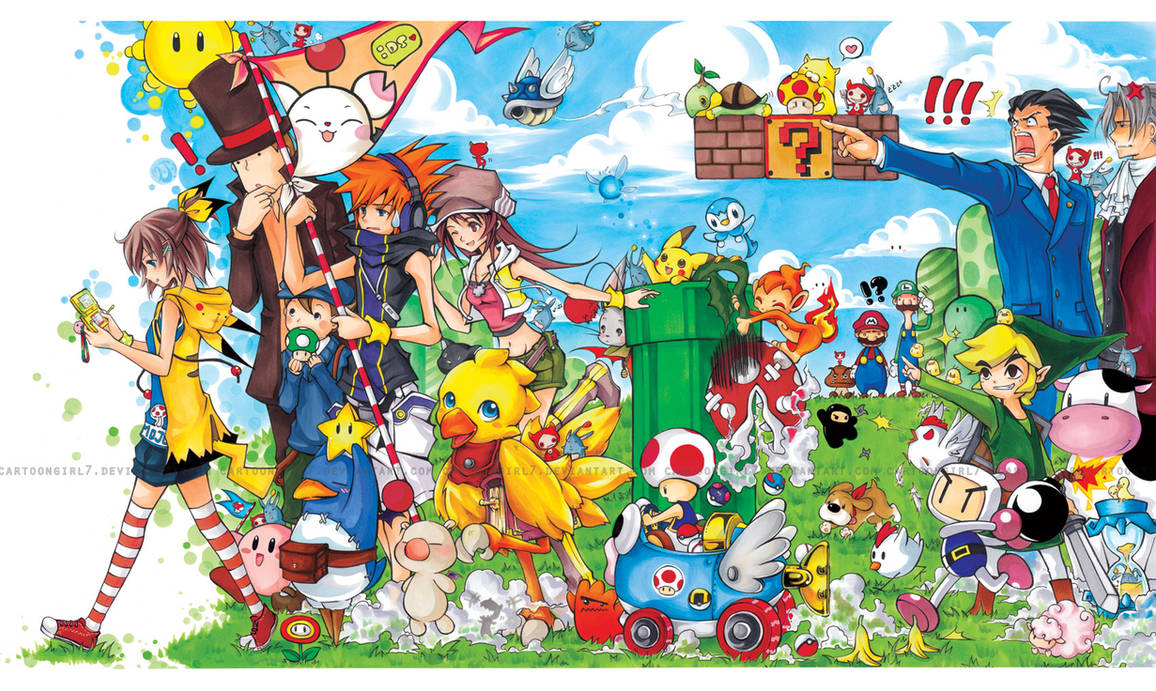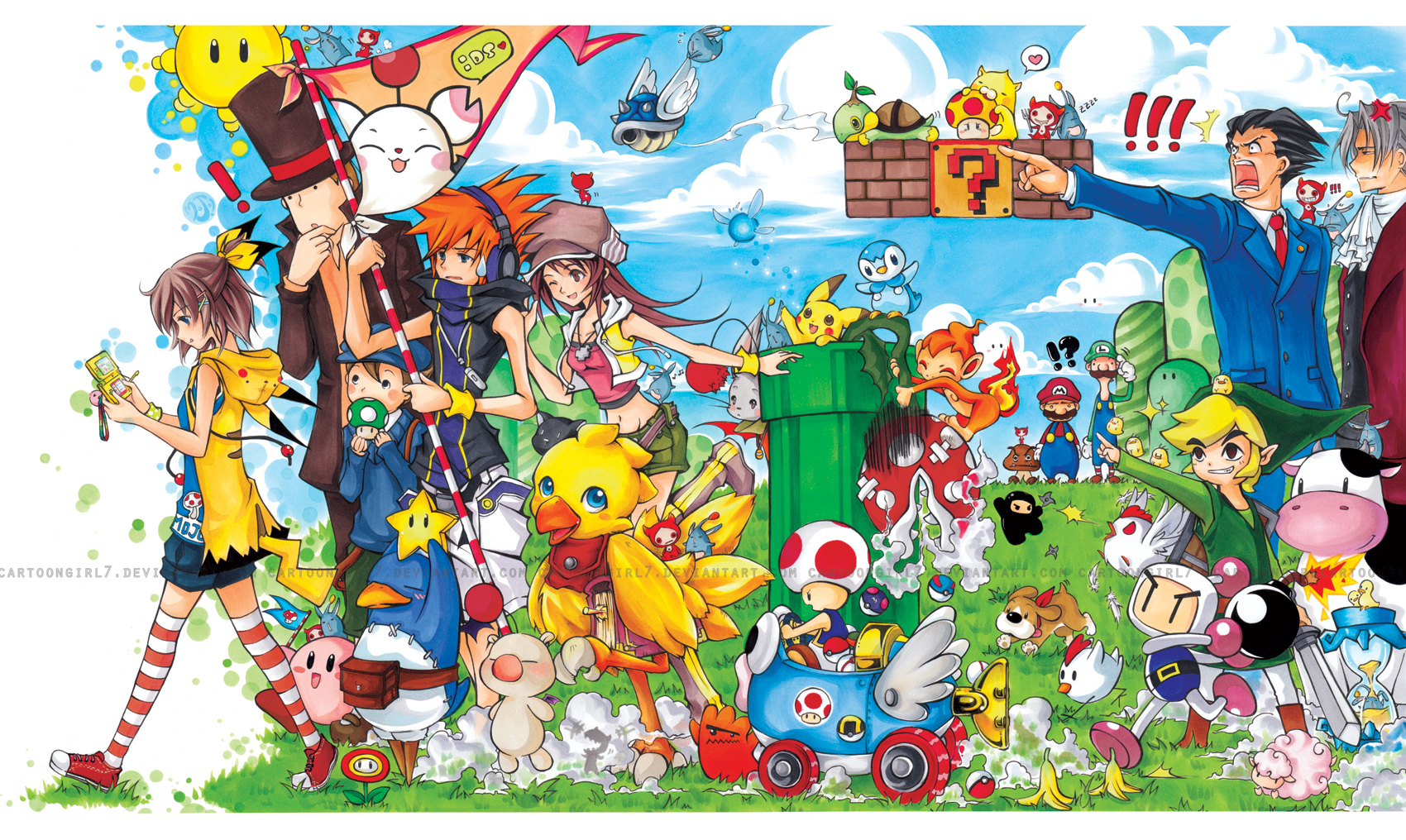 Watch
Time:
60+ hours.
Materials: TRADITIONAL.
Copic multiliner and Copic sketch markers.
Size:
3 pieces of A4 paper taped together (approximately 11.5 x 22 inches), digitally connected using Photoshop CS3.
WALKTHROUGH:
[link]
There are 18 Elebits total (the little red and blue creatures). Can you find them all?
If you guys were wondering about my sudden two-month hiatus, THIS WAS WHY. I've been working on and off (mostly off OTL;; ) on this piece for about 6 weeks in preparation for Anime Expo artist alley. Consider it a tribute to all the games and gamers out there!
The Nintendo DS is probably my favorite console along with my trusty old school PS2. DS ports many of my favorite series, so I figured I can cram them all into one picture since I'm too lazy to draw separate pictures of each of the O3O
It was very hard choosing which games to put in here. If I had more time and paper space, I'd stick quite a few more in there, but was big enough as it is. There is a total of 47 characters from 16 different games in this piece.
The sketching was the hardest and longest part, for sure. Coloring went relatively smooth except for those little elebits that's practically invading every corner of the picture. The smallest one is about 1/3 the size of my fingernail. I spent some time studying the art of each game because I didn't want to deviate TOO far from the original style. Each game has its own way of lining and coloring, and I tried to incorporate those aspects into my own style without having everything look like a huge mess. I ended up with a somewhat organized clutter.
Drawing and coloring the picture was only half battle. Connecting three separately scanned pictures took about five hours on its own. I became very acquainted with the clone tool because of this. Sadly, a lot of the colors and shades were lost through scanning. I had to go back and adjust individual colors to make it look like the original, but there are still some that can't be fixed (darn those reds and oranges) orz;;
Girl playing the DS in the front designed by me.
Game characters (c) whoever they belong to.

List of games included: Final Fantasy (Chocobo Tales, Tactics, Crystal Chronicles), Pokemon, Professor Layton, Super Mario, Mario Kart, World Ends With You, Kirby, Elebits, Phoenix Wright, Zelda: Phantom Hourglass, Harvest Moon, Disgaea, Bomberman, Ninja Town.
Also, I'M SORRY IF I DIDN'T INCLUDE YOUR FAVORITE GAME. I COULDN'T TAKE IT ANYMORE AFTER FILLING THREE PIECES OF PAPER.
The colors in this are eye catching and the fact you were able to fit so many characters into one piece and do such a good job at it amazes me. You did a wonderful job placing the characters, I especially love the interactions between different aspects of different games.

The one thing I can see to critique is the background objects, especially the blocks and the pipe, seem a bit flat. It's hard to sense much depth from those parts.

Other than that the background is wonderful, I really like the way you shaded the clouds and the sun is adorable.
The Artist thought this was FAIR
1212 out of 1270 deviants thought this was fair.
Now,
THIS
is somebody who knows how to use their COPIC markers to full use!
I'm simply stunned on how many recognizable video game characters are present in this piece. And I really like the idea of "Diving into the video game world" that this deviation portrays. You're just completely oblivious of your surroundings and your mind is only inside the video game. That's the message I really get from this deviation.
The use of the COPIC multiliners and Sketch markers are top notch and there is little to no flaw in the line art and the coloring! You did a great job transposing highlights to shades too.
That being said, the bright colors really bring out the liveliness in this piece, it feels so incredibly animated!
The composition is great too in my opinion. The characters are well-placed throughout the canvas. All nice and even.
You sure did an outstanding job on this one =
cartoongirl7
Good job!
The Artist thought this was FAIR
1039 out of 1082 deviants thought this was fair.