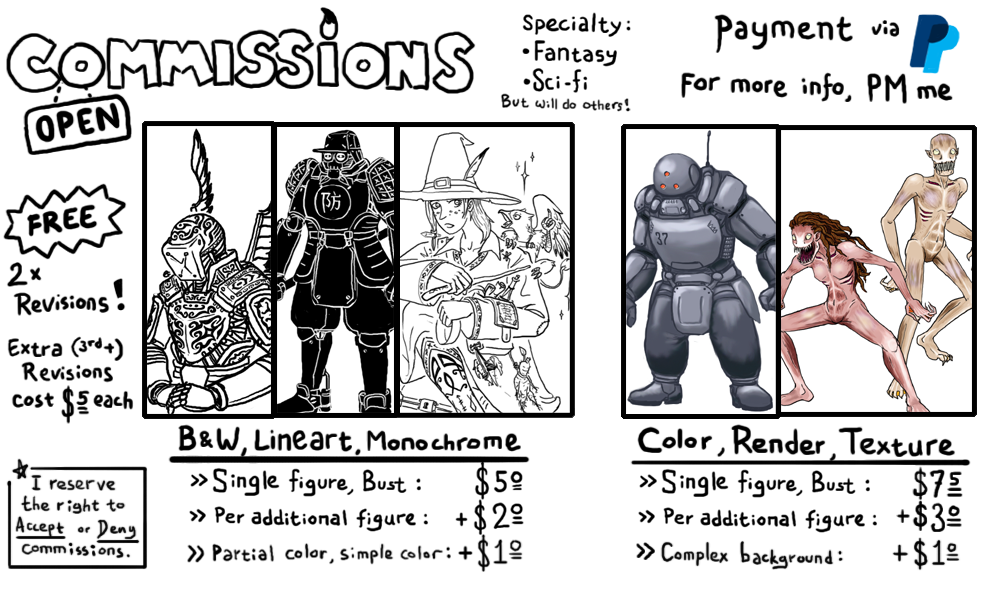 COMMISSIONS ARE OPEN!



Current open slots: 2
Hello and welcome! This is my first time trying to do commissions on DeviantArt, so please be gentle with me.
If for some reason the picture above doesn't load, here is the information contained in the picture:
Specialty:
Fantasy (medieval, non-medieval, DnD, Tolkien type stuff) and Sci-Fi (cyberpunk, mechs, spacecraft, futuretech stuff)
But still willing to do other genres!
Prices:
Black and White, Line Art, Monochrome drawings:

Single figure, bust, or portrait: $50 USD

Per additional figure: +$20 USD

Partial color, simple color (not cel-shade): +$10 USD
Colored, Rendered, Textured and Complex drawings:

Single figure, bust, or portrait: $75 USD

Per additional figure: +$30 USD

Complex background: +$10 USD

FREE: Two revisions per art piece. Third revision and up costs $5 each.

I reserve the right to accept or deny commissions.
My Terms of Service are:

I reserve the right to accept or deny commissions if the slots are full, or if the request does not meet my requirements (which is listed in this Terms of Service).
I reserve the right to post the completed artwork in DeviantArt and other forums/galleries as part of my portfolio.
I will credit any OC or other creative products that isn't mine that is used in the commission. Which meant, if it's yours, a link to your page will be added in the commission post.
You (the commissioner), may use the commissioned art freely. Personal use, commercial use, is okay as long as you inform me of its usage.
BUT! DO NOT RE-SELL SAID COMMISSIONED ART. YOU HAVE BEEN WARNED.
Please don't rush me. I will try to give progress reports, but delays may pop up without warning. This is a side effect of Real Life

® happening.

As mentioned above, the first two revisions are free. By revisions, I meant major ones, like pose or background etc. Minor revisions, like color or minor detail is free with each progress report.

No nudity or sexual acts, please.

No realistic portraits.

No bases/templates from other artists.

I usually draw at 1000 x 1000 pixels at a resolution of 72 pixels per inch, but this could be negotiated.

Payment via PayPal is preferred. PM me for more info.

For more info, you can PM me.


Thank you for reading!

p.s. spread the word if you'd like.