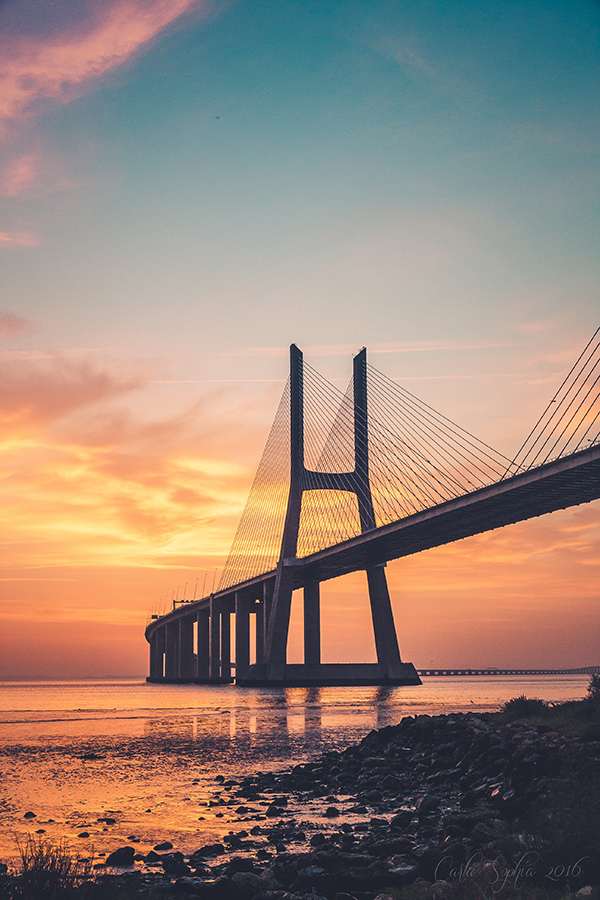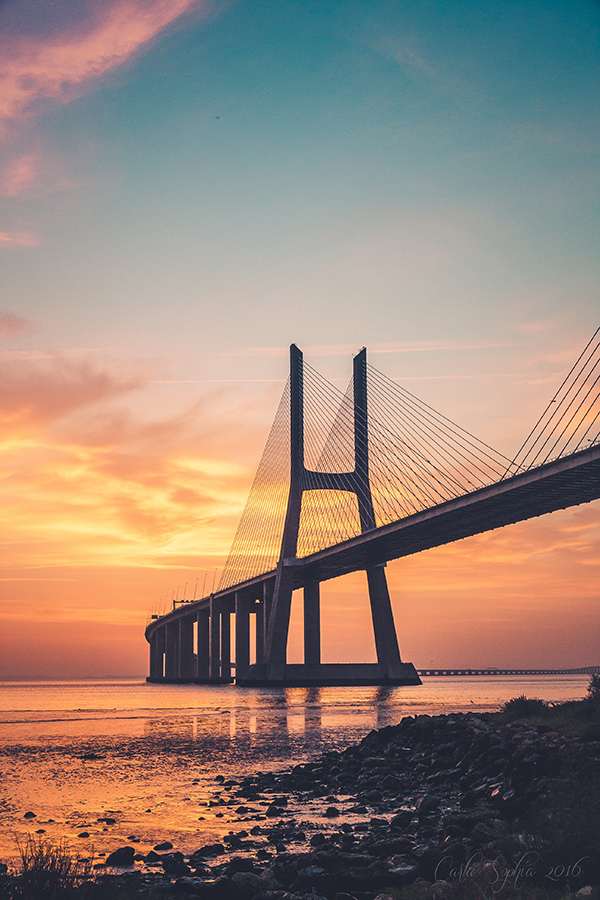 Watch
Lisboa, Portugal
Sunrise, 2016

Dedicated to someone I lost last year

My 365 day project
Buy my work!
RedBubble
Society6
Follow me!
500px

Carla Sophia's Photography and Art
Carla Sophia (@carlasophia7)
Forgotten World
+Carla

©Carla Sophia 2005-2017
All rights of this image are reserved to CarlaSophia and may not be used in ANY way without my written permission. No copying, no redistribution, no unauthorized use. Thank you!
Daily Deviation
Given 2017-09-14
Well, I don't have much experience in critiquing photography, but for you I will try, my dear.

I think this one might just be your best sunrise/sunset shot yet ("89 - sunset" and "108 - before the rain" will be strong contenders when the public sees them here in DA ). The contrast between the dark bluish shadows of the rocks and the bridge against such vibrant colours is really eye catching. The best sunrises/sunsets are those with a few clouds on it so that the sunlight going through them creates an amazing variety of colours at your disposal.
You've really captured this setting at the right time. A few minutes later and you lost the golden hour, as you can see in
073 - Sunrise
. All of the colours here are really soft, even the shadows which adds a nice touch and harmony, the differences in color don't scream at your face. I particularly love that you managed to capture the more deep blue sky at the top, still with that pink cloud as it helps balance the composition, almost by giving it a frame, like the rocks bellow do, to contain all the richness of colour seen in the water.
The only reason that I don't give full marks on this is:
1- This is not a new subject, not generally and not for you. You photograph Vasco da Gama Bridge a lot (granted, it's a great subject) always looking for that perfect moment. You can consider this to be the best you will have from it. I would like to see you move over to different things, new things (and I know you will, you're so far late here in comparison to your other photography pages, the public has no idea how much you've evolved)
2- There are a few dark specks in the sky (either dust or a bird maybe) that stop it from being more clean. That is a minimum thing though.
It just drives me mad how you still refuse to see how far you've come since you've started this project!! So thank you
TanyaSimoneSimpson
for giving this girl her second DD. Hopefully she now will regain a new breath to keep her journey going! This piece is truly worth of the feature!!

The Artist thought this was FAIR
3 out of 3 deviants thought this was fair.