"Shh!" Ayame is sneaking her way onto XPS!
I love the Tenchu series, and Wrath of Heaven (Tenchu 3) was my favourite,
so I've decided to give Ayame a 2020 makeover!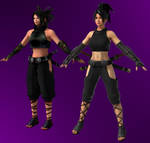 DOWNLOAD:
The download button is just below the preview pic (the downward arrow) :-3OPTIONAL ITEMS:
(hit Ctrl+A)
Almost everything is an Optional Item and can be toggled on/off (except for her underwear ofcourse!

)
KNOWN ISSUES:

Default Costume:
there is a little bit of clipping on the leather straps of her bracers when you bend her elbows,
part of the heel of her left shoe moves with the toe bone (no idea why!)
moving her shoulder bones far can make her shoulders clip through the back of her top!
Secret Costume:
In the Optional Items menu her shoes and fishnet-top both say they are on when they are off, and off when they are on!
(not really an issue, but an annoyance!)
her hiparmour and belt can clip a lot with her legs/back, there are hiparmour bones though,
so you can move them around to fix/lessen clipping issues :-3
RECOMMENDATION:
I'd recommend that everyone who uses XPS downloads
Large Address Aware
!
it removes the memory limit from XPS, getting rid of all of those pesky memory errors!
:-3

BLENDER:
as with all of my models she might not load into blender (it'll take a long time),
she was made for XPS/XNALara :-3
RESOURCES USED:

Default:
|
Body + Gloves
|
Head
|
Hair
|
Bracers
|
Top
|
Scarf
|
Belt
|
|
Belt Buckles
|
Pants
|
Swords + Sheaths
|
Shoes
|
Leg Straps
|
Secret Costume:
|
Top
|
Boots
|
Hair
|
Hipguards
|
Headband
|
Wristbands
|
Swords + Sheaths
|
CREDITS:
Xelandis, bstylez, Sticklove, xKamillox, XPS-Fanatic, zareef, Darklack, fightfanz, OGLoc069, rolance, KoDraCan, Shuubaru,
Toshiiekyoko01, zareef, SumireJaganshi, FallingAlyx
I can't thank my good friend
Xelandis
enough for helping to sort out my clipping woes!
thanks Xel!

Model created using XPS,Photoshop and patience!
Preview art rendered using Octane Render.
UPDATE: 10/9/21
i've added her
'Secret costume'
from Tenchu 1! ;-3
let me know if you find any bugs!
now get stabbing those baddies!