CardSharks are a series species featuring magical shark-looking animals with some rabbitish features that you can adopt. The higher the card number, the more extravagant the traits become! Also open for anyone to make~



Hello, and welcome to the CardShark group!

Me (call me Tudime) and my partner (call her Phoring) search the mysterious floating island of Mejika for new cardsharks to partner off with visitors like you! The further out we explore, the higher numbers we come across which means more and more snazzy appearances and powers that could potentially catch your fancy?

If you'd like to know more about us, take a loot at these species references here:


Aaannd if you'd like to make your own cardshark, you're free to use these blank cards~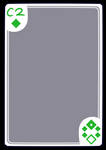 We hope to see you around in the future!