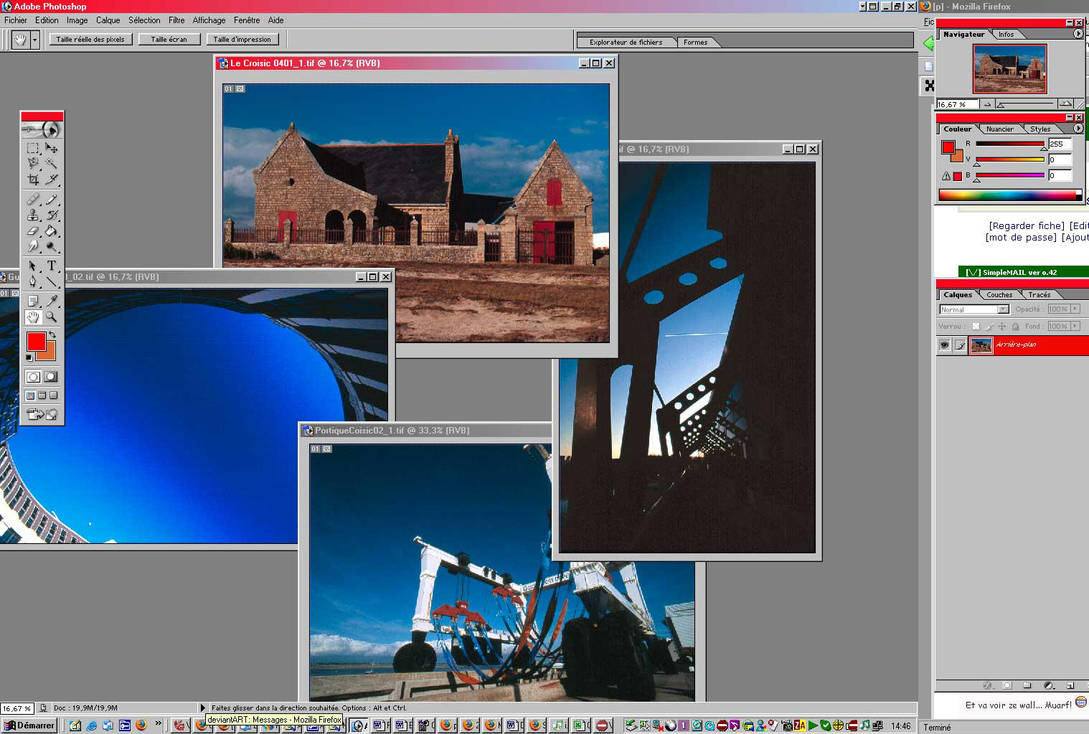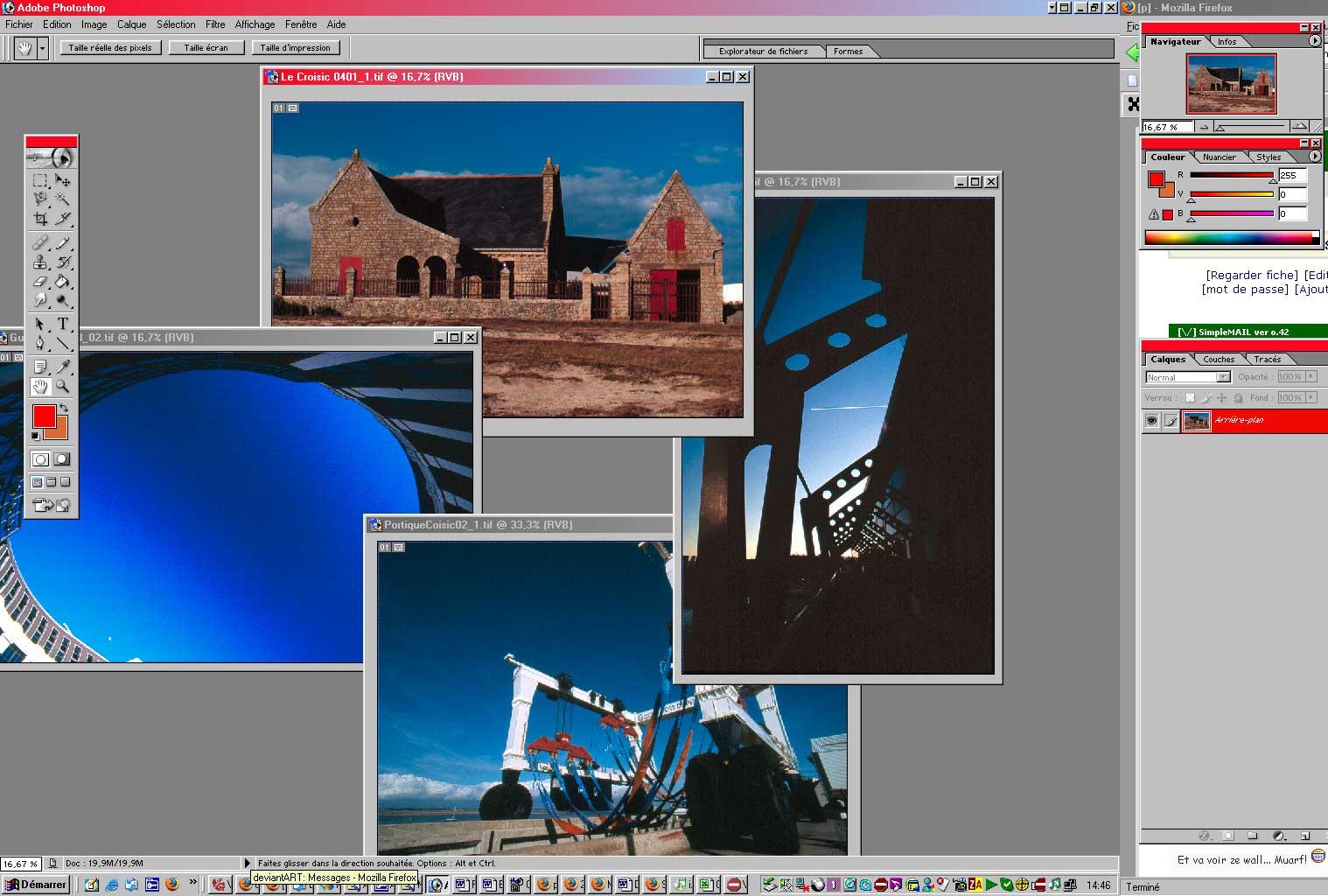 Watch
Very strange ... I opened Photoshop 7.0 and 4 pictures ... and what can I see on my screen ??? ... Photoshop decided to put the pictures in a very strange order


... Photoshop is intelligent so ... and makes some joke when he want !!


Humm ... everybody have understood that it's me who make that !!


By the way ... all the pics are mine ... and are in my gallery

ça ne serais pas parano derriere qu'on vois ?

Reply

Euh . .voui !!


Dailleurs c'est la "vieille" version de Firefox .. ça date ce truc !!


Tu y es sur Parano ??


Reply

Et bah il y en a un paquet de truc ouverts dans tout les coins... Et il te fait jamais de malheur ton PC ?

Reply

Ouaip .. je ferme pas .. sauf quand y a besoin de redémarrer .. je déteste les programmes qui veulent redémarrer

..
Sinon pas de malheur nan ... sauf la mémoire virtuelle trop faible quand je demande trop sur toshop .. genre 20 applications ouvertes et toshop avec 10 grosses imlages ouvertes dedans !!

Reply

avec 10 grosses images tu aurais la mémoire virtuelle trop faible ? Ah bon....
C'est pas des grosses images alors

Reply

Ah parce que toit ça merdouille avant !!


Aussi sur Cubase avec des fichiers wave de 1 Go .. mais c'est surtout toshop qui râle !!


Reply

Ah ouais avec mes fichiers le totoshop il commence à râler dès la deuxième image.... Faut dire qu'elles ont plusieurs Go de fichier temporaire chacune....
Reply

Je viens de passer "windaube 2000 plante" à 4 giga de mémoire virtuelle .. il a planté en masse à cause de la mémoire virtuelle avec un méchant écran bleu !!


Reply

excellent

moi j'adorre quand ça rame un peu et que y'a ta photo qui apparait dans les fenetres des outils photoshop

..eh, tu fais combien de trucs en mme temps?!!


Reply

Euh .. toujours des tas de trucs en même temps .. et puis j'éteind pas mon ordi la nuit pour rien perdre !!


Quand il se mets à ramer au bout de 8-10 jours d'affilée je le re-démarre .. et hop c'est reparti !!

Reply

lololol

je vois le truc
... moi mon disque dur commence à etre petit... et j'ai du choper quelques merdes , ça commence à ramer un pau :\ , ça sent le reformatage tout ça!
Reply

Ohhh .. pas utile de reformater pour si peu ...


Reply

je sais

mais quand ça saoule, ça saoule et j'ai des solutions assez radicales

Reply

Ouai mais faut tout réinstaller

.. pas super


Avec tous les softs installés sur mon ordi .. trop long ..

Reply

wow.... like a penrose rectangle

Reply