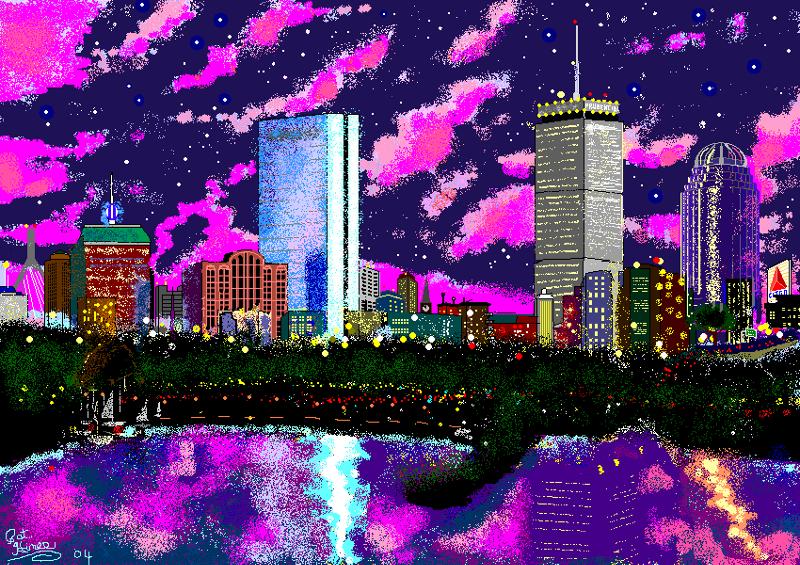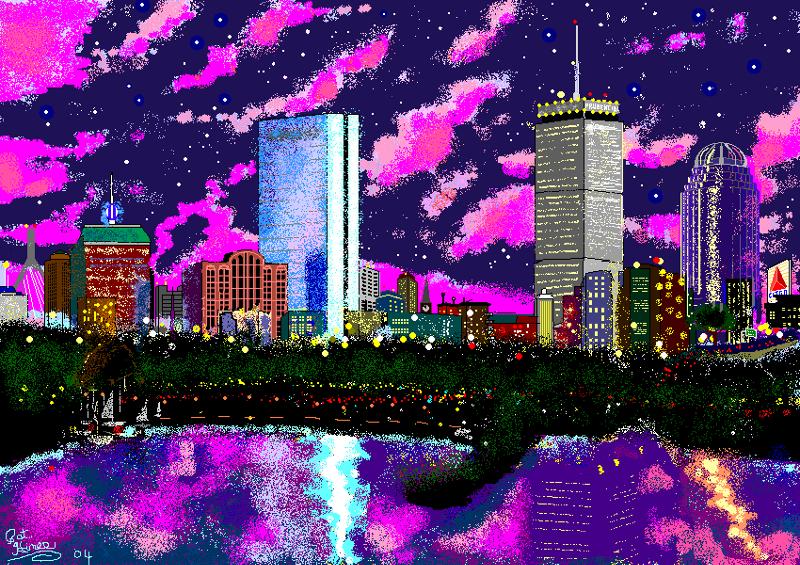 Watch
This was my second or third MS Painting, from way back in 2004. I thought it was the shit back then, now I'm horrified at the shoddy work on the smaller buildings, the hot pink clouds, and my over-reliance on the Spray Can feature. I think Spray Can is to be avoided at all costs. Still, this one has some sentimental value, as it's my hometown.

Might look crappy now, but this kind of stood out to me having its own style of drawing. x3
Nice one for back then mate, cheers!~
Reply

You could always spray can first then go over your lines once more with maybe a thicker brush. That's how I work most of the time...
Reply

Reply

Oh wow, that's really extra neat!
I was wondering what were your dimensions for your comic pages?
I also tried making one in the past but I had to draw the panels separately then compose them all together via photoshop.

But really, MS Paint is indeed the best!
If I could have my way, I'd probably use it for all my other work related stuff but alas the corporate world isn't as appreciative of the said program as us.
Reply

Something I've learned all too well! However, the computers provided in the corporate world usually come equipped with MS Paint, which means I've been able to draw in just about every cubicle I've ever inhabited.

I usually make the dimensions huge; it cuts down on MS Paint's often jagged lines and reduces pixelation. The dimensions we about 21x31 inches, which I thought was standard bristol board dimensions for comics, but could be wrong.
Reply

I understand! Availability of the said program is but a given fact (not unless everyone would be given a Mac as their default PC,which I doubt) but it really boils down to clients wanting movable layers and all those editable shit that other programs could provide.
Oh cool, I never really gotten my dimensions in the right order. Working on bigger pieces could also be a bit tedious at times. I work at a decent size, small enough to be finished in a day but big enough to be sold as prints!

Reply

With this, I believe that you really used MS PAINT in all of your works! I can't use the Airbrush this well! Oh my! Really, really, love it!!! Since I am a clip art maker in MS PAINT, because of this I am sooooo INSPIRED!!!





It's just so beautiful!!!




Reply

Thanks for your kind words! This is actually my oldest MS Painting on here. I'm currently illustrating a book I wrote using the program, not sure if that's been attempted yet!
Reply

WOW!

That's awesome!!! What kind of book? It would be very nice to read a book with awesome illustrations like the ones you submitted using MS PAINT!!! If its you, it'll surely be wonderful! Keep up the great work!!!

Reply

I live right in the south end!!Where are you?
By the way I love" your" "view"of Boston!! Pretty clever ;~)

Peace & Love,
Old Hippy Lady
www.etsy.com/shop/sunnyshadefeathers
Reply

Thanks! This is one of my old old ones. I'm from Roslindale.
Reply

Well, I really like your work, it's got some real personality!! Now my art is in mixed media...I make fancy roach clips from feathers, jewelry, stuff like that..for medical marijuana users. Check out my profile here, I have some of my work here, and also on etsy.com/shop/sunnyshadefeathers

Peace & Love,
Old Hippy Lady
Reply

Next time save it under PNG...it'll look better <3
Reply

You're an extremely skilled MS Painter.
Reply

Not as good as what you do today, but there's a beginning to everything

And it's interesting to see the evolution of your technique, even if I think too that the spray can tool is the weakest point of MS paint.

Keep up the good work !
Reply

Thanks for the kind words. I actually started a re-do of this one at one point, but decided to just let it stand as it is, warts and all. Down with Spray Can.
Reply