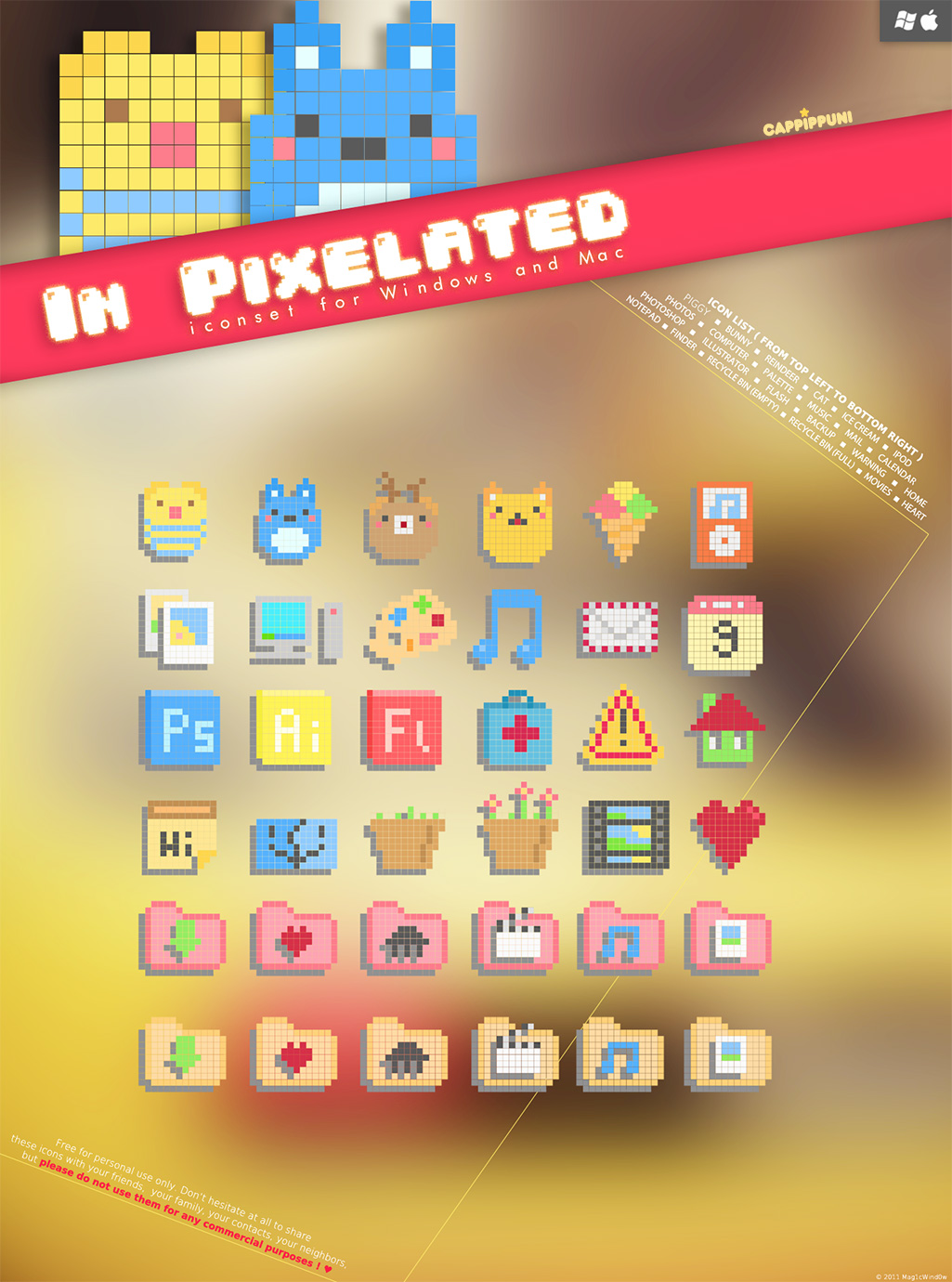 Yaaaay my first Daily Deviation!!!


Thanks a lot to `jcroxas for suggesting it and `Hardrockangel for the feature!
And special huge thanks to everyone for your comments and faves! Thank you!!









Finally done a retro-inspired icon set!

Inspired by the 8bit graphics of the retro consoles of our childhood, namely the famous Nintendo's NES or Sega Megadrive, I wanted something... vintage and pixelized.
This icon set was very simple to create: a grid divided into squares, then fill them with the colors of your choice, and voilà! Easy as pie (and minimalistic)! Oh yeah! : D
This icon set is compatible with Windows and also with OS X, both corresponding versions are included into the package. Choose the corresponding version depending of your operating system!
As usual, feel free, and don't hesitate at all to share these icons with people that you really like, but
please, please do not use these icons for ANY commercial purposes!
: )








Tutorials:

How to change icons in Windows Vista/Windows 7/Windows 8

How to change icons in Windows XP

How to download file on deviantART








My others icons set:
---
© 2011 Cappippuni. Reproduction, distribution or modification on my works not allowed without my explicit consent.
Contact: send a note Follow me: Blog • Facebook • Flickr • Behance • Twitter
Daily Deviation
Given 2012-08-25
The suggester says
: "
This is such a cute, lovely and adorable icon set!
"
And I agree. I especially like how the pixels have been upscaled for a more chunky and retro effect!
In Pixelated Icon Set
by *
Cappippuni
(
Suggested by jcroxas and Featured by Hardrockangel
)