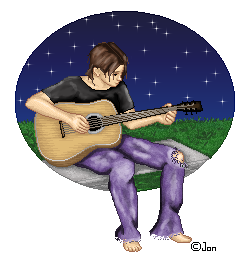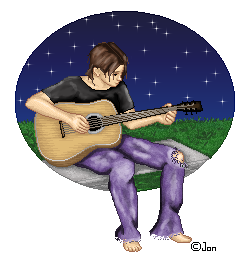 Watch
okay ... a few things first off....
yes this is adoptable .... just make sure you link back to me here on da....or on Eden Enchanted...my name on there is NeverBeOkay
okay...now....i know...its evo lance without his vest ...gloves...or shoes....why? well ....
my idea was he was bored and could not sleep so he took his guitar ((which i did not do...mainly cause im lazy)) and went out to sit on a bench near the brotherhood house....
there...ya happy you canon hounds.....
base by
[link]

i love his face, it's like so sweet and completely un-lance.
Reply

thats exactly what i was hoping for..lol. kinda supposed to be him when he's all calm and stuff..lol
Reply

I don't know why, but i see this, and i imagine him singing your eyes from RENT to Kity....
Reply

ha...i never thought of that....god this is ...i need to do new ones..lol...by the way LOVE LOVE LOVE your icon....Toad is teh sex..lol
Reply

Lol I am a Toad angirl. i have art up of me and woloerine and the X men toad i hve some of me and todd but i haven't posted them yet. wondering if i should post ones of me and roiginal toad, and my Tonda ones too...lol
Reply

you totally should!! i love tonda....and your art is so cute! and i love W&TX Toad...he's so adorable...anyway....ill be doing more x-men fan art later...so stay tuned if you like!
Reply

I will get up my tona goodness. but wolverine and the x men toad is mine!!!!1 lol fangirling.
Reply

*pinches your cheek* does someone have a new crush ? eh? eh?
Reply

Reply

Aww, that's so awesome! I just want to sit there right next to Lance and listen to him play his guitar!
Reply

Reply

That came out really beautiful. Love the guitar.
Reply

thanks im super proud of it...and that guitar is great isnt it....i wish i could have done it though...lol..but my mind and eyes hurt at the thought of that...lol
Reply