Pocket Protector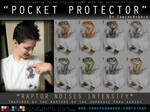 Today, June 30th, is the very last day of the 25% off sale! Use coupon code
CHEERS2U
at the end of the checkout process to get the discount.
I am also taking RMFC pre-orders for these! If you submit an order and pay your invoice by the end of today, I'll honor the discount too : )
I'm purchasing the first pre-order batch just before midnight my time.
[Preorders]
Quick Life Updates
-We did finally get a new house, still unpacking slowly but the studio is mostly set up again. I have a garage for the first time! I can now do year-round casting
-I am focusing on casting as many products as I can to catch up on previous orders and have items for sale at RMFC. I will be contacting everyone to make order/payment/refund/etc arrangements when I am ready to tackle them all.
-CanineHybrid.com is no more
I lost the domain name a few months ago; it expired without me knowing or being contacted. Unfortunately someone bought it out from under me and uses it as domain squatting for something inappropriate.
Therefore, I can no longer do business as CanineHybrid Creations.
-My email broke, my website, broke, my webstore broke. Everything associated with CanineHybrid.com I no longer have access to and haven't for quite some time.
-I will be doing business under a different name soon and rebranding my work,
which I will announce when ready
. I will still be active as "CanineHybrid" for personal use. For now, quickest way to contact me is poking Twitter.
-I will be on my family's vacation from July 6-13 (this is why I'm not at AnthroCon again, it usually overlaps) and not available during this time
-When I return, I will be switching to part-time at my job... allowing me to FINALLY be a working artist for the first time ever. This means no more stagnation and there will finally be commission opportunities for you guys! It's a big, scary step for me but it's always been the goal to at least try it out someday.
---
That's all I have for you guys for now! Thanks for reading