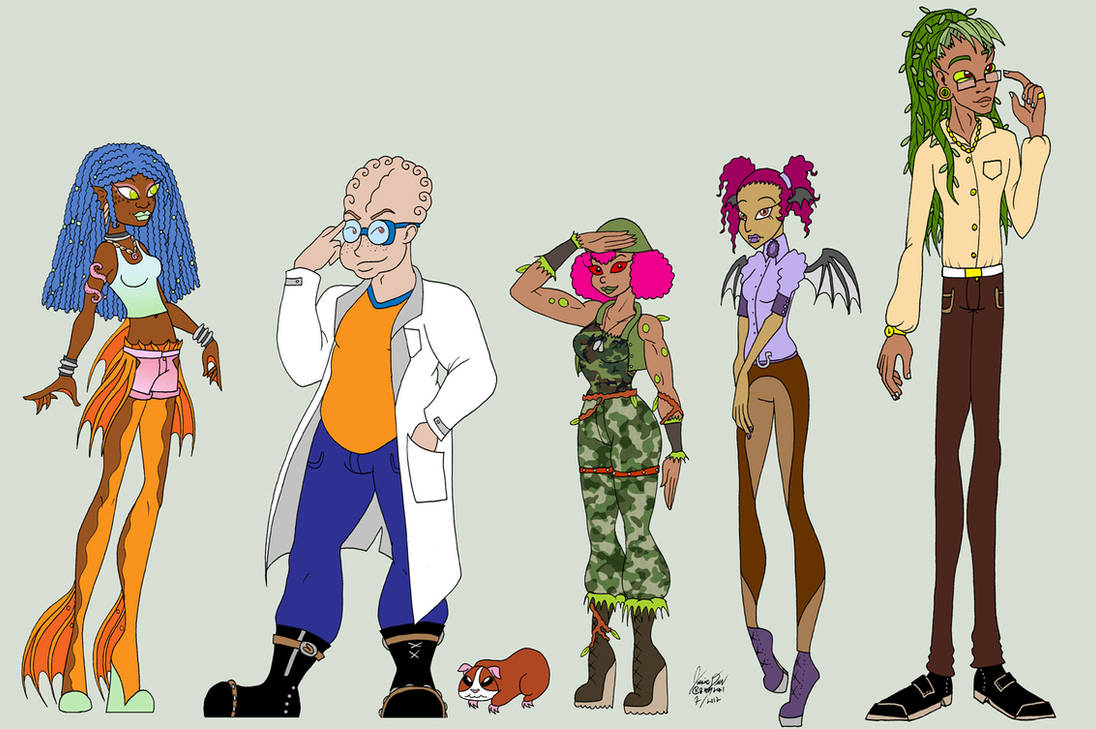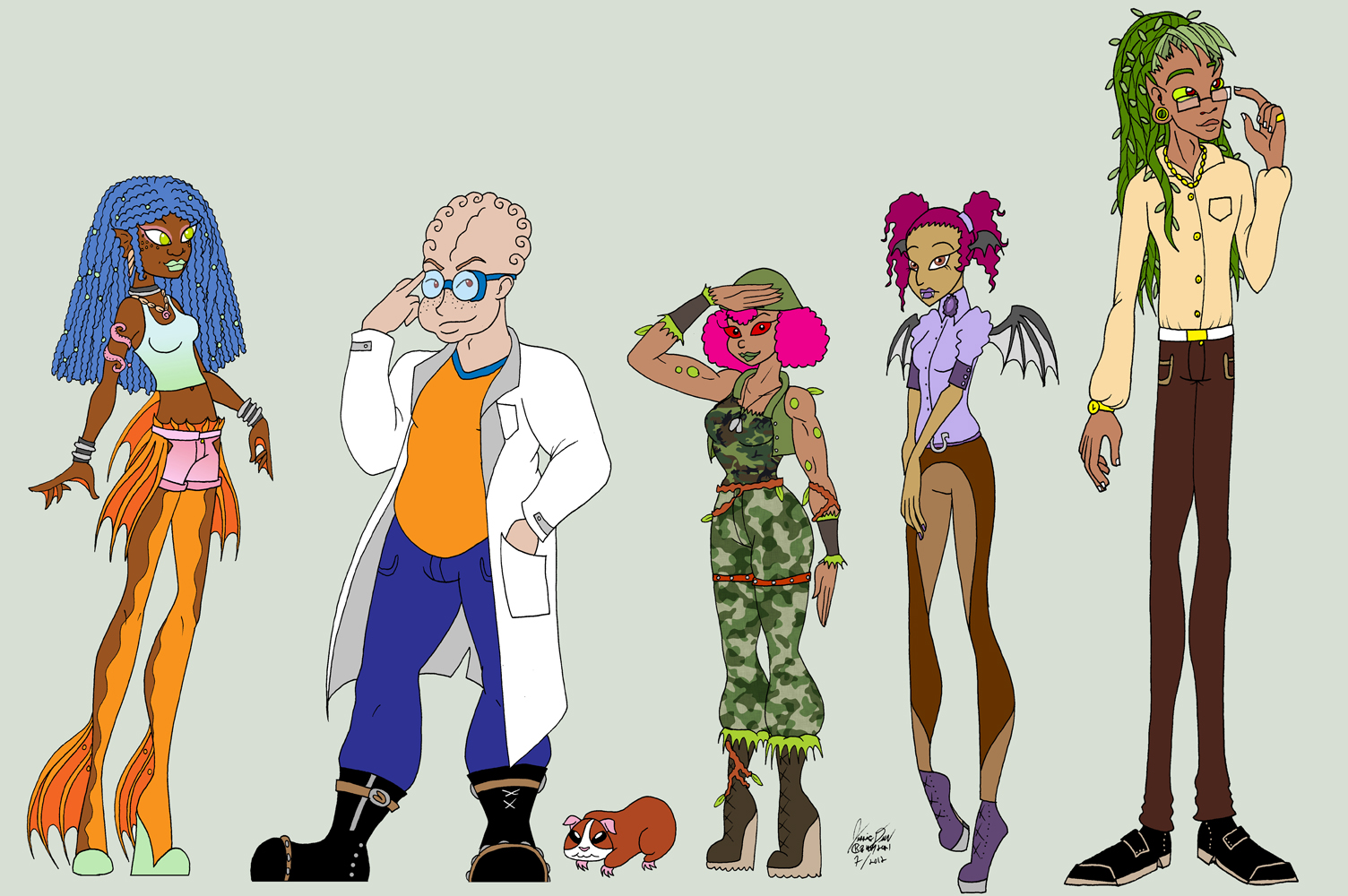 So this is the reason why no ones seen any new MH characters form me on deviant for a long time. I've been saving them up to release for the "new school year" but then I forgot about them so let's say they came in the winter semester. I'll get bit sheets up for the eventually but
for now
this will do.
From left to Right
Anthias a.k.a Thia - Age 16 - Daughter of the
Jengu
. She's super athletic and plays every water sport known to man. She's very nice but she has like- no sense of humor or spontaneity so she's frequently written off as a "bitch' but really she's just really serious. She brings good fortune to those who are kind to her. When designing her I kind of used Lazy
Splash
logic with her. Legs when she is on land and a tail fin when she's in the water, I'll draw her tail at some point, but for now here is how she appears most of the time! Fun fact: She's a severely closeted Lesbian.
Conner Omegaburst – Age 15 – Son of
the brain from Planet Arous
Conner is an interesting one. He's a brain inside of a human body. When he came to this planet him and his father crashed near a morgue and jumped into some bodies to borrow - However What neither of them knew was that if they jump into dead bodies…they get stuck in those bodies. So him and his Father ( who jumped into a womans body funny enough) can't exactly go home and are working to make a life on earth. Conner is super intelligent and he makes sure he reminds everyone that his IQ is off the charts, He feels aliens are superior not just to humans but to all earth natives and he kind of has a complex about it. He's kind of a weird mix between Invader Zim and Sheldon Cooper, But he isn't above learning new things or making friends- if they can put up with him anyways. Fun fact: He has grown very fond of earth music, especially power metal.
Oakley Barkonium – Age 14 – Daughter of
Major Disaster
Very much Idolizes her Father and wants to be in the Military just like him, She prides herself on order precision and fitness. She does crazy boot camp level work outs daily to stay strong in body, but her mind is all over the place, She's kind of Boy crazy and seems to have crushes on all the worst possible boys for her, Either ones that are gay, taken or repulsed by her buff body. This is hopefully something she will out grow- but for now it's kind of a pain in her butt. However she's really good friends with Ox since both of their dads were on the same crime fighting team. Fun fact: she can manipulate plants and help them grow
Nashiti Tepes – Age 16- Daughter of the
psychic vampires
Nashiti was adopted by a family of upper class blood drinking vampires so she's no stranger to being a parasite but with no desire to drain her family or her classmates she spends a great deal of her time around Horses, riding them and grooming them. Their such strong animals she can feed of them and it doesn't really phase them too much so she has developed a great affinity for them and has one that she tends too, So when she's not in class you can find her in the Stables near the school. She's Stanfords Ex girlfriend so needless to say they do
not
get along, There's some bad blood over their break up and he relentlessly harasses her about her about it because she refuses to give him direct answers. Aside from her borderline abusive relationship with Stanford She's really spunky, has a positive outlook and doesn't really understand the concept of personal space (it's in her nature to be close to others since she had to have direct contact to feed) But she is involved in some shady actives that she keeps very close to the chest, Her parent's wouldn't approve of her career aspirations. So she kind of leads a double life. A Triple life if you include the Crush she keeps ultra secret Fun Fact: She's not –too- different from her blood drinking cousins, going into direct sunlight is painful to her and she can sustain herself on blood is absolutely necessary But one thing she does not need to do is sleep, like ever, it's mildly creepy but since she absorbs energy from others she does not need to sleep to replenish her own.
Prince Falaniko –Age 17- Son Of
Tabonga
- Falaniko is actually a character I have had for almost a year. He's more so active on his
Tumblr
And is already pretty developed to the point where he has a
girlfriend
And even friends! He gets along great with almost everyone, He's despite his height he is a very mild mannered gentle creature. He loves the outdoors (duh, he's a tree) and he believes in being very kind to his fellow living creatures it's very difficult to ruffle his leaves since he was pretty much bred to be a "good future king" of his Island. However since he has been sheltered most of his life he is fairly clueless about the goings on of the mainland. In an attempt to learn more about the outside world he traveled to the mainland with his Little Brother to attend Monster High, His brother goes to a different school but it is just the two of them in a little apartment thousands of miles from home.
All Characters ©