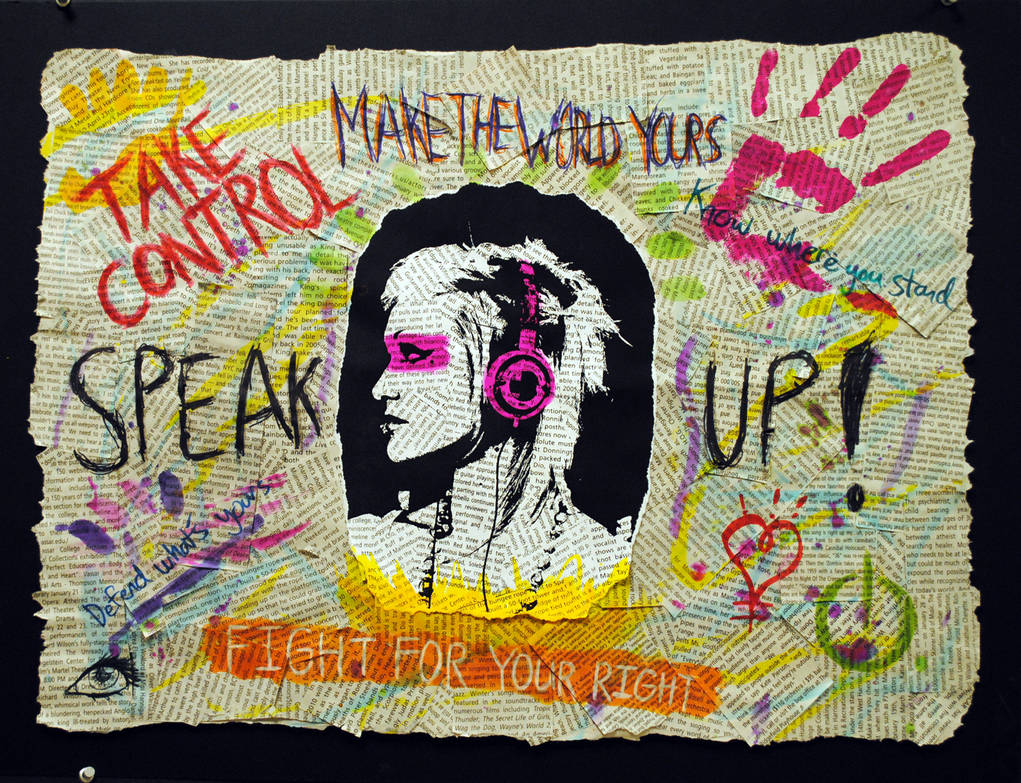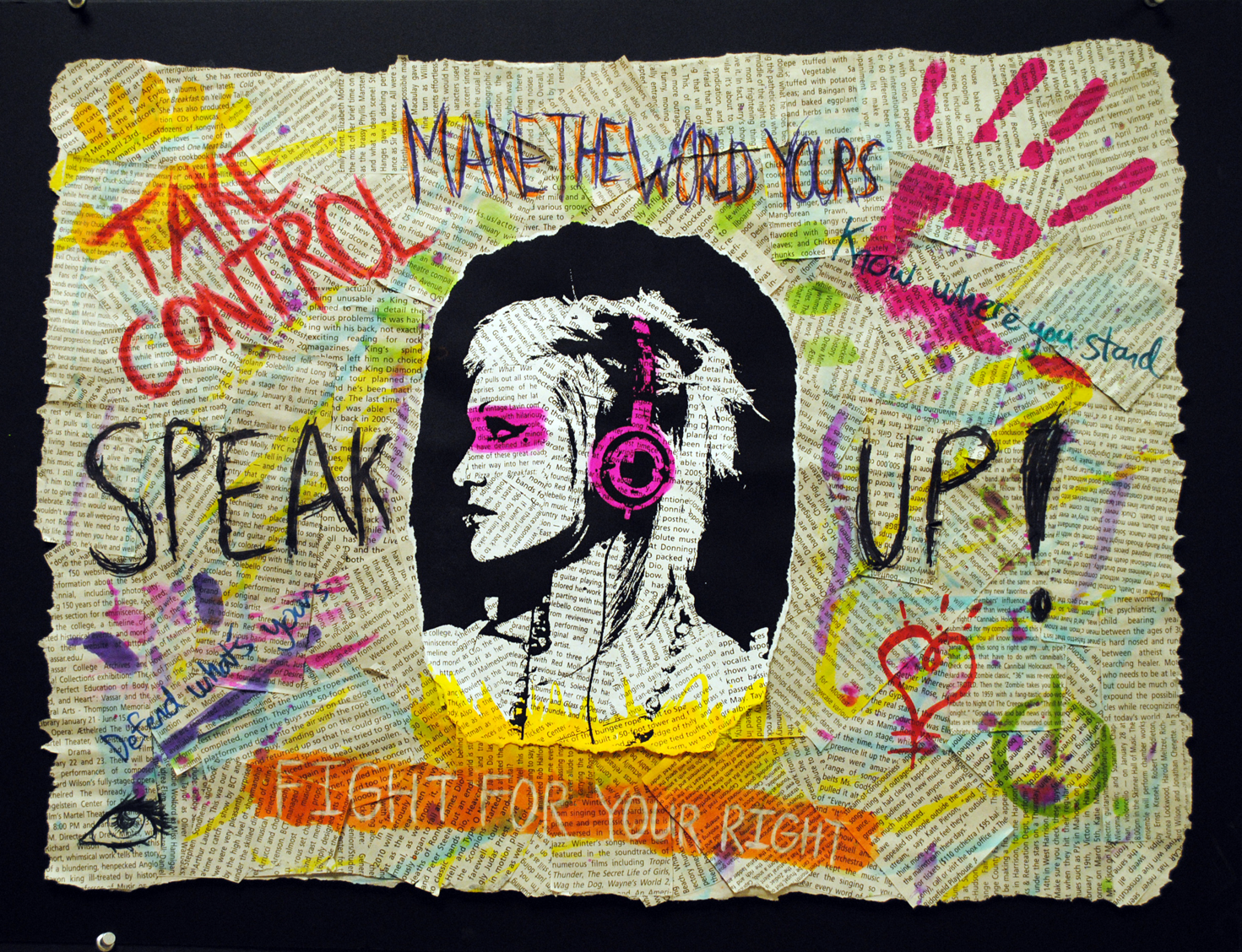 EDIT: [5/8/11]
Now with a 10% better picture!
Hey kids, more art! Get a load of that, huh?
Been interested in collages as of late, and I wanted to try my hand at more traditional stuff, so for AP Art I decided to give it a go. For some reason I've really wanted to create a piece with newspaper print on top of a face, so behold! The newspaper is actually all done by me and took about two days to cut out all the strips and glue it on there. Originally, I was going to try a transfer of the print of the model's face, but that was just not working out. So instead, after the newspaper was made, I scanned it and placed it on her face in Photoshop. After that I print her out and started going nuts with watercolor.
I really had no idea where I was going with this, but considering how the stock photo I used was a punk model I decided to go with a whole "punk rebellion" style. Pretty much all the color on here was done with watercolor, although I did use markers for some of the writing. This was really just playing around with traditional mediums and collages, and I really like how this one came out. I wish I had the time to draw the photo, but alas, I didn't D: I just applied a simple threshold to it.
Also that hand print there is my own, and most of the streaks are thumb prints. I feel like the paints gave me the plague because now they won't come off. Oh well, better pink paint than blue or something.
So yeah, I really like this. I wish the colors were a bit more bright, but oh well, what can you do. Hope you guys like it!
The lovely stock photo used for the model:
[link]

AWESOME

Reply

thats awesome!!

Reply

Reply

Reply

Punk rebellion? Honestly thought it was female rights, but presented in a badass way.

...WAIT IS THAT A KNUCKLE PRINT IN THE UPPER LEFT CORNER? ...HOW?
I do like it though, very striking. c: Bold colors makes yo sistah happy.

Reply

PSH, WOMAN THESE DAYS AND THEIR RIGHTS. I see what you mean though XD

AND YES DEAR CHILD, IT IS. Sorta. I pretty much painted my fist with watercolor and pressed it, and that's what came of it xD BUT THANK YOU
Reply

YOU GO. YOURE ON A ROLL WITH ALL THIS ART.
I like the newspaper thing, the overload of words makes my brain twitch

But yes. Epic theme man. And nice save with the scanner (personally i would have been stubborn and tried to copy it over the original harder way and screwed everything up rofl). Specks of paint probably would have looked really cool on it too, with all the color you got going on
Reply

INORITE. THREE PIECES IN LIKE FOUR MONTHS WHOA.
But thanks

And I did try some paint splatters but it was pretty difficult actually (water color is really hard to splatter without getting is EVERYWHERE--I wanted the girl to stay clean and that was really hard to do) BUT OH WELL WHAT CAN YOU DO
Reply

ITS A NEW RECENT RECORD!
NP

yeah watercolor is messy ;__; Probably would have soaked through if you tried to cover her with something too
Reply

Reply