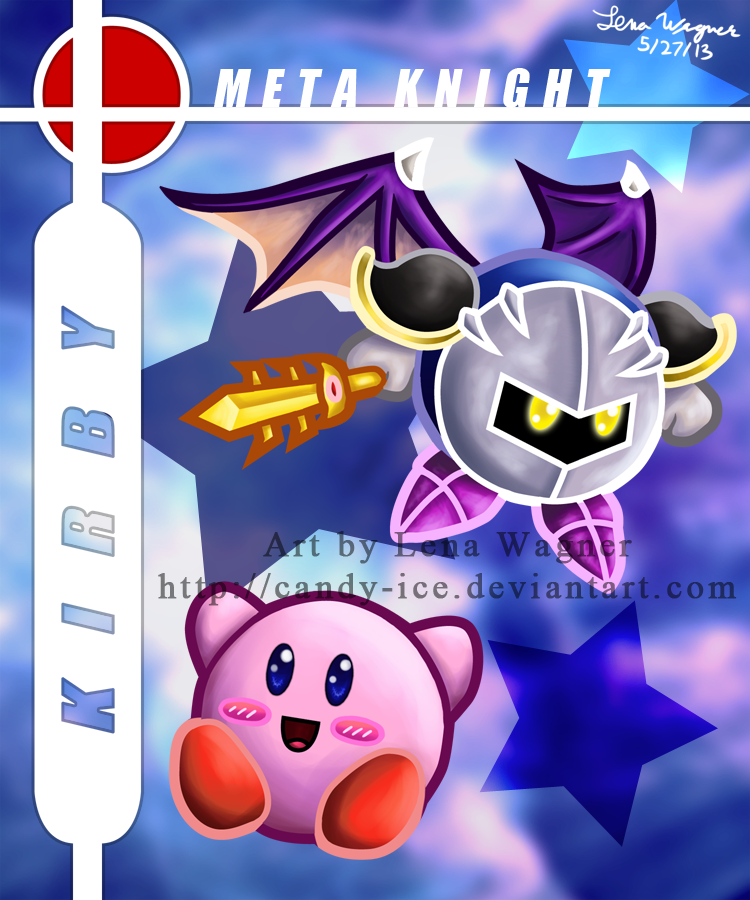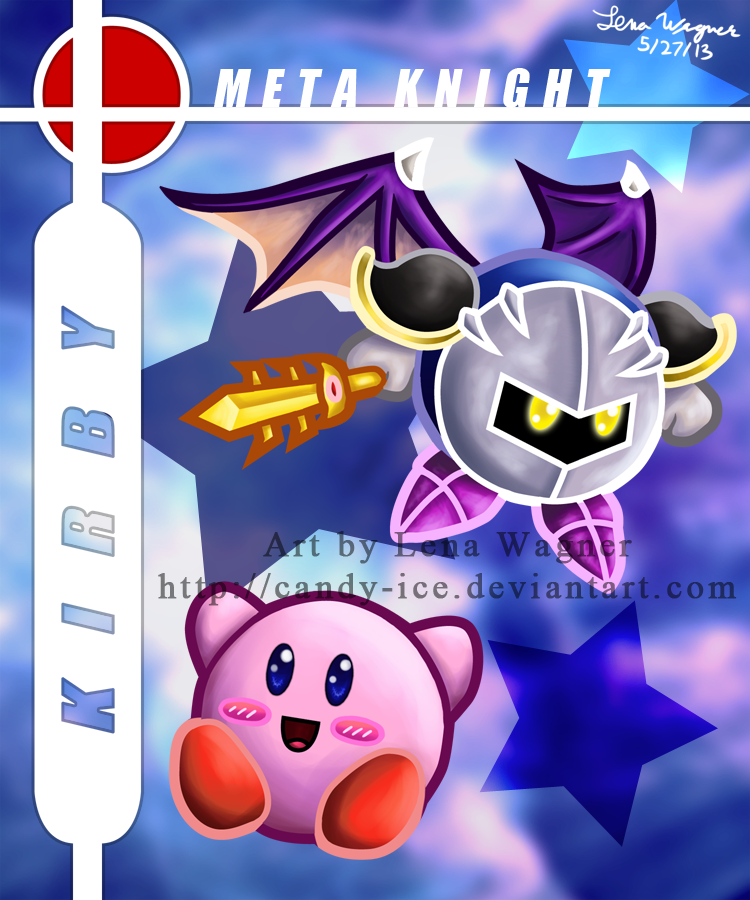 Watch






AVAILABLE ON ETSY!

In magnet and stickers form!



---
Dreamland's stars, Kirby and Meta Knight join the brawl! Since both of the characters are small, I decided to save space (and material cost) and combine the two characters for this design. These were definitely the easiest characters I've done so far in the series, given their simplicity XD I wanted the contrast in their personalities to be obvious, which is why Kirby is really happy and Meta Knight is...well, being Meta Knight. Hope you guys enjoy this one!
Other Brawl Chibis
Peach:
[link]
Samus:
[link]
Fox:
[link]
Toon Link:
[link]
Zelda:
[link]
Sheik:
[link]
Pit:
[link]
Falco:
[link]
Link:
[link]
Pokemon Trainer:
[link]
Sonic:
[link]
Background stock from ~
xnienke

I like the design, background, and the way you painted Meta Knight's wings, but I do want to mention that the color choices in your outlines are a little jarring. This is especially true when compared to the rest of the series. For a happy character, you gave Kirby the darker and desaturated outlines, same being true for Meta Knight. Also the outline of Meta Knight's mask is drastically more noticeable than anything else here, to the point where I actually think it's distracting and is a big part of why I think Kirby doesn't have as much presence here.
Reply

I KNEW there was something off about the outlines

To be quite honest, something kept looking off to me on this, but I wasn't sure what. Kirby just doesn't look right to me, and after messing around with it I still couldn't see what it was...you are most definitely very right though! Unfortunately this one was also the case of "crap convention's in a weeekkkkk" so I didn't get a chance to spend as much time as I would have liked to sit down and work out a design

I already printed these, but not very many since I ran out of magnet and sticker stock (plus the colors came out rather odd, since I was using a different printer, so I guess this is more or less just the "bad batch.) Once the conventions over I'll come back to this and try to fix it, or redo it if necessary. Thanks a lot for pointing that out though! Having a not-artist family doesn't help when something looks off but they just say "oh pretty colors" so I'm glad to get advice from someone who can actually say something otherwise XD
Reply

Yeah, even though this is a long established thing, whenever I say anything critical about a piece of yours I have a weird moment of panic, like "I HAVE JUST ENDED THE FRIENDSHIP." Once you're past the deadline you'll have time to make adjustments, and the way people respond to them should help too. C:
Reply