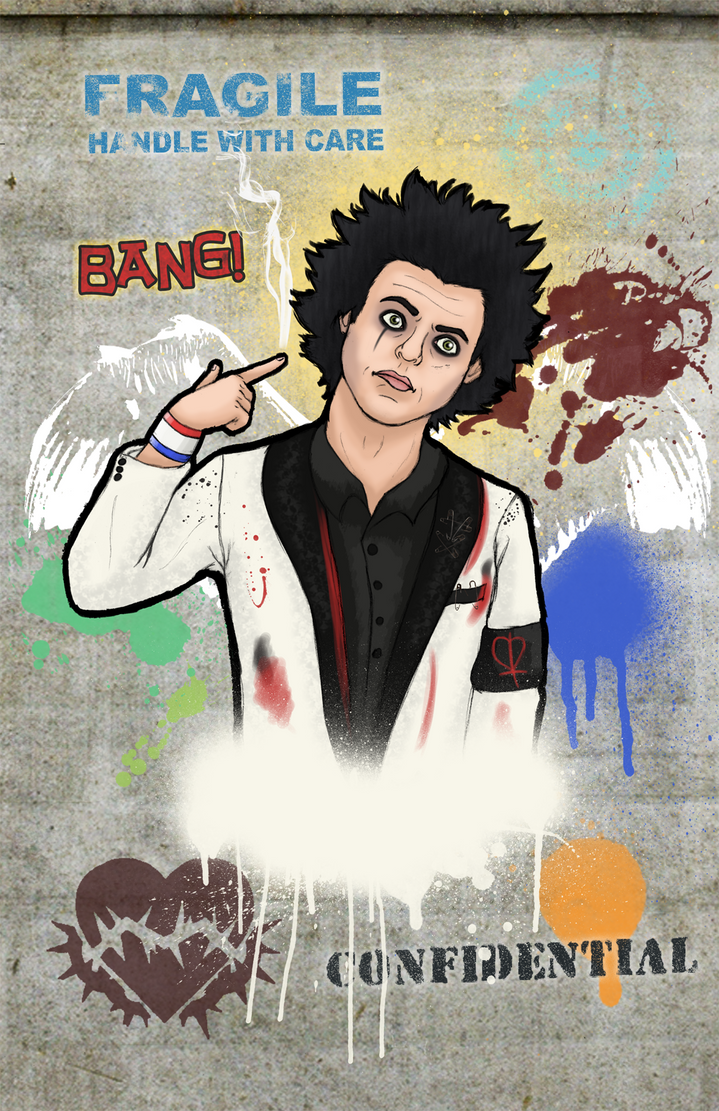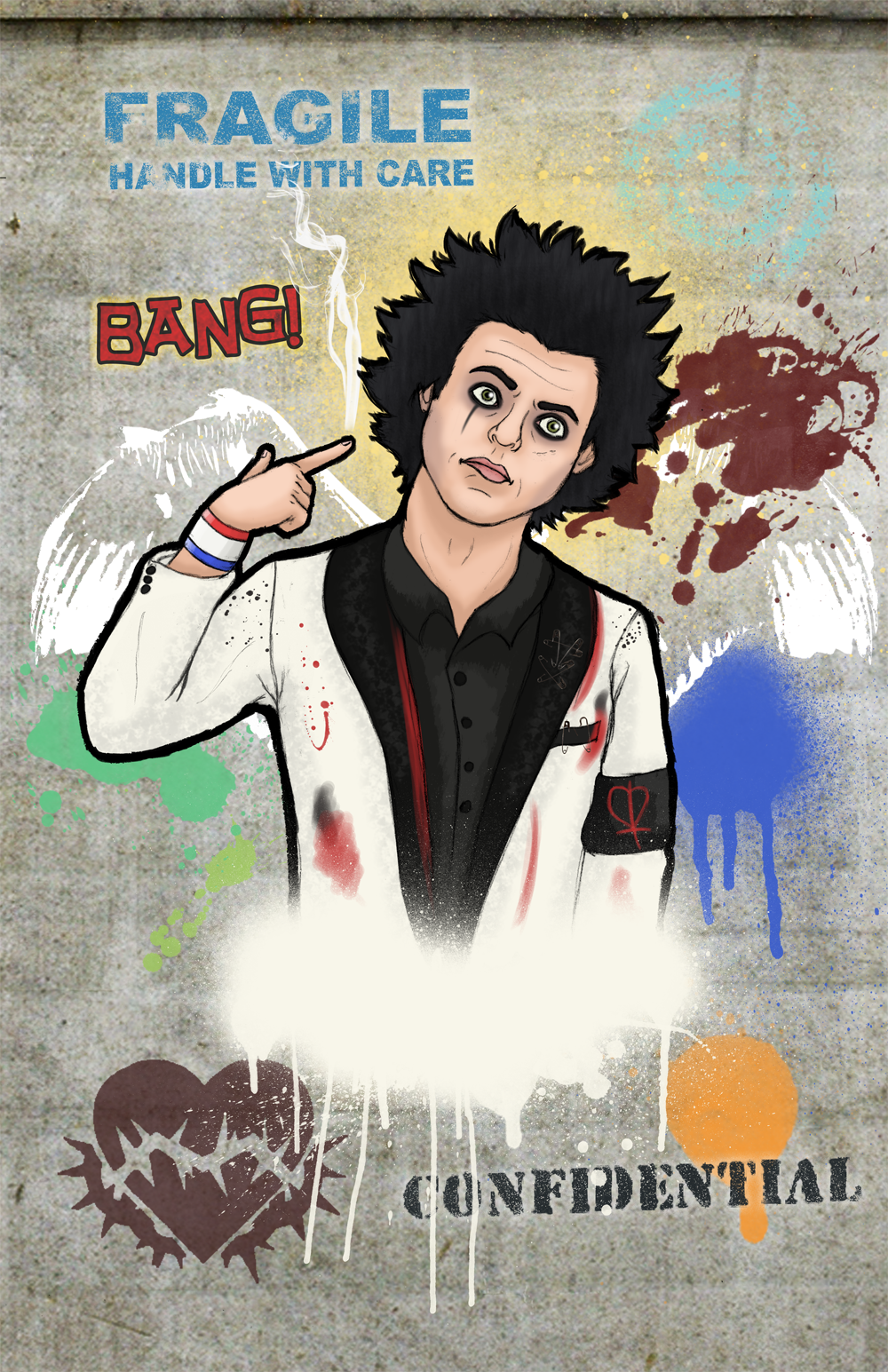 Watch





Oh hey whuddya know
more art
. I'm getting good at this, you guys.
So I have like two months to draw about 16 pieces for my AP Art class...oh damn. Well anyway, so I saw the American Idiot play again with some friends because Billie Joe Armstrong (the singer of Green Day for you guys who don't know) was playing as Saint Jimmy for a few shows and holy crap he was sick. I really like how it wasn't like they just gave him the same clothes and the only difference was he was just another actor doing the same part--Billie had a very distinct style to his version of Jimmy, which was more crazy and maniacal than the original Jimmy's version, who was more sinister and evil. They were both great, don't get me wrong, but with Billie they gave him a whole different wardrobe to go along with it. And oh my god you know what, I'm just gonna raid their closets one day and steal their costumes.
I really loved the design they gave Billie's Jimmy so of course I had to go ahead and draw him too. I wanted a rough style with this again like the last Jimmy, so this time I drew it traditionally. The only problem was for some reason I could not for the life of me get the pose right for this. I had reference photos of myself doing this pose that I used but I wasted so much paper trying to draw this that I just gave up and sketched it on the computer instead (it saves trees you know.) Once I got the sketch right I printed it out and traced it for much cleaner linework and scanned it to do the coloring. I wanted a charcoal outline but I didn't have charcoal at the time, so I tried using the charcoal brush on Painter but that didn't work out...so pretty much even though the coloring was already done I had to scan it again with the charcoal outline once I finally outlined it and replaced the outer lines with the better charcoal version. I couldn't get it exactly lined up since I had to stretch out the sketch to get it to fit the paper (it's 11x17 inches) but shh you can't tell.
I was mainly experimenting with brushes and styles for this. I feel like there's a lot that needs fixing (his face makes him look more lost than wide-eyed, and his pose isn't really that clear) but I'm still rather pleased with it. He's supposed to be shooting himself with a finger gun but it's hard to tell with the angle of the hand...I was going to change it but my art teacher told me to leave it alone so whatever. I tried adding the smoke and the blood (and the Bang! I guess) for more clarification so I hope it works. Was experimenting more with the backgrounds too and a bunch of different brush sets for that. But hey, it only took me two days and I'm doomed for AP Art unless I get rolling! Still had a lot of fun doing this though. Ironically I didn't listen to Green Day at all while working on this...instead I used a healthy dose of "The Rake's Song"/some Nirvana. And Cold War Kids.
MILLION THANKS TO THE STOCK PROVIDERS! I downloaded a lot of sets for the different brushes so I hope I credited the right people...
Wall stock:
[link]
Wing Stock:
[link]
Splatter Brushes:
[link]
The "Fragile" and "Confidential" Stamps:
[link]
The Spray Paint:
[link]
The safety pins on his jacket:
[link]
And that little heart down in the bottom left:
[link]
žion=&q=tattoo+brushes#/dd6ezl
Hope you guys like it

This is what he looks like by the way:
[link]
He had that streak thing on his eyeliner going on when we saw him and I thought it was cool so I drew it

Oh my god I love dat hair
SORRY THIS IS SUPER SUPER LATE im so bad about checking my messages or being active in general
okso
YOU ARE IMPROVING HARDCORELY. it makes me proud k. Your collage-ishy pictures are really neat. As for the pose thing, this is why all my characters just stand around doing nothing. Poses are hard dude. ;__; I immediately understood what the pose was saying, but I think you might feel like its unclear because of the hand's angle, yeah, it looks more like pointing than a hand-gun position thing. If you ever need help with something like that again I'd be glad to help

And the wide-eyed thing, he only looks slightly lost, its not so bad. Expressions like that are hard to get right too, but you got it down pretty good.
Reply

Aww, thanks Tal

And don't worry about the delay, I know you have a lot going on (as do I--oh god this response is so late

)
BUT GRACIAS DEAR SIR! I am certainly kicking myself back into shape. And for some reason I've become fascinated with collages suddenly

They're just so intense. And I'll keep that in mind next time I try to draw something like this, if I ever do XD Thanks for the help

Reply

NO PROB MAN.

AND YOU WELCOME. You better be gettin back in shape woman you went too long without arting it up in here >8C
Reply

gnarly

Reply

i think you definately got the expression right.
Reply

Reply

Reply

I like the wrinkles and the bolded outline. :3
Reply

thank you for using and linking me back

awesome work

Reply