I get a lot of questions about the prices for my pictures and I decided to make more detailed price list, as I don't have much time to reply every letter about it.
Here are
basic
prices. Depending on details of the picture, the price can be a bit higher or lower, so send me detailed description of what you want me to draw.
Price-list for Commissions: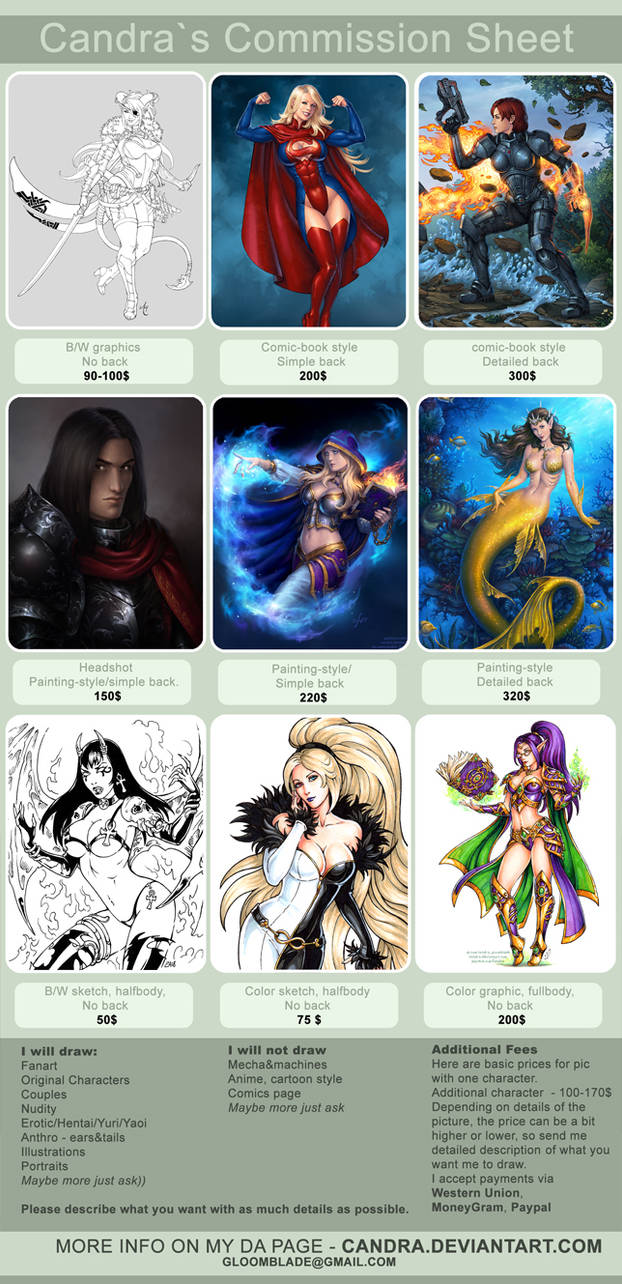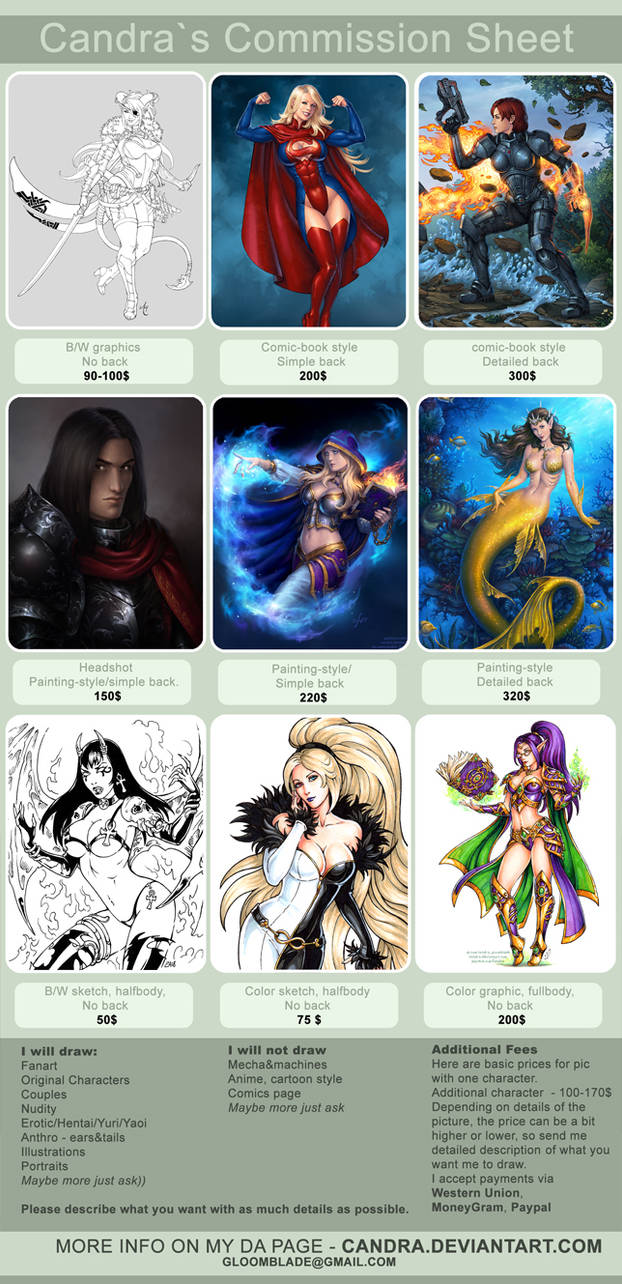 I accept payments via
Western Union
and the transfer charge will be paid by customer. I require 50% prepay and 50% after your approval of the sketch. If you are more comfortable with paying the whole sum upfront, you are welcome to do so. If the price of your comission is below 100 USD, I will ask for 100% prepay.
You also can pay me with
MoneyGram
,
Leader
and
Contact
.
Paypal use can be negotiable. Paypal has extra charges when I receive money, and those charges will be added on top of commission price.
I will draw:
Fanart
Original Characters
Couples
Nudity
Erotic/Hentai/Yuri/Yaoi
Anthro - ears&tails
Action scene
Illustrations
Portraits
Maybe more just ask
I will not draw
Mecha&machines
Anime, cartoon style
Comics page
Maybe more just ask
More Commissions Info:
- I draw only digital art, otherwise art would be a printout, and I'm not responsible if the original art will be lost at post-office.
- I don't draw in anime-style, but if you want to see somebody anime-character in my style, I can do this

- Fan-art, nudity, slash, yuri, yaoi or shonen-ai is OK.
- Please describe what you want with as much details as possible.
- I will send you the work in the process on every stage of creating picture.
- Commissions with a deadline automatically have higher priority over other commissions without a deadline.
- When making deadlines, please allow at least one month for the product to be completed.
- The final works will have my signature as author. The final artwork is the client's property for any use that he/she wants to give. I have the right to use the artwork as the part of my personal portfolio. I have the right to post the finished commission in my personal gallery.
-
In case that you have changed your mind to commission me for some reason, please, inform me about it so I could start working on someone's else commission earlier.

Is it okay to email you in the email linked below, to ask about getting a commission done? :)