---
Canada and Mexico share a dynamic and thriving: as friends, as neighbors in North America and as strategic partners in the Americas and the world. Over the years, our cooperation has expanded through a wide range of political, commercial, social, environmental and security.
Canadá y México comparten una relación dinámica y próspera: como amigos, como vecinos en América del Norte y como socios estratégicos en el continente americano y en el mundo. En el transcurso de los años, nuestra cooperación se ha ampliado a través de una amplia gama de intereses políticos, comerciales, sociales, ambientales y de seguridad.
NAFTA
● Canada and the United States were members of FTA since 1988, but in 1994 the agreement was amended to include to Mexico as a partner. Thus was born the NAFTA Free Trade in North America (NAFTA).
● Canadá y los Estados Unidos eran miembros del TLC desde 1988, pero en 1994 se modificó el acuerdo para incluir a México como socio. Así nació el Tratado de Libre Comercio de América del Norte (TLCAN).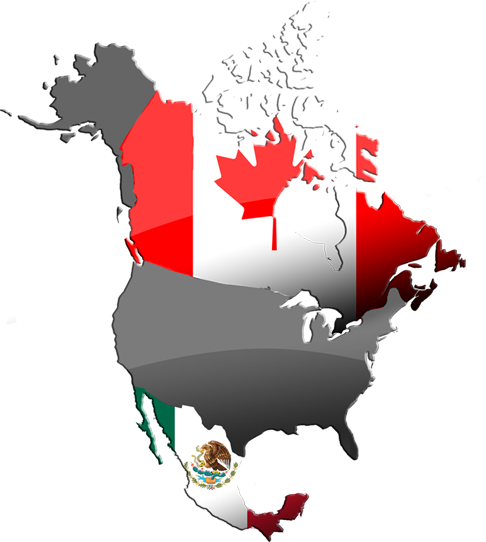 Main trading partners
● Mexico and Canada are among the main trading partners of each other.
● México y Canadá se encuentran entre los principales socios comerciales el uno del otro.
Vacations in Mexico's house
● Mexico is the second most important tourist destination for Canadians with some 1.8 million visits per year.
● México ocupa el segundo lugar entre los destinos vacacionales de los canadienses con unos 1.8 millones de visitantes por año.
Foreign investment
● Canada to Mexico is the fourth largest source of foreign direct investment, with strong presence in traditional sectors such as mining and other emerging telecommunications and aeronautics.
● Canadá es para México la cuarta fuente de inversión extranjera directa, con fuerte presencia en sectores tradicionales como la minería y en otros emergentes como las telecomunicaciones y la aeronáutica.
Coffee Club
● Both partners along with Italy, Argentina, Pakistan and other eight countries have sought a reform of the United Nations Security Council and its working methods. Which form a group informally called the Coffee Club, that opposes to the proposition of the G4.
● Ambos, junto con Italia, Argentina, Pakistán y otros países ocho han buscado una reforma del Consejo de Seguridad de las Naciones Unidas y de sus métodos de trabajo. Por lo cual formaron un grupo informal llamado el Coffee Club, que se opone a la propuesta del G4.
Canada-Mexico Partnership
● In October 2004, Mexico and Canada signed the Canada-Mexico Partnership (CMP), which seeks to strengthen and encourage investment, development and foster greater prosperity in both countries.
● En octubre de 2004, México y Canadá firmaron la Alianza México-Canadá (AMC), que busca estrechar e impulsar la inversión, el desarrollo y propiciar una mayor prosperidad en los dos países.
Friends since 1944
● Mexico and Canada have maintained diplomatic relations since 1944.
● México y Canadá han mantenido relaciones diplomáticas desde 1944.
Thanks to NAFTA
●Since the signing of NAFTA in 1994, trade between the two countries has increased by over 500%.
● Desde la firma del TLCAN en 1994, el comercio entre ambos países se ha incrementado en más del 500%.
Mexican Tequila
● Canada is the sixth largest buyer of Mexican tequila in the world.
● Canadá es el sexto comprador de tequila mexicano en el mundo.
Cold War
● They were on different sides of the Cold War Spectrum (Canada was a member of NATO while Mexico was in the Non-Aligned Movement, though Mexico later left.)
● Estaban en diferentes lados de la Guerra Fría (Canadá era un miembro de la OTAN, mientras que México se encontraba en el Movimiento de Países No Alineados, aunque México lo dejó más adelante.)
Strong relationship in XXI century
● Relations between the two governments were particularly strong during the first decade of the twenty first century.
● Las relaciones entre los dos gobiernos fueron particularmente fuertes durante la primera década del siglo XXI.
Second World War
● The two countries were allies during World War II.
● Los dos países fueron aliados durante la segunda guerra mundial.
Mexican Canadian
● Per the National Household Survey in 2011, 96,055 Canadians indicated that they were of full or partial Mexican ancestry (0.3% of the country's population). Mexican people are the largest subgroup of Latin American Canadians.
● Por la Encuesta Nacional de Hogares de 2011, 96.055 canadienses indicaron que eran de ascendencia mexicana, total o parcial (0,3% de la población del país). Los mexicanos son el subgrupo más numeroso de Canadienses Latinoamericanos.
---
If you know any other fun fact about their relationship, please comment for add it.
Si conoces algún otro dato curioso acerca de su relación, por favor comentar para agregarlo.