======================================================
Hey all! Fixer the Fox here, and thanks for visiting!
I'm a fox in search of answers to one of the greatest franchises of all time, and that's the Sonic Series. I've made many theories and predictions regarding the series, and I highly suggest you read what I have discovered, or better yet, click that Watch button and stay up to date with all my latest theories!
If your not a fan of theories, that's ok. I also do Stories and Artwork! I'm getting better at using Photoshop Elements, and I'm trying to improve my art so I can become better at that. My stories are also great hits! I've heard very positive feedback from my viewers and I can't wait to do some more soon!
If that's not enough for ya, I'm a very generous person, who likes to make a special shout out to everyone who watches me in my next journal! So, thanks viewer for reading this, and I hope you consider looking around a little bit.
Thanks all, and have an awesome day!
======================================================
HALL OF FAME
Started:
14/08/15
Super lama:
02/12/15
Hit 20 Watchers: 06/12/15
No. Watchers at the end of 2015:
22
Albino Lama:
8/04/16
Core Membership/Name Change:
5/08/16
None-Half Moon Cake: 6/08/16
Hit 40 Watchers: 24/08/16
Watchers on 1st Anniversary:
43
Super Albino Llama:
28/09/16
Hit 50 Watchers:
26/10/16
Painter's Palette Cake: 25/12/16
No. Watchers at the end of 2016:
53
Hit 60 Watchers: 12/01/17
Hit 80 Watchers: 28/02/17
Hit 100 Watchers: 08/05/17Watchers on 2nd Anniversary:
127
No. Watchers at the end of 2017:
135
Watchers on 3rd Anniversary:
141
======================================================
WORLD VISIT SCANNERS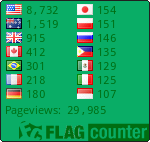 ======================================================