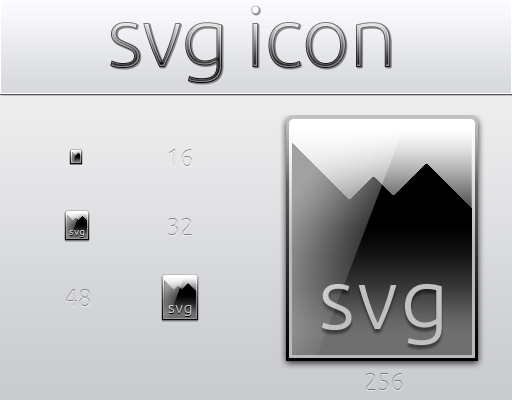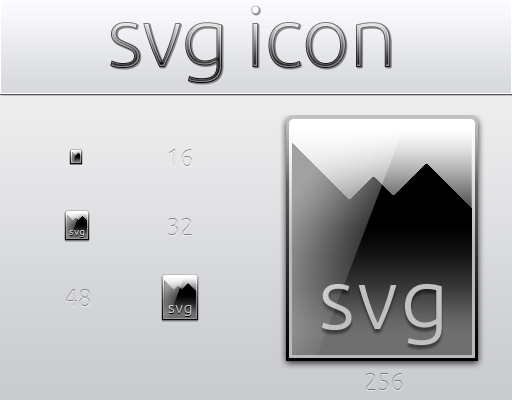 TL;DR:
.png and Windows (high-res but XP compatible) .ico in the zip.
---
It's been a looooong time since I wanted to make an icon for .svg files.
I thought of many things, for example basing it on the "official" icon:
[link]
The problem is that
it just sucks
. So the official icon is something of terrible bad design.
(You may ask why it is bad. Well, the real reason is that it would look pretty bad at common icon sizes.)
Luckily, nowhere I've ever seen that icon, so I thought; what actually represents SVG files?
For the W3C, it represents
"creativity and growth, [...] integration with other technologies"
.
For me it represents a kinda half-assed format that's very nice because of that.
If it was a full-blown contraption like an Adobe format, I wouldn't like it as much. The good part about SVG is that it's just a hacky and hackeable simple text file that's as honest about it as HTML. I like that.
It also strongly evokes Inkscape for me, the simplistic but nonetheless simple editor for the format. Fast, responsive and ready to put the work in your hands.
So what I tried to convey was:
The format is simple.
It has rough edges.
It is a vector format, it should look "vector-ish".
It has a "zoomable" feel to it.
It's Inkscape's format.
It wasn't super easy to come up with the design because I didn't want to create a generic "vector format" icon.
But let's try not to make this longer.
If you want to use this icon, please do! Just credit me with a link.

Hm, that's unusual. Can't say it associates with SVG instantly in my mind but there certainly are not that many b/w icons I use so it's catchy.

Btw, adding a little tracing arrow might make it more "vectorish".
Reply

It associates for me only because I use Inkscape, more or less like making an .ai icon with the same feel of the Illustrator icon.

Uh, adding a cursor is a nice idea, didn't think about it. If I ever revise it I might add it.
Reply