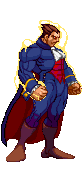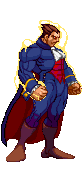 Watch
First things first, this was based initially off animated linework done by DA user inktrebuchet (
inktrebuchet.deviantart.com/
) which I proceeded to try and clean up a bit... and then got terribly out of hand with.
Edit: Now that I have a moment to add to the description, the original linework by ink was likely inspired by eFex's (
omegaefex.deviantart.com/
) take on the character, with the head, feet and general colors used being borrowed from there. Beyond that point, I ended up cleaning up lines and some anatomy to closer match the original frame, added a handful of frames for fluidity, and tossed in a makeshift cape and aura as a proof of concept animation. In a more polished format, there'd probably be another few stretched frames to space out the aura in parts as well as make the cape a bit more fluid.