How I love these birthday shenanigans

From what I remember I got sucked into art when I was around 10 years old, the place to be back then was the Elfwood gallery. It was full of fantasy characters, elves, dwarves, fairies, which is what I love most. The gallery does not exist anymore, it shared the fate of many others, such as the CGartist gallery, which was my first contact with skilled, yet amateur art. It showed me that art can be a hobby, I do not have to necessarily study art and be an artist for a living to do it. But the level of that community was set very high, so all I could do was watch.
I don't remember how I found dA on the web. Maybe someone gave me a link to a picture, or maybe I was browsing for it. But I was like - hey, it has good art, all my favourite artists from the other galleries are here, it also has bad art and anyone can join! Perfect, now I can be a part of it!
But I still had no skills, or at least not very good. I think I was already into web design, I made my own blog layouts, I was already into the basics of Paint Shop Pro and maybe touching Photoshop, which I hated at first. Now I love it to the bone and hate everything else. Anyhow, I created an account and started to create a gallery of my favourites. That was the point then. But then I thought maybe I could upload some of my photomanipulations, or photos. So I did and people liked them. I made one wallpaper that got some enourmous amount of downloads and was direct linked on a few outter galleries. It was my first encounter with art theft. But also my first encounter with having my art deleted by the admins. I didn't have all the licenses and consents for the photos I used, they were mostly fandom based so they were protected. As a kid I wasn't so aware of that. But I understood it fast and have never commited any sin like tracing, never ever.
I finally decided to start to paint my own art, but I still didn't know much about it. Most of my works were later scrapped, but now I don't even see them in scraps XD I was still very much in fandom.
<da:thumb id="75827600"/>
I think this is my #2 art.
I kept on doing some more and more fandom. But my drawing skills were non, especially my proportions. And I magicaly found the art of coloring. People upload their lineart and I color them, perfect! For a noob. But it made me happy back then.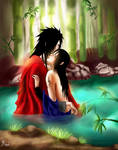 I think that is my favourite.
I had a few lineart-ing friends back then, we made a great team. But the account hacking crisis unfortunately left them with no accounts and they didn't feel like commint back. It was a hit to me.
Also it was my next encourter with copyrights, suddenly I got all my coloured lineart frozen, I had 7 days to prove I had the right to color it. It was strange to me because I had all the consent and credits. I had to actually sign a written agreement with the lineart authors and upload it. It was my first ever signed agreement and I wasn't even 18 and I was freaking out XD Our addresses were on it and stuff. It was all very legal, you know :<
So I think this was the point that pushed me into painting my own things. I hit 10k and I was soo proud so I made a kiriban.
<da:thumb id="100457128"/>
Later when I switched from CRT to LCD I saw a whole new world of mistakes in this XD Next I thought about doing something that isn't fan art. There was a contest held by my friend for a halloween picture.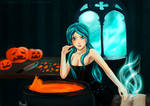 That was my entry, I was soooo proud of myself but people pointed out a lot of stuff. I was hurt XD for the first time I was like really hurt and in denial. She had two left hands, her arm is stiff and it hits you in the eye and also this was my first encounted as an LCD user with CRT users. There is a blue tapestry on the wall but most people only saw black there.
I think I already had a tablet back then. And something went wrong with it and a short circuit created between the battery and some decorative metal ring and my pen just melted. I had to destroy it before it burns but I was crying so hard while doing it. It was my TABLET PEN!! T___T
Soon enough I got a new tablet and continued on. I made an animated journal CSS, which got me a DD, proooud sooo much
After then I started reading a lot of tutorials and even made a few, one got a DD as well. But it helped me hone my skills and made a new generation of paintings. Still a way to go, but I am on a good track. Not sure which one I like best, but I think maaybee this one?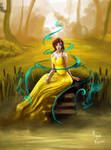 It's a collab with a friend.
Speaking of friends

Over the time spent here I made many friendships. Many of them transferred into real life. I was used to the fact that everybody lives on a different continent. But suddenly I found out that someone is from the town next to my city and was like hell yeah, let's meet up. Some I still hold dear online, but many made the best friendships in real life I've ever had.
And it so happened that real life sucked me in for a while, I didn't paint anything for two years or something. When I came back it turned out not only my dA friends and watchers are gone but also most of the artists who inspired me. This is not the same place that it used to be, but then again I am not spending every second of my life here actively being a part of the community anymore. Still I think of it as the best social media portal ever, unlike the other this one actually got me friends and taught me something important.