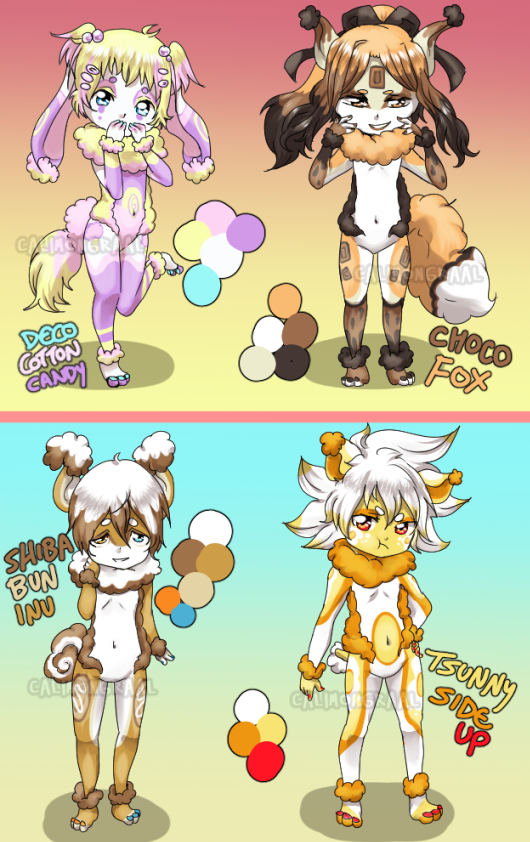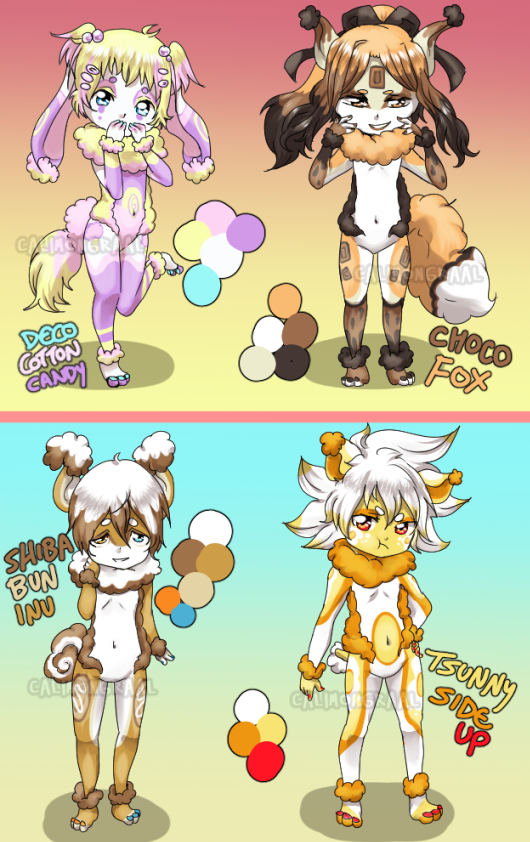 Watch
Lol i keep making food-themed ones :"D

A short, social species attuned to nature that live in small villages consisting mostly of farmers.
They're mostly pacifists with a vegetarian diet, though violent ones exist.
They're all $15
DECO COTTON CANDY - OPEN
[Long ears[common], Flare tail[Rare]]

CHOCO FOX - OPEN
[Swoop Ears[Uncoomon]; Floof tail[Uncommon]]

SHIBA BUN INU - OPEN
[Horns ears[Rare]; Curl Tail[Uncommon]]

TSUNNY SIDE UP - OPEN
[Medium Ears[common]; Fawn Tail[common]]
//Rules//
+ First come first serve (Please only claim when you have the money/points for it)
+ You'll be given the full image of the specific adopt upon payment.
+ Please comment below with the number of the adopt you want, I will note you my paypal (IF BUYING WITH POINTS, USE COMMISSION WIDGET)
+ You may change the gender or do minor edits on the design (Hairstyle, marking tweaks, additional details such as scars and etc)
+ You are allowed to trade, but you may not resell
+ When posting the original art elsewhere, please link back to my gallery
+ Credit me (@ CalimonGraal) for the original design (If posting to toyhou.se, link the design to my page toyhou.se/CalimonGraal )
+ This is a closed species, don't make your own.
Other Alpakit batches:
Alpakit Batch 1 [OPEN] | Alpakit Pikiru Chibis [OPEN] | Alpakit Batch 2 [OPEN] | $2 Alpakit Batch [OPEN] | Fruity Alpakits [OPEN] | Dessert Alpakits [OPEN] | Alpakit Batch 3 [OPEN] | Alpakit Chocolates [OPEN]

Alpakit; closed species © CalimonGraal
SPECIES GUIDE |Alpakit Notes | More tidbits | Alpakit Traits