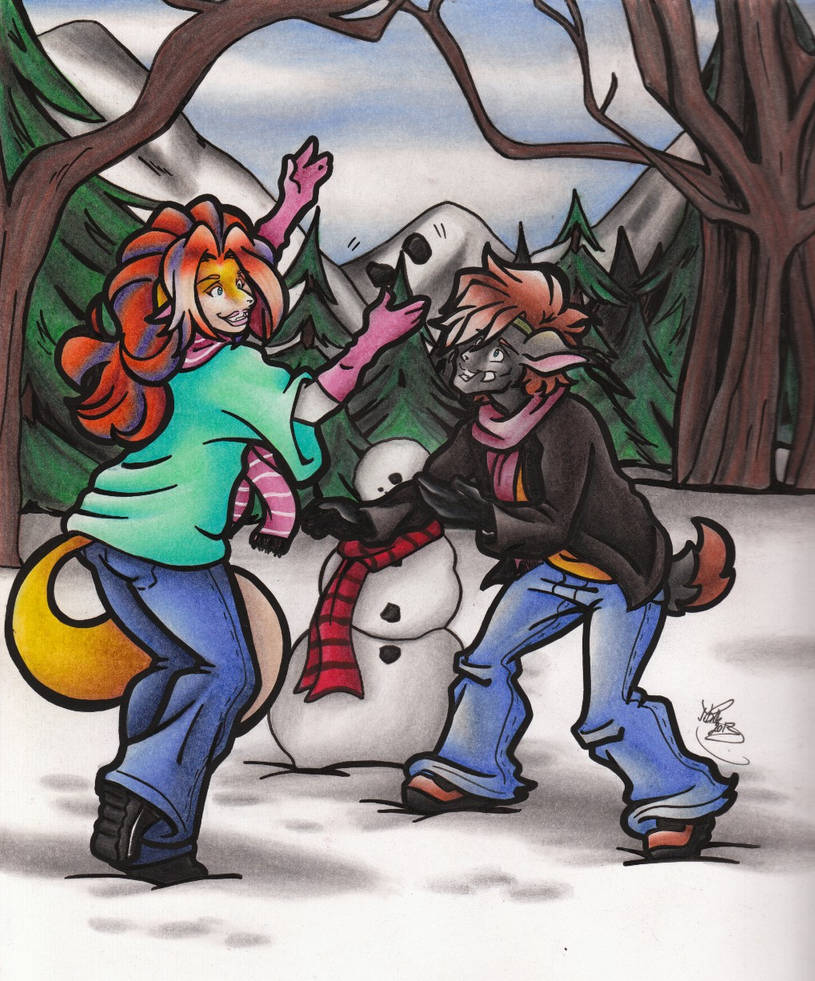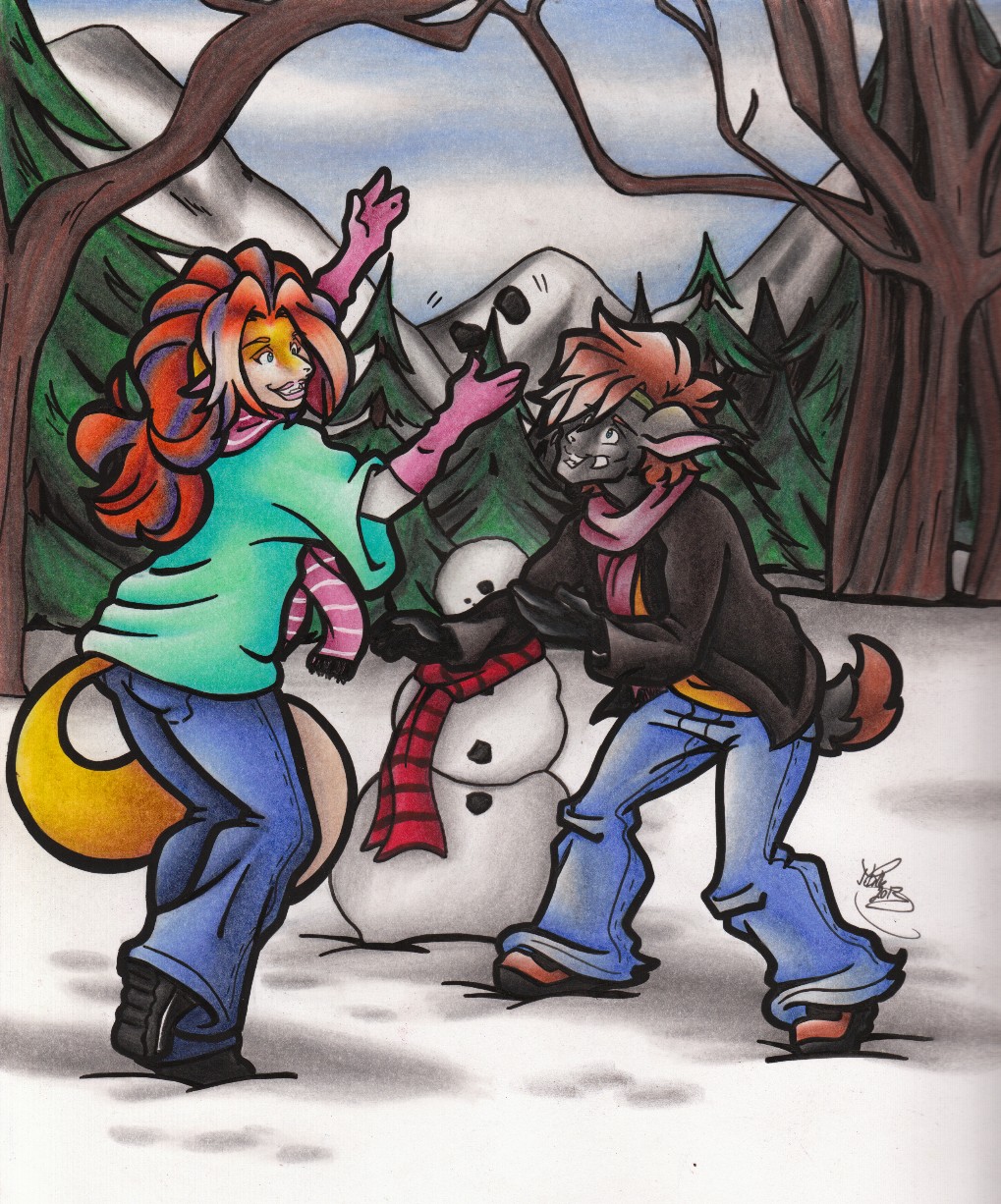 Oh YAY! Another finished art trade! Slowly, but surely, they is getting done.

I'm slow and awesome. HURRR!
You know what else is awesome? When cats walk all over your keyboards, and then they screw up the settings, and then your keyboard doesn't type properly and it's really frickin' annoying and you can't find out how to fix your keyboard.
(That last bit thar was supposed to be sarcastic. Just so you know.)
Anyhoo. So, I'm just working on getting all my art trades done! I got the chance to, once again, do an art trade with the ERRRRMMMAZZZINGGGGG

WHO IS SO FULL OF AWESOMESAUCE THAT I'M SURPRISED SHE HASN'T EXPLODED YET FROM THE AWESOMESAUCE. However, she distributes her awesomesauce all over with her fantastic art, which is also full of awesomesauce.

's awesomesauce is DELICIOUS.
Anyhoo, we've done a number of trades in the past, and I always look forward to doing trades with her because we always have so much fun! This time for our trade, I let her pick characters to draw (as I usually like to do, because I love surprises and

ALWAYS knows how to surprise!) and she decided to do.....ALEX AND RAGE!! AHHH MAHHH GAWWWDDDDD YOU MUST GO SEE THE PICTURE NOW OR ELSE.....YOU MUST EXPLODE FROM ITS AWESOMENESS. Go. GO NOW.
*flails about* GOOOOOOOOOOO!!!!!!
[link]
Anyhoo. So yes. As for my half, she wanted me to draw her Taryn Lacy and Chislett for her. I LUUURVVEEE drawing couples, so I was super excited to draw them! Especially since they are all lovey-dovey, I was all like YAYY!!

I simply ADORE drawing

's characters! She loves her characters just as much as I love my own, and it's always awesome to do trades! She has so many fun characters to work with!

So... I decided to use this chance to draw Taryn Lacy and Chislett as some more background practice! So I decided to do yet another winter scene, because these days they are my favourite to work with. I just think winter is really pretty, and definately underrated. Could be I think this way because I'm Canadian, and I'm forced to put up with it for an extended period of time, but, anyway.
It didn't take me too long to figure out what to draw them doing... so...Here they are...MAKING A SNOWMAN!!! I just thought it would give me the chance to draw a nice wintery scene and have them doing something besides standing around, and I wanted to work on more exciting poses as well. YES, THAT'S RIGHT EVERYONE. 2013 IS THE YEAR WHERE JESS TRIES TO SUCK LESS AT ART!

And seriously, I need to stop watching True Crime documentaries on Youtube. It's starting to make me really paranoid about going outside. Even moreso then when I was watching all those alien documentaries. Anyway. /random.
Anyway, seriously tho, I really wanna try to move my fatarse out of my comfort zone artistically and start doing more pictures. So...I put on my Super Jess cape and off I went doodling this one.
My initial idea was that they were supposed to be throwing snow around. When I attempted to draw snow being thrown around, it didn't look right -
(It most likely ended up looking like semen like everything else you try and draw, right, Jess?)
NO BRAIN IT DID NOT. Anyway. Lets just say that it wasn't working out, mostly because a lot of the background was white and me actually drawing the snow looked...I dunno. Kinda...weird. So I ditched that idea, and then I decided they were...throwing around the Snowmans eyeballs.
I'm not too sure why I decided on something slightly more morbid, but at the time it seemed cute. I just didn't really know what else to make them throw around, and Taryn Lacy's pose turned out nicely and I didn't want to change her position. They'll put the eyes on eventually.

So...here they are! Gosh, they were fun to draw! Taryn Lacy is supposed to be taller then Chislett, I don't really know if I suceeded or not, but I really like how her pose came out. I suppose it's not very cold out because Taryn Lacy is just...wearing a sweater thing. Honestly, I just like drawing fashion more than I do winter jackets, so maybe that's why I never give characters proper winter clothing. Whoops. XD I drew Chislett's tail wrong tho, I think, but I still think he came out cute tho! The snowman is supposed to be farther away, but looking at it now it appears that they have built a mini snowman. I just drew Chislett too close to Snowman Sam (I insist on giving things names all the time. I don't know why. XD I even named some of my boyfriends Warhammer miniatures. Granted, most of them are Ralph, but whatever.), but...I guess it's okay to build a cute little snowman. Snowmen are fun in all shapes and sizes! I know that Taryn Lacy's tail seems kinda silly, how it's kinda wrapping around her...front... instead of the back (if any of you know what I'm trying to say), but you see, I really liked the way I drew her pants here, so I just wanted to like...show them I guess.
For the background, well...see. I could have easily done a crap ton of trees and called it a day, but I wanted to do something a little bit more but still keep it nature-y. Of course theres all kinds of Jesstrees for your viewing pleasure, but look! MOUNTAINS!! See,

is from the beautiful British Columbia (GO CANUCKS GO!

). Whenever I think of British Columbia, I think of...just...all the beautiful Rocky Mountains and YEEaDFASFWERAESDFASDFAS!!! *has a BCgasm.* I'm sure this is because when we visited BC, for the (unfortunately) short time we did, we were still in Rocky Mountain territory, and I just remember those gorgeous mountains and wishing I could live there. So...I was like I INCORPORATE STUFFZ IN MY DRAWING! so... I did! So those mountains are all BC inspired! I think they came out fine. I did want them to look...I dunno...better, I guess, but I think they came out fine in the end.
And of course, we all know that my scanner takes massive shits all over my pictures. It's not so much that the scan is terrible here, it's just that the scan is really dull, so the colours are just...dull. Oh, yeah, and it completely ANNIHILATED Taryn Lacy's hair ZOMG SERIOUSLY SCANNER WHY CAN'T YOU SCAN ORANGES AND RED COLOURS??

So, I must apologize

for yet ANOTHER fantastic scan from my shitfaced scanner. And by "fantastic" I mean not fantastic because my scanner is an asswipe. I hate you scanner. I really, really, REALLY hate you. There is just no end to your tyranny.
Anyway. I had a lot of fun with this. And those random grey blobs on the ground are supposed to be footprints. I can't tell if I failed or not.

And honestly, that cluster of trees there to the right of the picture was not meant to look as creepy as it does. I don't know why they ended up that way. CAREFUL GUYZ THERES A SASQUATCH IN THAR!!
Fun fact: It's actually illegal in British Columbia to kill a Sasquatch. You know, just incase you might come to BC for some 'Quatching. Anyway.
Now that I'm done babbling, you NEED TO GO TO

'S GALLERY. Her art is FLIPPIN' FANTASTIC, her characters rock the house, and her style is unique and epic and awesome and I JUST WANT TO LICK IT ALL DARNIT! So now, please, go and artgasm over the awesomeness that is

because if you don't....


IMMA EAT YOUUUU!!
So GO DARNIT!! *flails about like a flailsaurus*
So yes! Taryn Lacy and Chislett, building a snowman and throwing around his eyeballs for no apparent reason, for

! I hopes you like it!

Taryn Lacy and Chislett here are © to