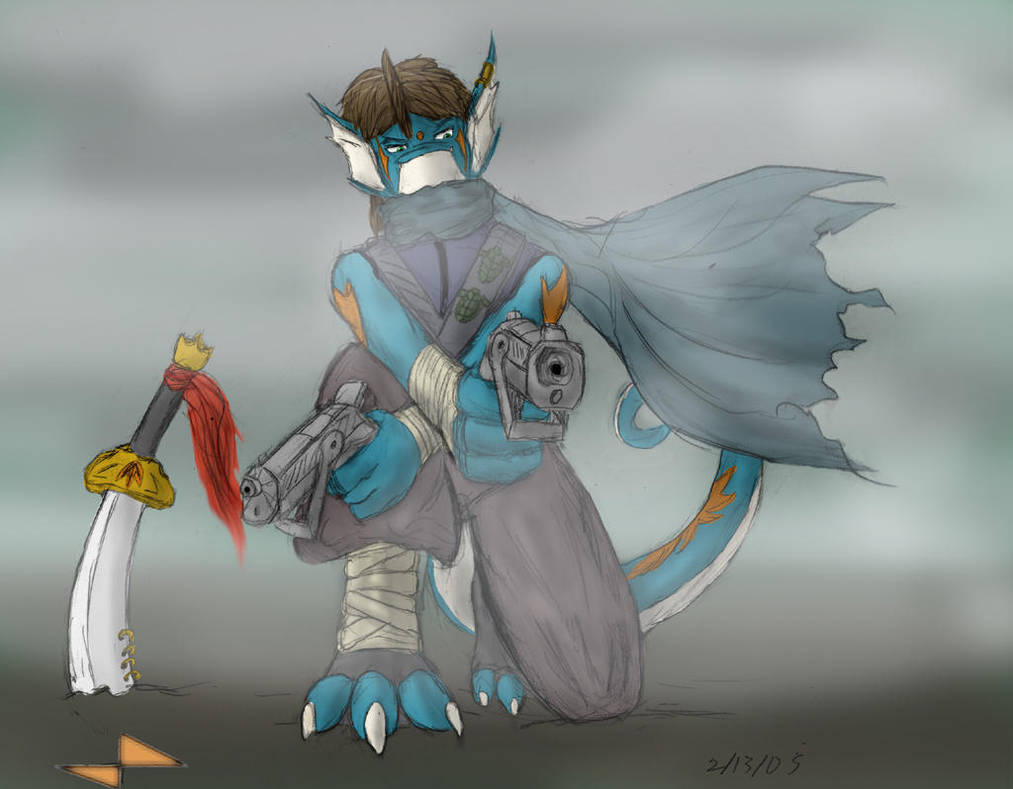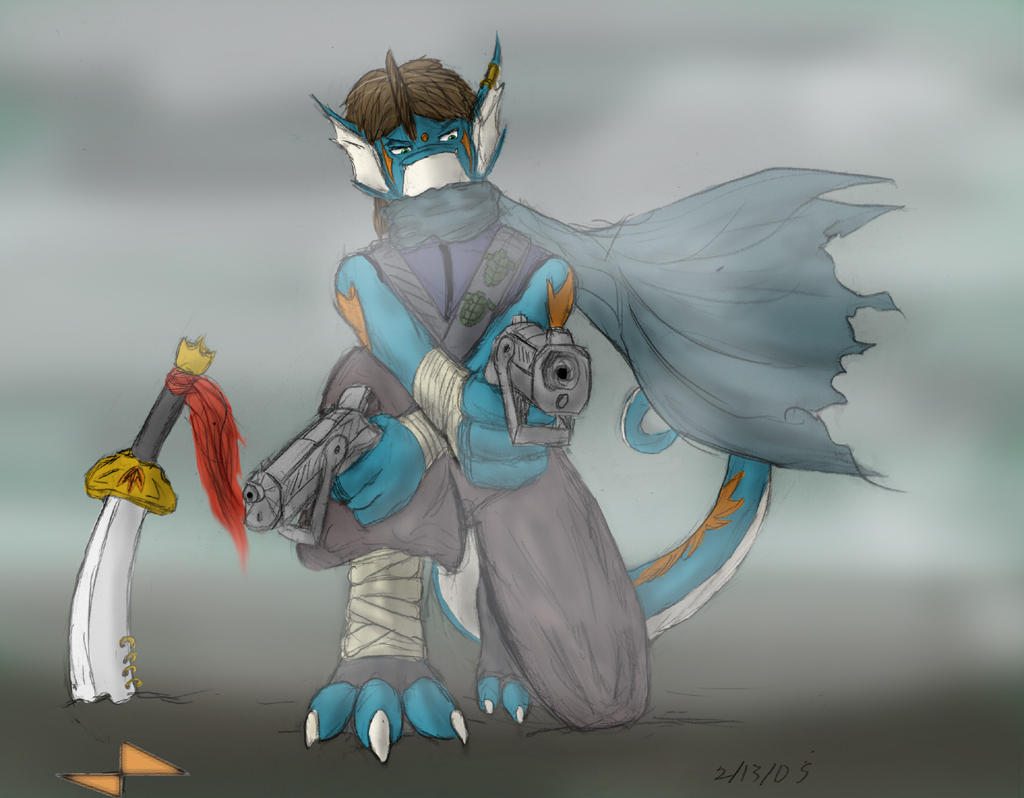 Watch
Full-view for best results, please!
So, I was reading the Altermeta forums, and I came across this thread describing an "evil organization." Now, all of this was relatively lighthearted, but nonetheless it inspired me to create an alter ego for my kuvrahk, Hopper.
PALADIN is a black ops agent on an extended assignment to stifle the endeavors of the Kraken Korps. He may look serious here, but, like the Kraken Korps, he gets pretty goofy. The guns are pretty standard, and the sword is, well, a sword. Chinese-style. I'll post the specifics later.
Originally, this was going to be just a sketch, but it turned into a full-color piece. I realize that there must be plenty of perspective, proportion, and coloring mistakes. Bleh. I likes it! This is in what I like to call "dirty style." The lines are from the original pencil sketch. No pen, no line art on blue print. It looks a lot softer, and I like it like that sometimes. I used it before on "The Matrix Has You, Beotch v2."
Usually, Hopper doesn't have that orange mark on his tail. It's a tattoo added for the PALADIN design only.
Now, I have to admit that not all of Hopper's costume is entirely original. The gun design is based off of
This guy's work (nice comic)
, and the scarf
kind
of reminds me of "Soul Reaver," which I've never played. (Here, it's just a scarf; there's no nasty surprise under there.) The two-guns-and-a-sword bit is obviously inspired by "Devil May Cry." The metal cylinder on his left ear was inspired by the character designs of
.
Hopper Heirek as PALADIN belongs to me, Calder.
As always, kuvrahk species was created by ~
noben
. Gotta love 'im.
Specs:
-time: about 4-5 hours
-lines: mechanical #2 pencil
-color: Photoshop 7
-shading: paint/airbrush style
-background: Photoshop 7
-
kickass: +10
Music:
-"Renegade Master (Fatboy Slim Old Skool Mix)" by Fatboy Slim (thanks for the intro, ~
tankus
!)
-"Concept of Love" by Hideki Naganuma (Jet Set Radio Future video game)
-"Inner Universe" and "run rabbit junk" by Yoko Kanno (Ghost in the Shell: Stand Alone Complex anime series)

Reply

Thank you!

Hehe... you know, that's the ONE adjective that DOESN'T come to mind when I look at this!
Reply

Nice work. This looks badass. And now Kraken Korps has some enemies and heros it has to fight.

"What is that disturbance? Tell me NOW!"
"It's PALADIN, sir"
"Damn..."
Reply

Or, perhaps:

"It's PALADIN, sir."
"~snrrk! BWAHAHAHAHAAAAAAAAA! Oh, oh my... Get the cameras online!"
"Which ones, sir?"
"All of them! I have to show central command this time! PALA-ahahahahaaaaa! Oh... oh, I need to sit down..."

It all depends on Pally's success rate and catastrophic mishap rate.
Reply