At the end of each year, many of us take the time to reflect on what the year has brought in terms of both highs and lows. We look to the good things for encouragement, whilst paying mind to other things we'd like to improve on in the coming year. Some go as far as setting themselves formal goals and resolutions to achieve, whilst others simply internalise desires to go one better.
This is often the case among artists as we look back on our progress over the year. We celebrate the things we achieved, progressed in and became more skilled at. But we often think of the skills we're yet to develop and resolve to work on that in the new year.
In keeping with this spirit, the theme this month is New Years Resolutions. We're going to challenge you to embrace new crafts and skills you've always wanted to have a go at, but have never gotten around to.

Because I'm slightly late in kicking this off, and I'd like to give you as much time as possible to delve into new crafts, this is going to go over two months and be split into two parts. You can enter one deviation for each part, and with twice the entries there will of course be twice the winners!

Here's everything you need to know:
Theme
The theme for January/February is "New Years Resolutions".
Part 1: Honing a new skill
Think to the craft that you are most skilled at or consider you 'main' craft. What is a new skill or area of this craft that you have been wanting to develop? Step outside your comfort zone and challenge yourself with something beyond your current skill level!

Winners:
Espeon and Umbreon Masquerade Masks
by
Draconic-Angel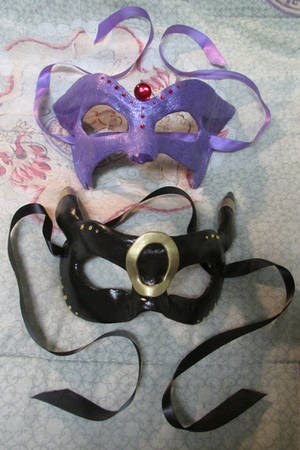 and
Animal Print Felt and Enamel Cuff
by
Aryiea
Part 2: Discovering a new craft
You are required to craft something outside the genre of craft(s) you normally stick to. Ideally this should be a craft you've never tried before, but we will accept crafts you've seldom tried and don't have significant skill at prior to the challenge. Do feel free to tap into the enormous wealth of
artisan crafts tutorials
for the challenge, but if you use one
credit the source
. Any entries with uncredited resources will be immediately disqualified.
Winners:
An Adventure In Crochet
by
5Happy5


As always, a small description of how you interpreted the theme might help us 'get' what you've done.
Rules
Seriously, read those. No more warnings! Your entry will be automatically disqualified if one of these is not respected.
Deadline
The challenge will run from
January 1st and February 28th
.
Prizes
Four winners
will receive a
3 month premium
membership and
500

; two winners for part 1 and two for part 2.
Entries
Enter by submitting to the correct folder
here
.
Prize Allocation
To the winners: you should receive your membership a few days after the announcement. Receiving the points can take a bit more time, you should receive those in the first two weeks of next month. IF you have an issue with not receiving your prize, please contact cakecrumbs or Brookette as we are the organizers of this challenge.