Artists Toolbox: Culinary Art Tools



The hardest part of any craft is getting the right tools. You've gotta learn the language of the trade, and that means getting yourself familiar with what's needed where. Culinary arts in particular can be so overwhelming. Most sugar craft books will tell you you need a long list of expensive equipment they'll use to make one type of adornment never to be used again. This can suck a lot of beginners in to spending a fortune on equipment that's not essential. And cake decorating equipment is
exorbitantly
expensive. I can go buy some lustre dust and a couple of cutters required for one type of flower and kiss $100 goodbye, so knowing when to spend and when not to spend can save you a lot of pain.
I've been building up my supplies over the last 3 years, and I still have an endless list of tools and equipment I so badly want. I have several cupboards packed full of everything from different types of cake tins to impression mats. But I keep my 'essentials' handy in my toolbox (which is another cheap substitute for a cake decorating supply caddy).
This article will focus on the sugarcraft side of culinary arts, and the kinds of tools to look for when you decide to dive into this craft. I'm going to cover the basics, so this will leave a lot of ground uncovered. This isn't a comprehensive list, more a list of the first kind of things you're going to want to invest in.
Colours
Unless you plan on making everything white, you need to start with colours. It's important that you get the right kind of colours the first time you start playing with sugar. The first few times I played with fondant I used the wrong type of colouring and to say it was a disaster is being kind. There's a huge range of brands out there, but I've never really found any difference between them. Start off with a few primary colours and a black as that will give you the base to do just about anything you need, then build as you go.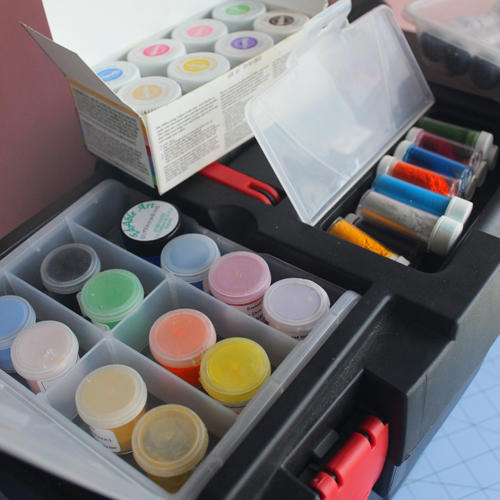 Items:
Liquid food colouring: Great for colouring things like buttercream and can be added at the beginning of some sugar recipes, but will destroy any kind of sugar pasten.

Gel paste: Essential for colouring most sugar mediums you will work with. Highly concentrated - a little goes a long way.

Powdered food colouring: Essential for colouring chocolate, as the other kinds of colouring will make it seize. Can be used for other mediums, but I save it for chocolate.

Lustre dust: Mostly used for adding highlights to finished work. Can be used to paint with, but is an expensive way to do it.

Piping
Next you'll want to look at getting some piping tips. Most supermarkets sell beginners kits with plastic tips that offer you a cheap way to practise this skill. Later on, you can spend money on more advanced and better quality piping tips. If you look around online you can find large sets of tips sold much cheaper than you'll get in a decorating store. You can buy large packs of disposable bags, but honestly I just use plastic snap lock bags for most of my piping. Snip off the corner and you have an instant disposable piping bag, great for tiny amounts of icing or chocolate.
Items:
Piping tips: Begin with a few round and star ones to start with. Piping tips are also really handy to use as cutters.

Couplers:Allow you to easily change tips when piping. Also help keep the tip securely in place

Flower nail:Many sets will come with these anyway. Handy for piping flowers, but not essential.

Piping Bags:You can pick these up cheaply or buy disposable ones. It's worth investing in a couple of good quality bags for long term use. I particularly like the plastic lined ones as you don't get any leakage or seeping.



Cutters
Unless you plan on cutting everything by hand, you're going to need some cutters. Don't waste your money by going out and buying everything you think you'll need. Buy petal or leaf cutters only because you're going to use it to make that type of flower and can't shape the petal by hand. For cutters that are geometric shapes, you'll save money by buying them in a large set. Circular cutters are really handy and you'll use them for a massive range of projects, from baking scones to creating cupcake toppers. They can even work as food rings for moulding or baking desserts. If you're good with metal you can even make your own cutters. Plastic cutters won't rust or tarnish and don't have a seam to deal with, but metal cutters will give you a better cut and are less likely to warp when pressure is applied. Some cutters come with ejectors, which help push the cut-out from the cutter. Some ejectors emboss the cut-out at the same time.

Speciality Sugarcraft Equipment
There's some speciality equipment that's hard to pass up. You can substitute a lot, but there are certain limits.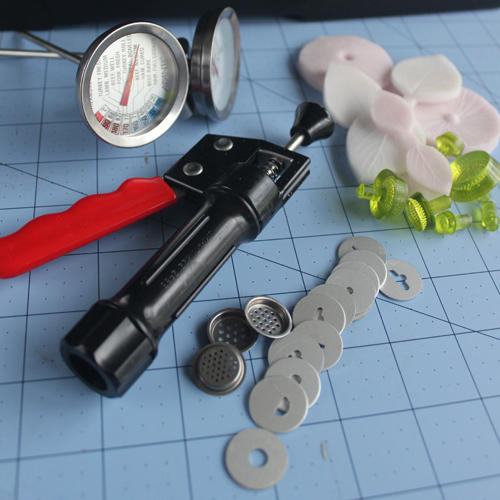 Items:
Sugarcraft gun: Useful for a large range of things, fondant work especially. You can buy a cheap clay gun and it will do much the same job, but it's such an essential piece of equipment it's worth investing in a good quality one. The lady at my cake decorating store tells me she's used this brand for 25 years and it's still as good as new. I'm 3 years in and counting.

Thermometers:Tempering chocolate and a lot of sugar work really needs a thermometer. There's ways of eye-balling it, but with a thermometer you're guaranteed success.

Embossers:Important if you're going for realism. Also useful for making patterns. You can make your own embossers, but remember to check that it is food safe. You can get food grade lacquer to coat things that are not (e.g. coated wallpaper is great for texturing)

Craft Gear and Stationary
So many pieces of equipment you'll find in a cake decorating shop you'll also find in a craft store. The larger piece of foam below cost me $2.50 at a craft store. At a cake decorating store a piece half the size was asking 10 times the price. Slap the words 'cake decorating' on it and the price goes through the roof. Especially if a certain brand beginning with 'W' is attached to it. Know this and watch out for it. Take a mental survey of what's being sold, note the prices in your head and go hit up your local craft store. Then try not to fall over when you see how much you're potentially being ripped off. I always buy floristry wire and tape, for example, from a craft store for at least half the price. Take advantage of crafts marketed towards kids as they're usually pretty cheap.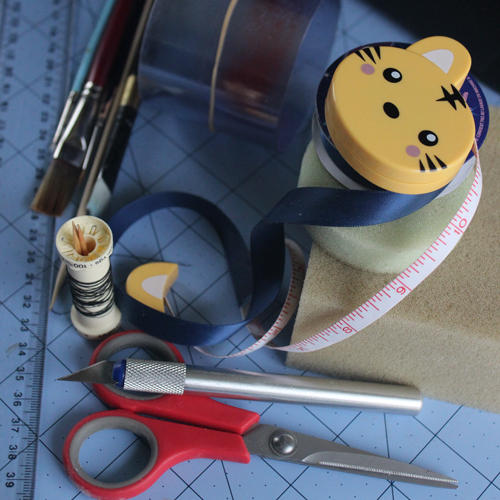 Items:
Basic stationary:Get a pair of scissors, a ruler and a tape measure to use only for food and keep them separate. Flexible measuring tapes are essential for measure your cake to know how wide you have to roll your fondant out, for example.

Acetate:Acetate is your best friend. From lining dessert moulds, piping on transferable designs, cutting templates and stencils from or for chocolate work. It's incredibly useful. It's also really cheap at craft stores. You may not find it cake-size, but it's easy to cut it to fit. You can make amazing-looking chocolate garnishes by smoothing the chocolate onto the acetate then manipulating it into a funky shape and leaving it to set.

Crafty items:Things like craft knives and paintbrushes are an absolute essential. Get paintbrushes of many different sizes and keep them aside for food-only projects. Fine paintbrushes are great for adding tiny details. Bigger ones are good for when you want to paint or use lustre dust to give your sugar work a solid colour. Paintbrushes are also good for painting sugar glue to adhere things together, or for moving and attaching delicate pieces. Ribbon is another good thing to have on hand for decorating cake boards and such.

Foam:Foam is essential for a lot of sugar work. As fondant, for example, dries it can stick to your work surface or become indented or misshapen by it. Long thin sheets of foam are good for resting work on to dry. Thicker, more solid blocks are foam are great work surfaces for adding detail to fondant pieces (e.g. using a ball tool to frill petals or trimmings) or when using a cutter with an ejector.

Cotton:Don't pay $50 upwards for a cake layering tool like I did. Mine's sitting in a cupboard collecting dust. You can perfectly layer a cake with a piece of string or dental floss. Many of us crafters have a spool of almost finished cotton lying around: sterilise the string and keep it with your cake decorating stuff for the best layering tool you'll ever have. Here's a tutorial on how to do it.

Hardware
As with craft stores, you will save a lot of money by buying things from a hardware store instead. A lot of the most useful things you'll find in the painting section, but have a wonder around with cake in mind. Finding shortcuts sometimes takes a bit of creativity and imagination, but the more you delve into the hobby the more you will understand your needs and can look out for tools that will do the job. My items below are a mix of things I bought at a hardware store and others I bought from a decorating shop but later saw in a hardware store and regretted my purchase.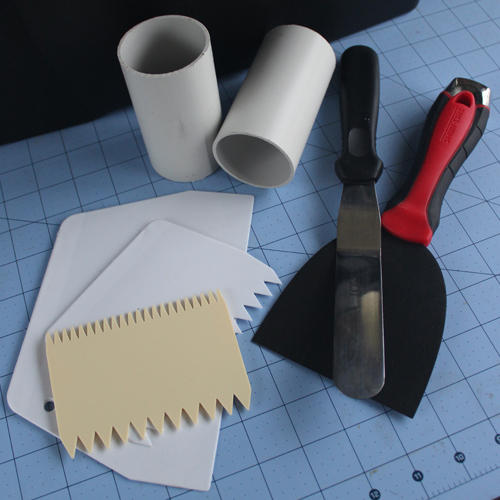 Items:

Spatulas:Palate knives, spatulas or offset spatulas can be found in most hardware stores in the paint section. You'll probably find less heavy-duty ones in crafts stores as well.

Scrapers:Paint scrapers are the best kitchen tool and are no different from what you'll find in a cake decorating store. There's a huge array of shapes and sizes and degrees of flexibility. I have a few different ones for different jobs. They're particularly useful for chocolate work. Some, like the one in the photo above, have an additional non-stick coating. Larger scrapers can be used to substitute for cake lifters. They're a dream when using the scraping method for covering cakes. Scrapers with a curved edge can be used as bowl scrapers, If you can find scrapers with teeth (a bit of an elusive beast in hardware shops) you can use it as a decorating comb.

PVC pipes:PVC pipes lined with acetate make really cheap food moulds for chilled desserts. Most hardware shops will cut a length of pipe to size for you (if they refuse to cut it for you tell them they're a jerk from me).

Other handy items
Here are a couple things that are all relatively recent purchases of mine as I decided early on I didn't need them. Other methods got the job done just fine. These aren't essential, but they do make life a little easier.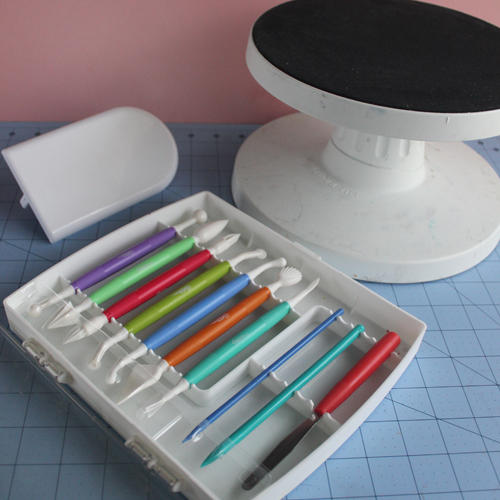 Items:
Turntable:Now one of my favourite decorating items. It allows such easy access to the whole of your cake and helps immensely when covering cakes with fondant. You can pay through the roof for one that has all the bells and whistles, or pay $20 for a PME brand like I did. Its tilting ability is great when adding or piping things onto the side of a cake.

Fondant tools:These are useful for a lot of different sugar work, but can be substituted by using things like a toothpick or butter knife instead. The ball tool is the most handy, so I'd recommend getting that at least. These are also similar, and in some cases identical, to clay tools.

Cake smoother:You can get pretty smooth fondant just using the palm of your hand, but using a smoother can help get a perfect finish. Alternatively, use a piece of acetate to smooth fondant work.