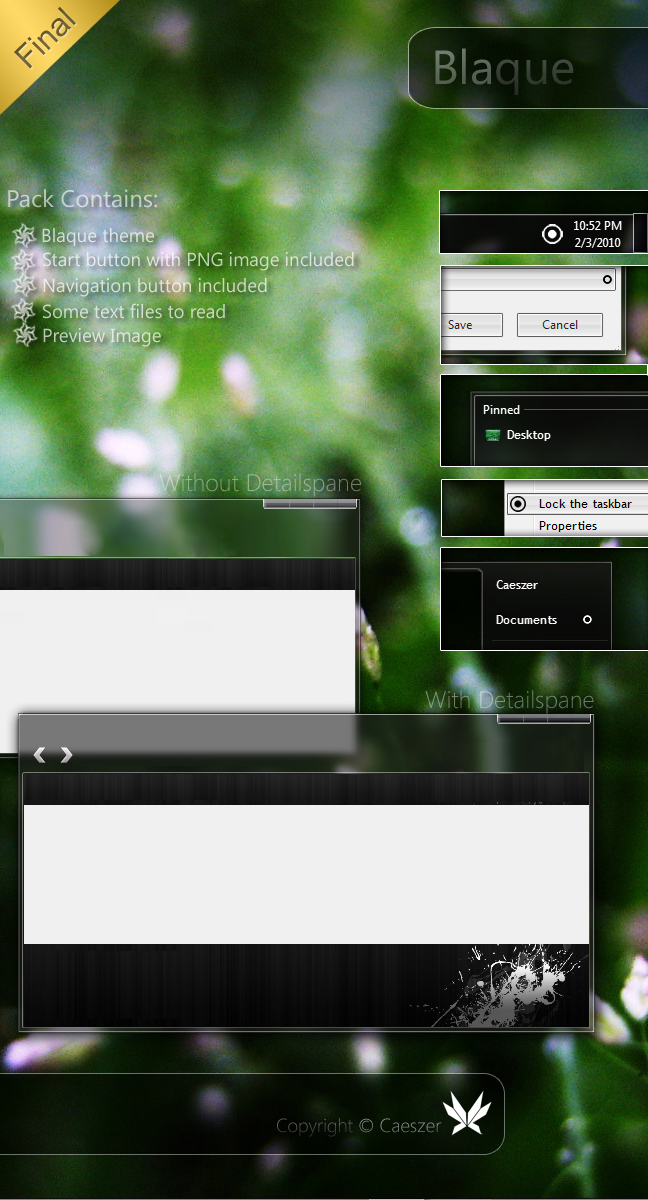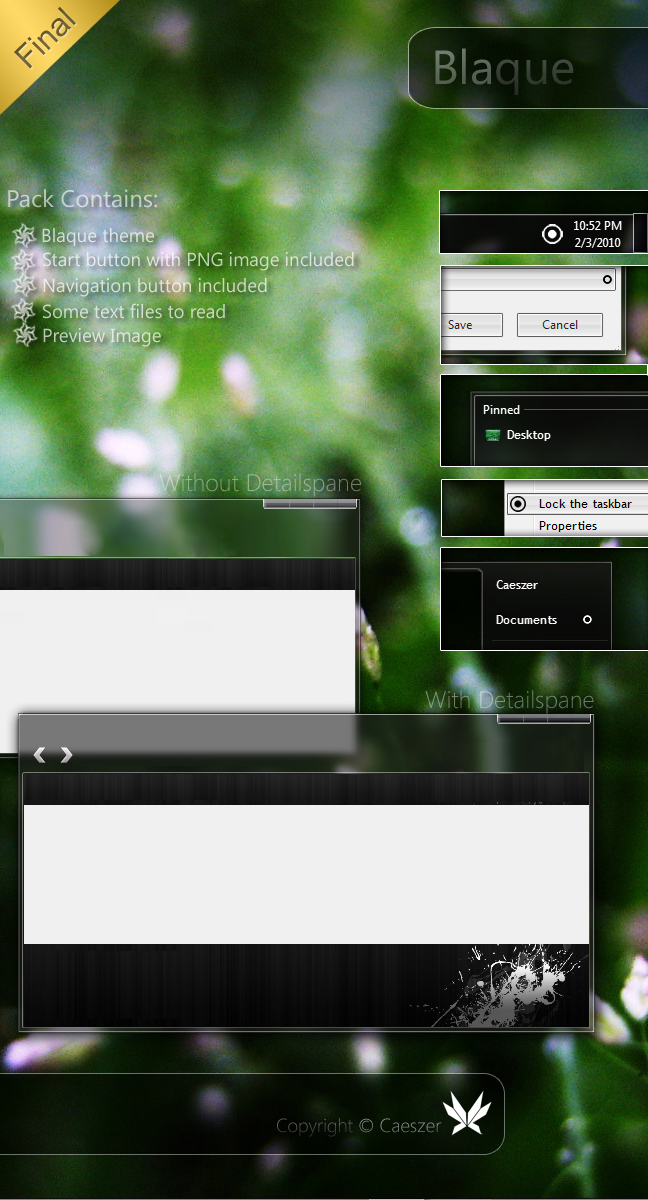 Updates:*Buttons changed
*Combobox changed
*Menu image glyph changed
*Scrollbar changed
*Window background color changed
*Listitem image changed
*Jumplist changed
*Header changed
*Shutdown button changed
*Window side-reflection removed
*Included 32bit & 64bit system files
*Dark glassy taskband changed
*Show desktop button improved
*Scrollbar changed
*Included new navigation button
*Close/min/max/restore button sharpen
*Recolored some important parts/hidden parts
*Glow removed
*Start button image fixed
Introduction:-

Stylish black skin with glass impact. Aero default themes edited clearly with a dark concept in certain parts. Anyway, I took about 4 days to finish this.
_______________________
Pack Contains:-
*Themes: Blaque theme

*System Files: Explorer/Shell32.dll/OobeFldr.dll

*Notes: Installations Guide/Important Note/Copyright Note

*Preview Image
________________________
Installations Guide:-
To apply the theme,

1. Copy all the items in the folder 'Themes' to c:Windows\Resources\Themes
2. Then, right-click on the desktop & choose "Personalize"
3. Choose the 'Blaque' theme in the 'Installed Themes' section.

For the explorer, just copy it into the folder windows & the others just copy them into the system32 folder.
Then,restart your computer.

Notes:You're advised to make a backup of your available\original components before replace them with the components provided in the pack.
________________________
System Requirement:-
*Now, this theme available for both Windows 7 64-bit\32-bit.

*Makesure you've installed a good graphic card to enable transparent part to be seen
_______________________
3rd's Party Applications & Resources In The Preview:-*Applications:
Object Dock
:[
link
]
Uxstyle Core
:[
link
]
*Image Resources:
Leopard Graphite Icon Pack
:[
link
]
_______________________
Notes:-Now this theme working fully in both Windows 7 32-bit & 64-bit, ENJOY!!
_______________________
Another Links:-
Author's Website
:[
link
]
Author's Gallery
:[
link
]
Watch Author
:[
link
]
_______________________
copyright ©caeszer~2010