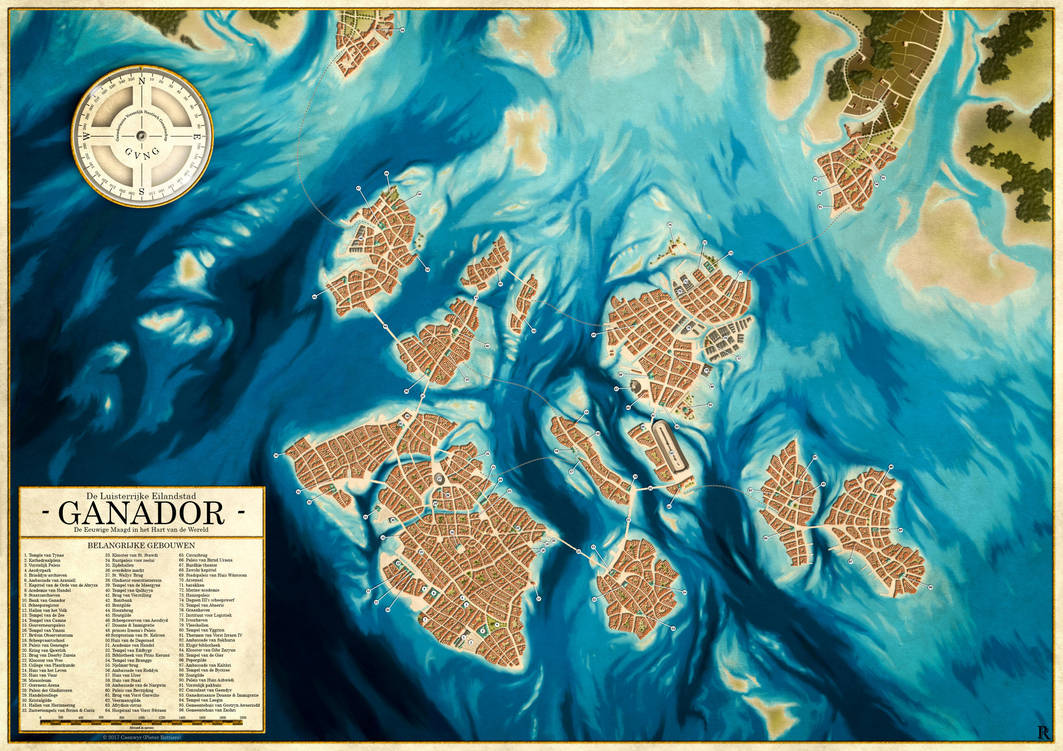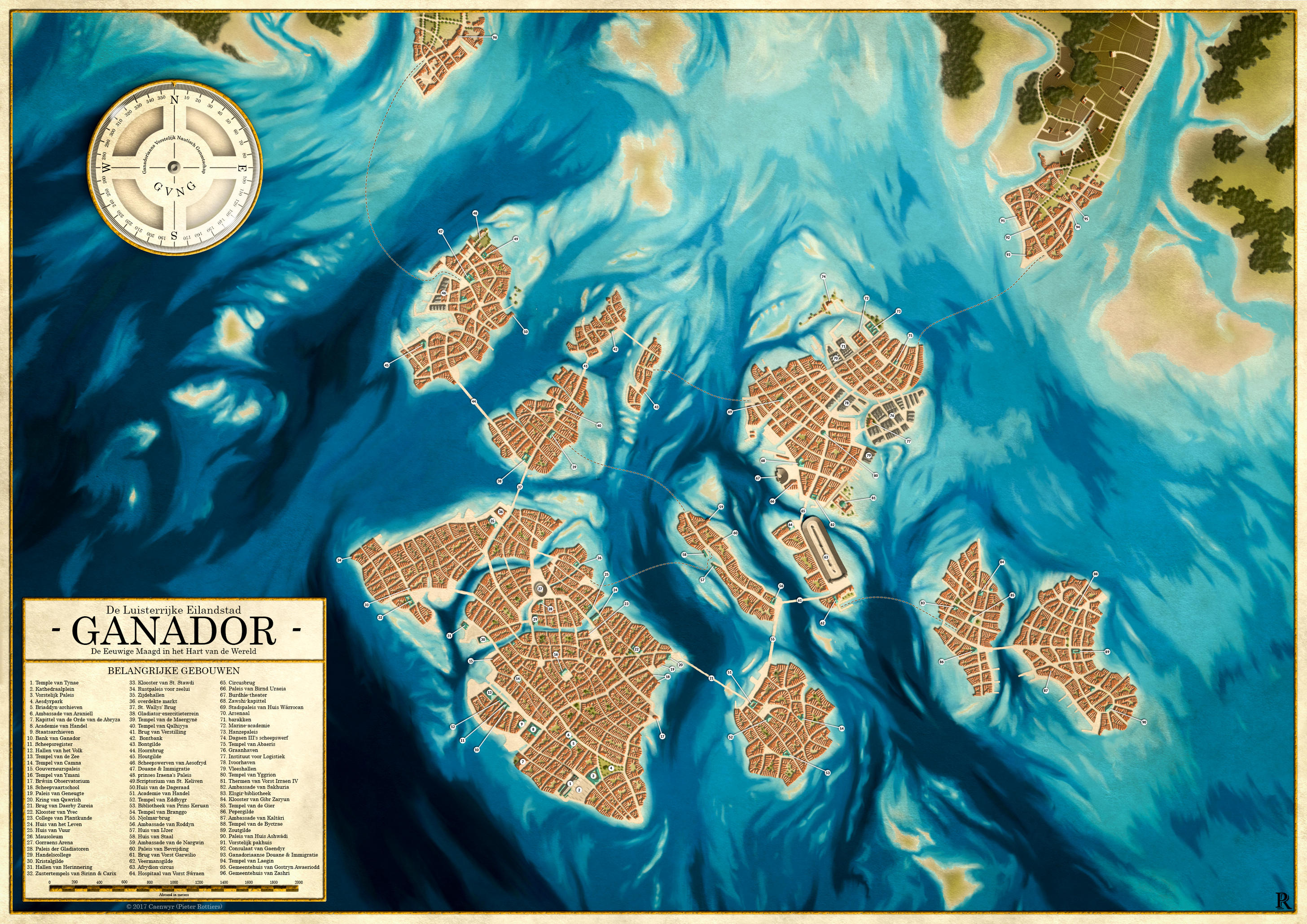 Watch
Ganador is a city at the mouth of the river Celwyr, capital of the Daveiry Province in the Free Lands of Gaendyr (the name of which was obviously derived from the word Ganador). You can find all about those weird places on
this map
I created a few years ago, or in a little more detail
here
.
Ganador was originally founded in the 23rd century AFI as a temporary refuge for people fleeing the constant wars ravaging the lands around the Celwyr. They picked a bunch of islands (little more than mud flats) at the mouth of the river - close enough to land for them to easily trade with people from the mainland, and far enough for their settlement to be easily defensible. Whenever war broke out, people from dozens of miles around would flock to the islands and hide in ramshackle huts put together from driftwood. As soon as peace returned they would go back to their homes to try and pick up the pieces and start their lives over.
Of course this wasn't something they could keep on doing forever. Rebuilding everything just to see it destroyed in the next war isn't a very motivating prospect. So more and more people decided to stay on the islands and eke out a living there. Life wasn't easy in the beginning: the islands were mostly sand, too weak to build stone houses on, and the bedrock was tens of feet below sea level, so just digging down until you found rock solid was utterly impossible. Ground water was mostly salty, so growing crops was nigh on impossible, and soon the few trees that managed to grow on the islands were chopped down for firewood or timber (remember, stone buildings were impossible). The only sort of sustainable income the islanders managed to generate was from trade: the location of the islands near the mouth of the Celwyr, the largest artery of trade in this part of the world, gave them a splendid advantage. Originally the islanders took to piracy to earn a living, but gradually this shifted to trading themselves, which eventually led to the establishment of the Ganadorian Hanze, a loose organisation teaming up the wealthiest traders. The little settlement started to flourish, but the geography of the place never really allowed it to grow larger than just a collection of wooden huts and warehouses.
Everything changed when someone (according to myth it was the first Lord of Ganador himself, although historians tend to doubt that) discovered that it was possible to reach the bedrock, by driving tree trunks in the soft soil. By connecting these poles with horizontal beams, it suddenly became possible to build far larger structures. Coupled with the now swiftly accumulating wealth of the settlement, big construction projects started popping up all over the islands. Some failed, resulting in huge structures just sinking away in the bog, but most actually succeeded. Just a few decades later the mud flats dotted with wooden huts had been transformed into a sprawling city of palaces and public halls, of soaring monuments and airy squares. Thousands of people were attracted from the mainland, originally as cheap workers, but many of those, or their descendants, eventually converted to trade themselves.
Ganador became a major powerhouse of trade in the centuries that followed. The Ganadorian Hanze became so powerful it came to supplant the original line of Ganadorian Lords and produce their own line of Lords instead. Unchecked, the Hanze evolved into a supreme power within the city. And then it overflowed it. The organisation grew until it had factories in hundreds of ports all over the known world, and physically owned tens of thousands of miles of overland trade roads - along with the halting posts, fortresses, wells and other facilities that go with it. With humongous wealth came military power. The Hanze established its own navy, originally to defend its fleets of merchant ships against piracy, but it soon found other uses for it as well. However, Ganador never physically conquered much of the world at all, leaving the political management to kings and cardinals. They even extended cheap loans to them, which eventually led to much of the power structure in the outside world being in excruciating debt with the organisation. And thus Ganador ruled the world, without ever formally becoming a center of political power.

Reply

The detail-work for the sea in this piece is very impressive (not to mention gorgeous). Great work.

Cheers,
-Arsheesh
Reply

The colours are absolutely stunning and beautiful!
Reply

Gorgeous map, great historical background. Makes me want to use it in a game somewhere.
Reply

Thanks Planetrix! And I'm glad to hear you want to use the map. For any commercial uses of the map, be sure to get in touch through info@caenwyr.com, and I'll be happy to help you out. If you're talking about a purely private game however, feel free to go nuts with it (without altering the image in any way of course)!
Reply

Oh of course, just thinking about adding it to my GMs binder -- the place I keep maps, lists and other stuff to help if the party turns left at the Pass of Eternal Doom instead of right

I would never alter a map or repost it *anywhere* without someone's express permission. I respect how much work goes into making something like this, and really think this city is something special.
Reply

Reply

A brilliant piece of work Caenwyr

And an interesting story to go along with it.
Reply