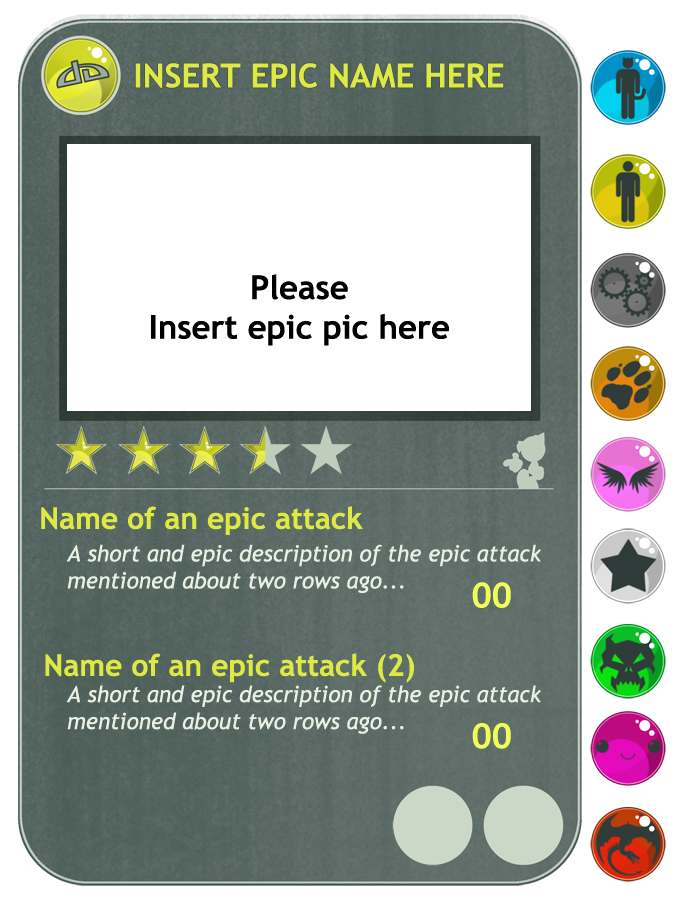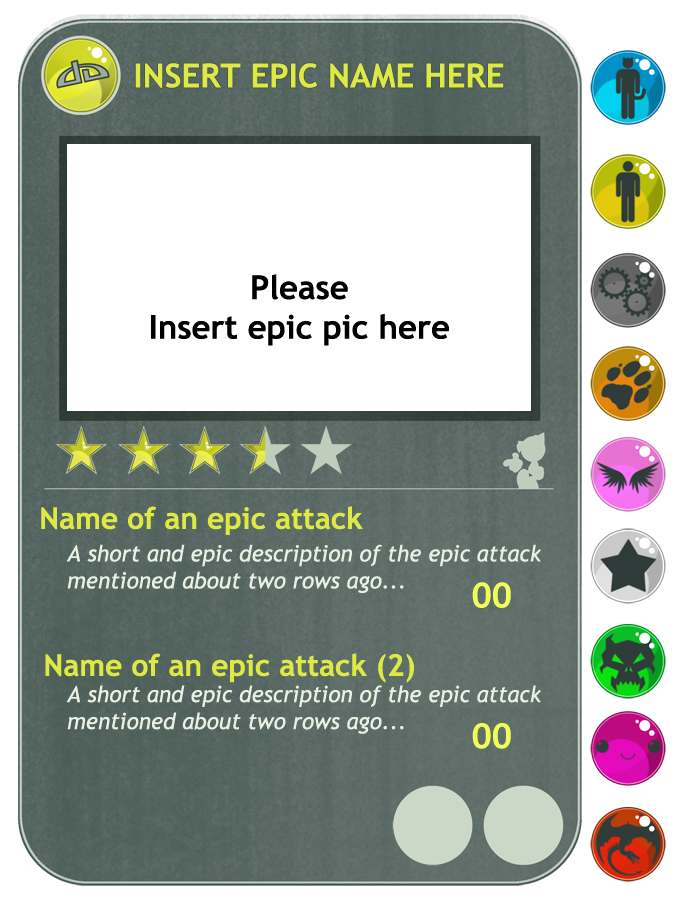 Watch
ALPHA!!!
I was so bored...
Horray for my Originality!!!
USE ONLY ORIGINAL CHARACTERS
This is a dART Trading Card!
Base rules:
There are 3 rounds, if you win 2 of them you win the game
Stars show the rank of a card (MAX 5)
That number (00) is the attack power (MAX 10)
A card can have 2 types at the most
Every card has 30 HP (20 HP for two-typed cards)
But...
Special rules:
You can use just 3 RANDOM cards on your "deck"
Few stars = More attacks
More starts = Few attacks
Few stars = Lower attack power 1 to 5
More stars = Higher attack power 6 to 10
Attack doesn't match with OFFENSE!
You can have defensive moves too :3
Types (as always) show the effectiveness of an attack
BLUE
-> Anthros
Fictional characters with human resemblances
Famous matches: Crash, Ratchet, Fox McCloud, Blacksad
YELLOW
-> Humans
REAL Simply human beings
Famous matches: L, Light Yagami and stuff
Ninjas are included since they really existed
GREY
-> Mechas
Mechanical beings
Famous matches: Bender, Clank
ORANGE
-> Animals
REAL Animals of all type (prehistoricals too)
Famous matches: Balto, Garfield, Simba
PINK
-> Myths
Mythological creatures and beings...
Matches: Elves, Fairies, Angels and stuff
WHITE
-> Fan Charas
I hate them all, but they're sooo many.
Matches: Own characters created for that game/anime/manga/book
GREEN
-> Monsters
Evil beings

Matches: Zombie, Witchies, Demons, Devils and stuff
PURPLE
-> KawaiiDesuNe
This one will me laugh my ass off...
Match: CHIBIES, ALL THE CUTENESS YOU CAN CREATE!
ATTENTION: This type can easily be linked to another one
Toon Link, for example, is a Myth and a KawaiiDesuNe
RED
-> Dragons
Self-explanatory!?
Matchs: SPYRO! All type of giant lizard lol (dynos not included)
I'll make a table with all the type effectiveness...
Just coz I'm tired

No copyright infringment intended
Fella and the DA logo belong to DeviantART
LEMME SHOW YOUR WORKS!
I use a psd file for now...
But I'll probably change with a PNG one
Easier :3

Oh hell yeah! This is a pretty amazing idea. Is this still a thing?
Reply

Someones gotta get this idea really going, get a starter deck created and devolop the cards and sell em in the DA Shop. No fucking joke. I love this idea tbh, making it real even if in DA's community strictly would be great.
Reply

Well, It's hard to plan something about it. I think the idea it's not original, but it would work in the dA community...

But this is like a beta version XD
Reply

Wow!Pokemon art!Based on the game card pokemon!version deviant art!Where I can make this type of card?
Reply

Will use one day.

Reply

Stay tuned! I'll make a PNG of it so you can easily use it
Reply

What if it's none of those?
Reply

I'll update it with new types then...
Which "type" is your Character?
Reply

He's human but he's not a normal human; he's a Touched. Original race, long story.
Reply