Description
Commission for

(owner lets you all download it for free

)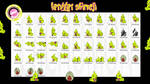 Download more of my Shimejis


Download Java


Download Winrar


Convert a .rar into a .zip online


Shimejis Waiting List

:::::::::::::::::::::::::::
BEFORE COMMISSIONING A SHIMEJI, BE SURE THAT YOUR COMPUTER CAN PLAY THEM. WHAT I MAKE YOU PAY FOR ARE THE PICTURES, NOT THE PROGRAM. I DO SEND YOU THE PROGRAM PREPARED FOR BEING USED, BUT UNDERSTAND THAT I HAVE NO TIME FOR EVERY PROBLEM YOU HAVE WITH THE PROGRAM ITSELF. ANYWAY, WHAT I MOST ENJOY IS THAT IT WORKS PERFECTLY FOR YOU AND THAT YOU LOVE IT SO, EVERYTIME I'M ABLE I'LL ANSWER YOU ALL YOUR DOUBTS OF COURSE

:::::::::::::::::::::::::::
Shimeji made by:

Commissioner paid:
15€ (easy)
Image size
1366x768px 566.81 KB

when I run it the icon on the bottom of the screen appears as usually but the shimeji does not appear in the screen. HELP!!!
Comments have been disabled for this deviation