++++++++++++++++++++++++++++++++++++++++++++++
I'm Savage
Female/♀/She/They
v NSFW CONTENT v
++++++++++++++++++++++++++++++++++++++++++++++



Commission Info
/
TOS
DO NOT STEAL, TRACE, COPY, REPRODUCE, REFERENCE, OR POST MY ART ON ANY WEBSITE IN ANY SHAPE OR FORM WITHOUT MY PERMISSION.
Only people who I have made the art for have automatic permission to repost WITH credit given to me.
Exception: Art blogs, promotional blogs, things like that WITH links to the originals and credit given. (repost only, not traced, edited, copied ect)
DO NOT USE MY CHARACTERS WITHOUT PERMISSION.
EXCEPTION: Fanart is of course totally fine and greatly appreciated!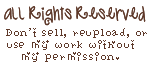 ++++++++++++++++++++++++++++++++++

Background img by
Reverrii