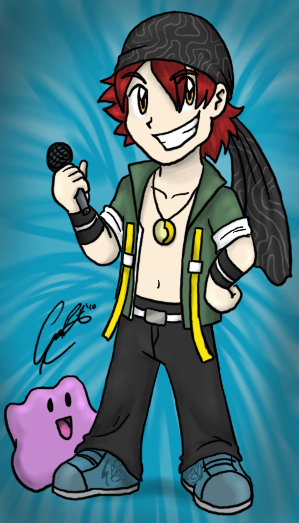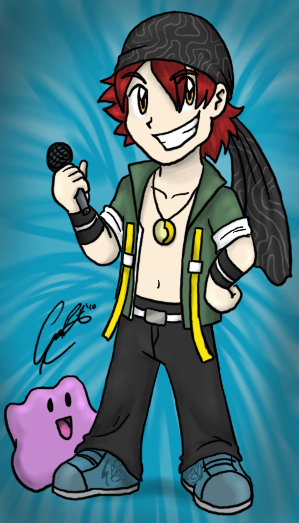 Yay for the blue shoes!

Very wonderful work on the Splash Chibi, and making the Ditto extra cute!
Reply

Reply

Nah, they're Luxray shoes...but with the head spikes, it did cross my mind that it looked very much like Sonic. XD

Glad you liked it!
Reply

D'oh! XD Well, they're still pretty awesome shoes :3
I forgot to add earlier - I really like the effect you created in the background! 8]
Reply

Thanks!

I've been meaning to ask, is 'Splash' his actual name or a nickname?
Reply

It's his nickname :] and part of his 'stage name', the other part being 'Creditz' (Because he loves game corners

).
He's crazy about jet-skis and is still learning how to decently ride 'em. When he was younger, his friend Agnew started calling him 'Splash' after he accidentally crashed into a boat with one. XD
You'd think he would've called him 'Crash' but since there was water involved, meh XD
The name kinda stuck :3
...on the other hand, I thought it'd be cool if there were a character named 'Splash'

because it amuses me XD;
Reply

Crash Creditz sounds more like a DJ, so he got the better deal. XD

Weirdly enough...there was an ooold character of mine from Number 85 who looked just like Splash cept he wore one of them wool beanie hats, and he was called Ashton.
Reply

Did he used to be in the comic? Cuz' I can't seem to remember him :/ I know of the main cast, Don's brother and I think I can vaguely remember a girl with glasses and a black dog paw on her shirt, who I think used to bring Don his coffee? I'm not sure XD;
I randomly created Splash's looks with
this
so that must've been a coincidence XD Still, pretty cool though

Reply

You're remembering Kat from the story where Don does comedy stints by jabbering loonish into the microphone. Good memory! I was stumped for a moment there. XD

Oh its coincidence alright, I just thought it was neat. =B

Ashton never got to appear because I stopped making #85 long before his cameo...and in the possible remake, he probably won't show up. That's the pain of planning way in advance, if you stop the project, a lot of good ideas can get trashed.
Reply