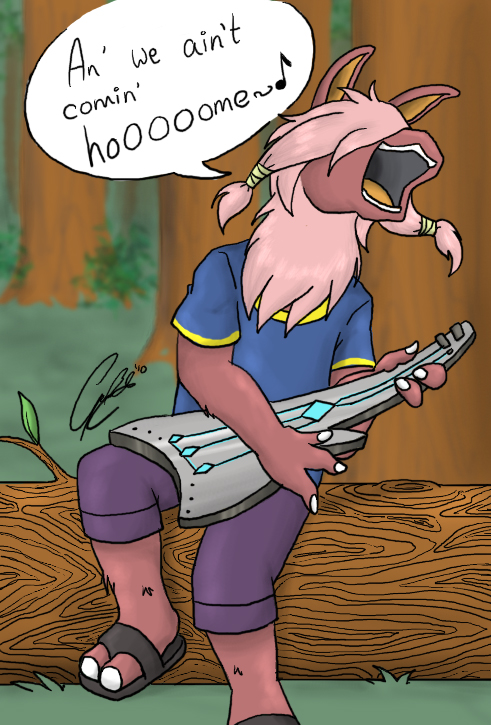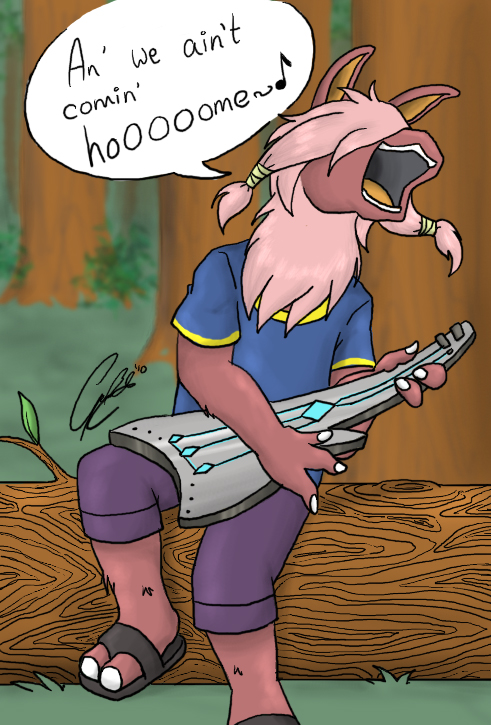 Watch
This is a character from "Outcast Hero : Anon", the far-off sequel to Outcast Hero. He's an affarigan named Chaz who -as of the present plotline- ends up travelling into the great beyond with Marlon and a human guy called Spike. I imagine him with an Australian accent.

Makes me wonder how good/bad his singing is.
Reply

Hahahahahahahahahahahahahahaha! XD Love it!! XD
Reply

Ohh lawdy, there's gonna be a sequel.
...Well, normally I would make a jab at the unfortunate plague of sequelitis, but knowing you I think it's gonna turn out okay. XD
Reply

Goodness. Making a sequel already? That's probably just as bad as me making more characters for my ever growing L+R Corp.

... Which I'm still doing.
Reply

I had a hunch you would make a sequel 8D
Don't know why, but I did... must be the weather :'D
Lovely to hear!

Reply

Muxlowe's awesomeness is just too big to be contained in one movie!

Er...I mean, the Outcast Hero universe is just too big to be contained in one movie! XD
Reply

ohgod

My brain likes to poof sequels too sometimes. D: And I'm all NOOO I CAN'T EVEN FINISH THIS THING sfdffgsfd
Reply

Hehe, oh I know I can finish this movie...it's just going to take a while, so getting sequel ideas this early is a smidge frustrating. 8D;

Especially when there's WYM and all..
Reply

A sequel already? XD
Oh, and yes, I'd love to see more of the characters!

Reply

Yessir. I've been planning it for a few months now.

Reply

Huh, I don't remember hearing about a sequel, but that's cool. It would be nice to see more plans on it, though OH art in general is always appreciated.
Reply

That's because I've been keeping it under wraps until I was certain I had enough content to do such a thing. And I have sequel-oriented plotline coming out of my ears, so that won't be a problem. XD

Yeah I should put up some more one shots of Outcast Hero universe cast members in general.
Reply