MOST RECENT ART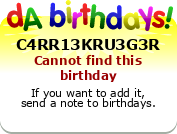 Brandon-Jay | 14 / Leo | Male | Bisexual / Single



Ayo little kiddos, my name is Brandon. I'm just one of those users who make art and memes even if I don't really post much (take note I have a life outside the Internet). I'm much more active on other sites like Discord and FANDOM, where I go by different names. I mostly draw fanart of things I love, and my characters, but most of the old stuff I do, while being underwhelmingly drawn, still gets loads of favorites. Like one of my old artworks have over 40+ faves iirc. also my memes get loads of faves as well like come on do you guys really think my memes are better than my art--


FRIENDOS

might not be a complete list; if you are a friend of mine and i missed you, do not worry, just note me if i missed you!

















and many others that do not have a deviantArt account.