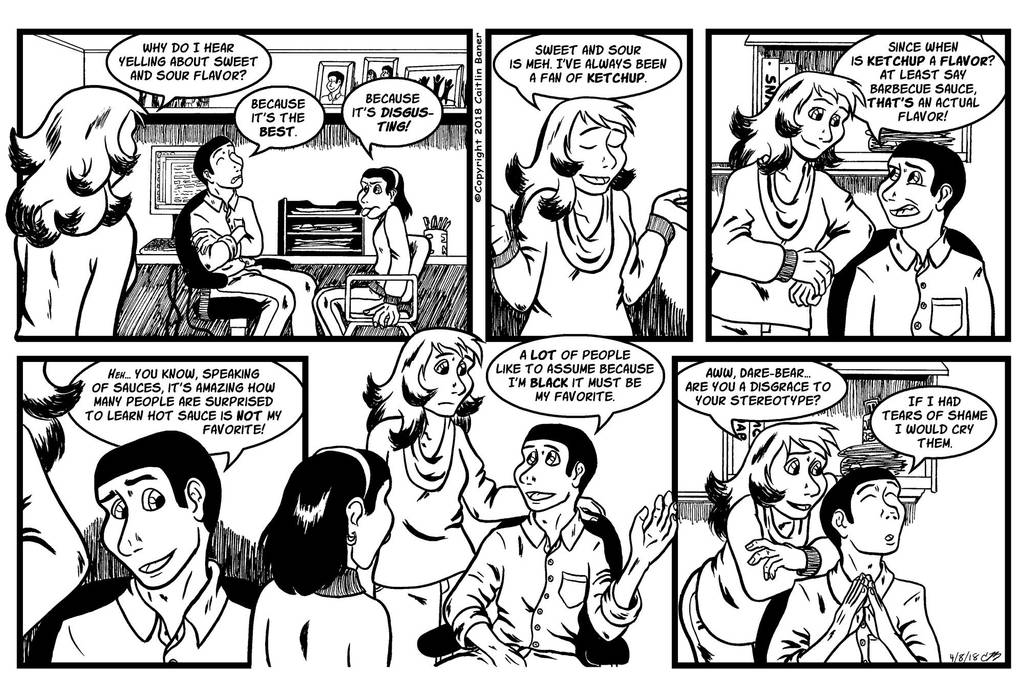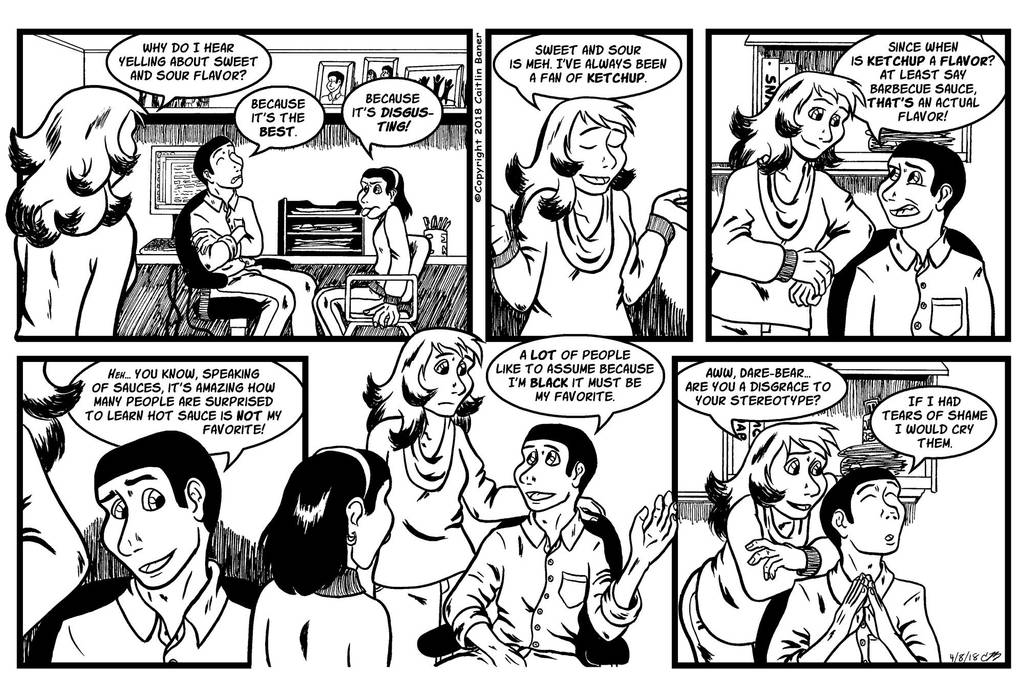 Watch

Welcome back, and great inknig on this!
Reply

Thank you! I'm pretty rusty from not drawing things 24/7 like normal, but it felt good to crank this one out.

Reply

Hi buddeh

Reply

I don't know, I disagree with Darren. After all, there are different flavors of barbecue sauce. Honey BBQ, for example. In Allison's defense, at least ketchup only has one flavor - well, mostly. Some companies know how to make it, and some ... don't.
Reply

I guess I never think of ketchup as a flavor all on it's own. Like, you'll see barbecue flavored chips but not ketchup flavored chips. I've never seen anything labeled "ketchup flavored".
Reply

I have actually seen ketchup flavored chips. I will make a point to take a picture of it if I see it again.
Reply

...........

Of course it turns out that's a thing. >_< Please do take a picture, I have to see this for myself!
Reply

Regrettably, I won't be able to. I haven't seen them in a while but I remember having seen them under Lay's. So I contacted Frito-Lay. Here's the response:
Hi Steven,





Thank you for writing to request Lay's Ketchup. Although I'm sorry the flavor is not available in the U.S. at this time, I'll let the brand team know you'd like it available in your stores.





Although Frito-Lay is an international company, tastes vary from country to country so not every product we sell is available everywhere. We try to satisfy local tastes and preferences; therefore, what is popular in one country may not do as well in another. Several of our major brands may be found in various countries, but typically, products are developed to suit local tastes and are not exported to other countries.





Thank you again for reaching out to us, Steven. I'm sending a coupon to you to try something new on us and hope one of our other snacks will satisfy your taste buds ... and have a great week!





Best regards,





James




PepsiCo Consumer Relations




Reference # 065082068A
You know, I'm tempted to see if they'll send a sample, just so I can get a picture of the package anyway!


Reply

Holy moley, she returns! Welcome back, my friend! And hey, you even posted a fun strip. I love his pose and expression in the last panel. It's slightly exaggerated, which makes it especially funny in this context.
Reply