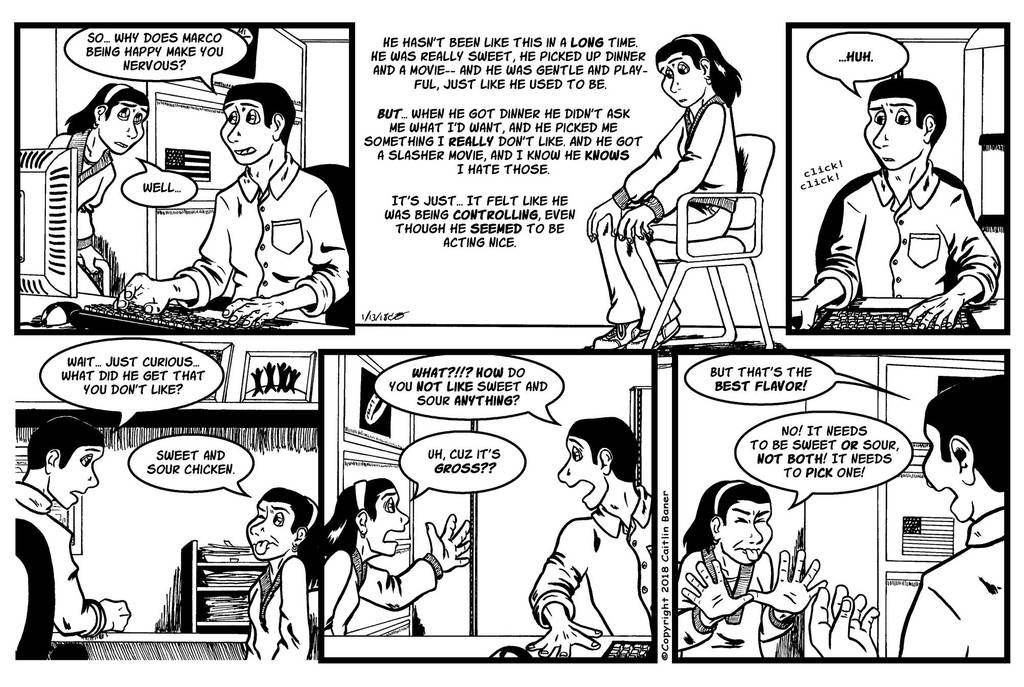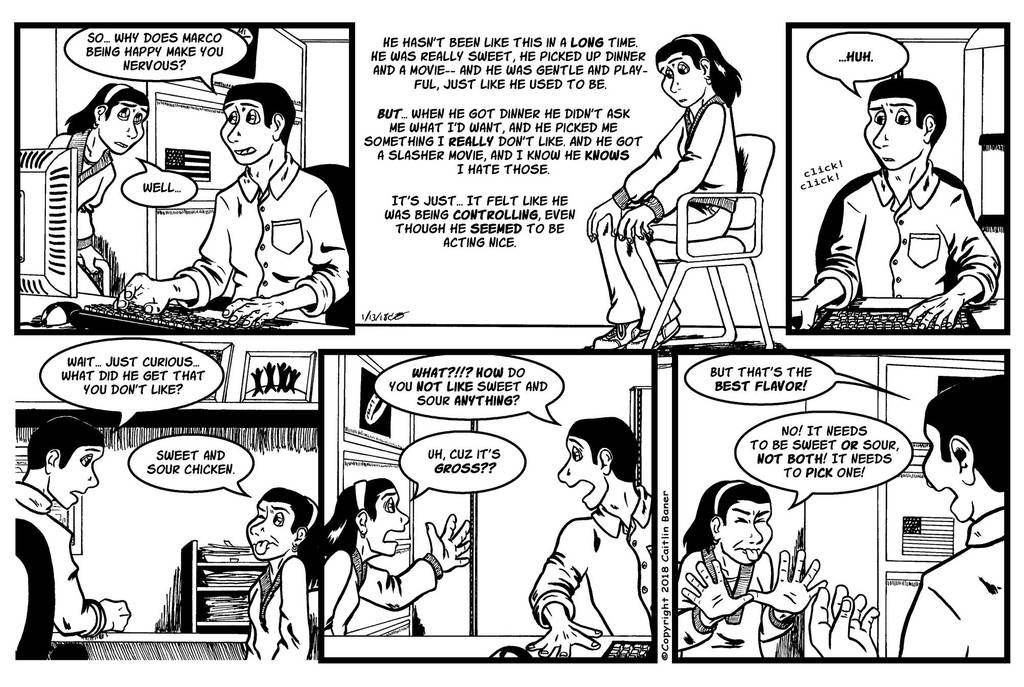 Focus, Darren.
Oh look a comic.
Sorry for the 7 month break. Things in my personal life are getting slowly better, but this has turned into something of a mental health break. It takes almost all my energy to go to work 40 hours a week; by the time I get home I'm exhausted, and most weekends are spent recovering from said exhaustion. I'm still making sure my focus these days is taking care of myself versus cranking out comics. I hope to have another comic up sooner than this one took to get up.

"I Just Work Here" Copyright 2018 Caitlin Baner, all rights reserved. The IJWH website: www.ijustworkherecomics.com/
VOTE FOR IJWH ON TOPWEBCOMICS! topwebcomics.com/vote/19034/de…
Connect with IJWH on Facebook:
www.facebook.com/pages/I-Just-…
Subscribe to the IJWH RSS Feed: www.ijustworkherecomics.com/ij…
Connect with IJWH on DeviantArt:
byakurai1313.deviantart.com/
Connect with IJWH on Twitter:
twitter.com/FraudPhantom

Hugs. It's good to have you back.
Reply

Hai buddy!

Glad to hear things got a little bit better for you.
Reply

Yeah, we are wracked by financial disaster here. I and all of my relatives suffered major financial setbacks (and I lost a student to illness). All of us are trying to find new employment before we wind up homeless, but it's a close call.
Anyway, although my problems are different, I can empathize. I am thrilled to have you back, and hey -- you apparently didn't miss much. The holiday card thing seems to have been skipped this year. I got no notices, and even searching for it yielded nothing. Sigh. It was so darn fun!
To the point: welcome back!
Reply

Awww man I'm so sorry to hear about your financial situation and the loss of your student. That sounds absolutely awful. My finances are tight but stable; I consider myself especially lucky in that regard.

I'm glad to know I didn't miss anything with the holiday cards... I was feeling guilty about that. Sad for the kids who didn't get cards this year though. I wonder if not enough people participate?
Reply

Hi there!
First, it's good to see you .... well, see you uploading anyway. I hope for the best in your personal life; I do understand the concept and need for mental health breaks. Take care of yourself.
I do want to say about the comic that I noticed how the conversation turned from really serious to less so. I agree with Javiera's feeling that he was trying to be nice and controlling at the same time. Granted, people can make mistakes while trying to be nice and I'm sure it happens when someone is trying to make a change for the better but I somehow doubt that Marco is investing any form of honest effort.
At the same time, I also agree with Darren's assessment of sweet and sour chicken ...

That having been said, I did have some authentic Cambodian meals for a few years. Not once did I ever see chicken served in those meals. Bean sprouts and other vegetables aplenty, but not chicken.
Reply

Hey there! I am glad to post something too.

Marco's intentions aren't particularly sincere. And as for the sweet and sour chicken... I'm on the fence with anything sweet and sour. I don't dislike it, but I don't go crazy for it. I think I like it best with fried shrimp, to be honest. ^_^
Reply