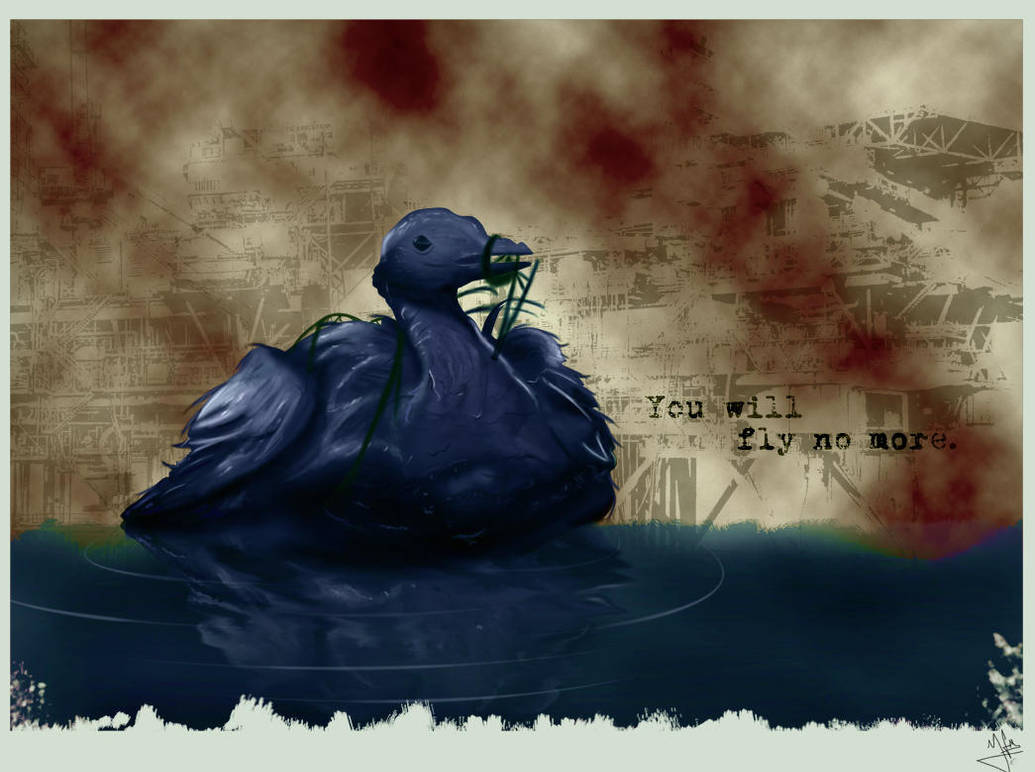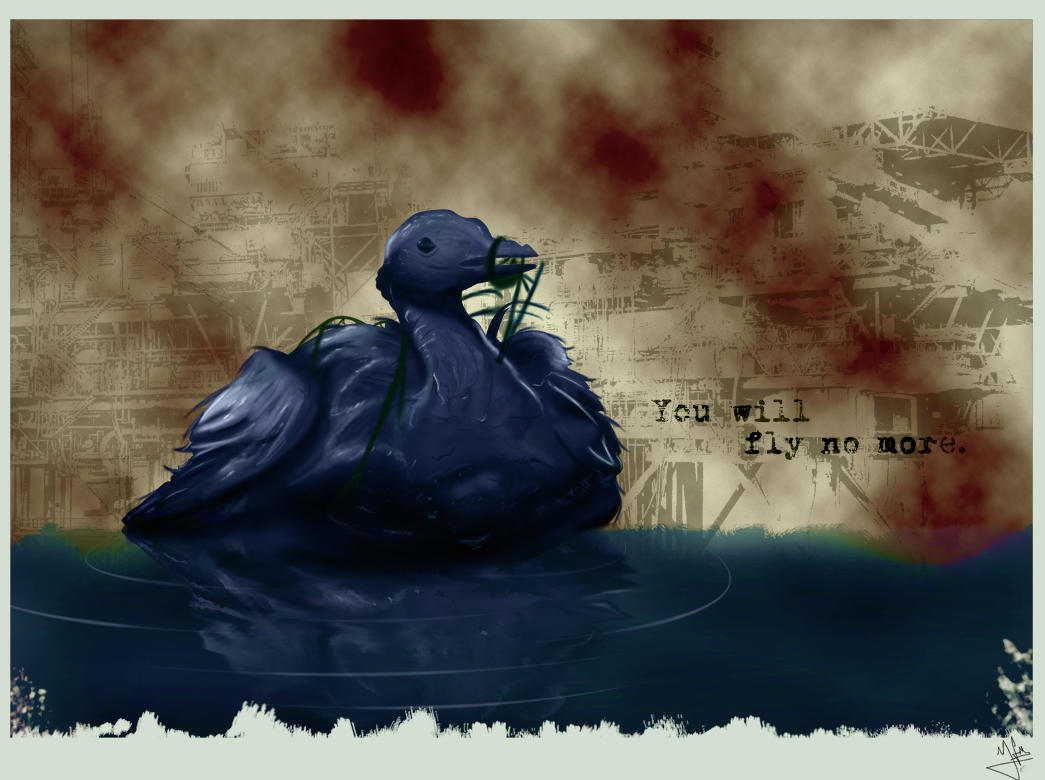 Watch
This is my entry for *yuumei's Oil Spill Awareness Contest.

Most of you might know what has happened last 20th April regarding to the British Petroleum Oil Platform. For those who haven't hear about it, the metioned platform, called Deepwater Horizon, suffered and enourmous explosion and sank.
Eleven workers are still missing, probably dead.
Since then, thousands of litres of oil have been spread all over the Gulf of Mexico.
Not only this has been an economical disaster, but, even worse, a natural and ecological disaster. The ejecutive director of British Petroleum, Tony Hayward, said that the oil spill hasn't been BP's fault, since they hired that platform from Transocean (another brand of oil drilling); even though, he said they would take the responsabilities for the damages that the oil spill has provoked. Even so, Truitt Crawford, who worked at the platform, stated that the brand took several "shortcuts" on the safety processes in order to assure more profits in less time.
Not only this disaster highlighted the corruption during the process of oil drilling and extraction, but the corruption during the solution of the problem. This incident took place exactly while BP was developing a new way of solving oil spills.
So, BP is not a "clean" brand at all. Not to mention that this is not the first time that BP is the centre of atention due to an incident of this kind:
- In 2005 one of its refineries in the south of Houston exploded, killing 15 people and hurting another 170. Due to that incident the brand received a fine of $87 million dollars.
- It was also penalized by the Department of Justice in 2007 due to extrajudicial actions to solve charges derivated from the mentioned explosion.
- In December 2009, 10 workers denounced that a leak that had taken place occured during 2007 had sicken them.

Beyond the ineffectiveness of the brand, as I have written before, the natural damages are huge. Thousands of animals and plants have been affected by this incident. Dolphins, turtles and many species of birds are between the most affected.
Although, BP and many other enterprises keep calculating the economical loss.

"BP is operating well nowadays. It keeps on generating lots of money. It will generate around $35 million dollars in free cash flow this year (…) We are stong enough to get over this."
Tony Hayward

Sure, their brand might have the economical stenght to get over the incident. But the thousands of animals who couldn't swim in oil or have eaten contaminated feed weren't able to get over it.

That's why events like this one shouldn't be forgotten. This is just an example of how man's ambition is above everything. Sadly, we could ennumerate many situations like this one.
The objective of this contest in not only to prevent ourselves form forgetting how money blinds man, but to help. You might wonder how to help in this kinda situations. ~yummei has provided a very useful list of links which you can visit in order to donate or sign against the oil spill and BP:
[link]
[link]
[link]
[link]

In addition I may add some links:

[link]
[link]
[link]
[link]
[link]


Not only we gotta fight to get this incident solved as soon as possible and not to allow this to turn into another Business opportunity for the biggest Brands, but to ban the offshore oil drilling: how many oil spill will have to suffer the nature in order to ban the practice of this activity?

Besides, beyond acting through the Internet, you can help nature and enviroment in your everyday life.
Try to travel by bike whenever you can, take public transports, recycle paper you have used, take short showers, turn your house's lights when you are not using them, take your own bags hen you go to the supermarket, don't throw away used batteries, look for special places where to dump electronical trash, join nongovernamental organisations like Greenpeace, spread the word about the importante of taking careo f the enviroment … are just a few examples of how you can help nature in your everyday life. And the best of all, they are things that you can do without epic effort… it just takes a change in attitude.

Also wanted to share a Greenpeace video that has impressed me:
[link]

And a song that has captivated me:
[link]

Remember, we can choose between what is comfortable and what is right.




---

Last but not least, I want to highlight *yuumei's initiative. I admit that if I hadn't read her journal, I probably wouldn't have read so much about the topic.
This kind of actions show that, beyond being a wonderful artista, she's an admirable person. I'm proud to take part in this contest: helping the enviroment with art is something unique.

For information about the contest, read the artist's comments at:



For further information about the Oil Spill, you can read *yuumei's Journal:
[link]


---

. You will fly no more . [artwork] © *by-nafm

---
Credits
-Bird reference taken from a random Google image:
[link]
---
Stuff nobody might take care of
Tools Used
: Photoshop CS3, Wacom Bamboo Fun
Listened to
: Will.I.Am