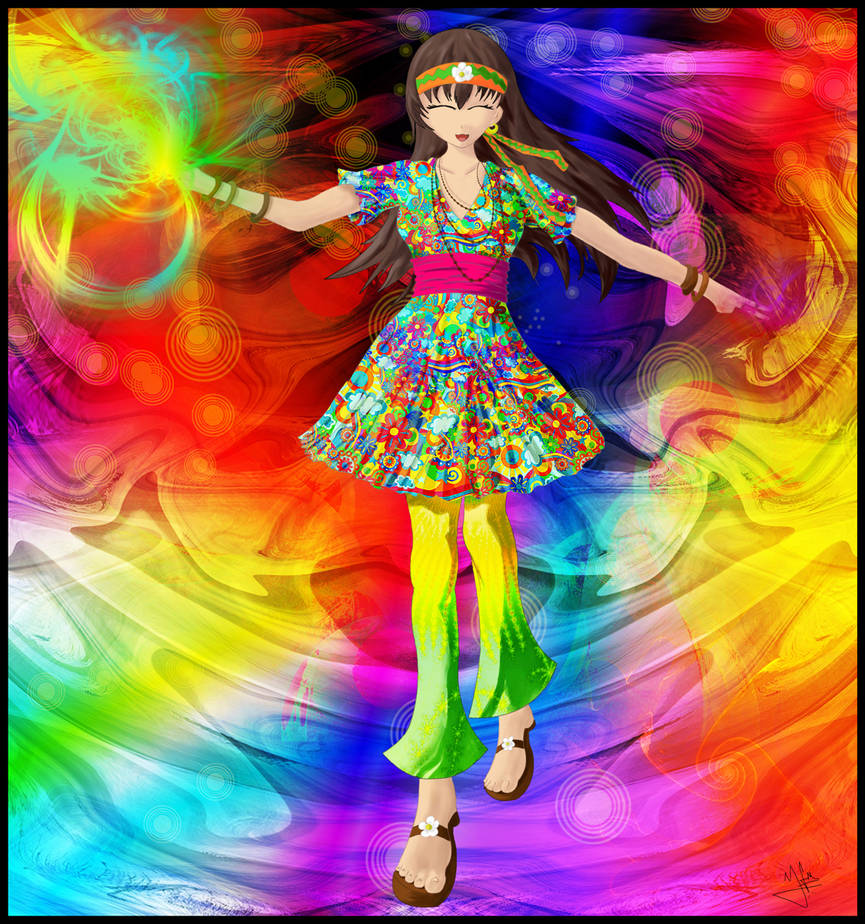 Watch
Psychedeeelic!


This artwork is dedicated to Mariel, another friend of mine. This time I haven't given this artowork as a b-day gift, but as an "honorific" gift, cuz she's been my friend since the first year at secondary school (and as you may have noticed, I'm finishing my Secondary School in 3 days)
Anyway, she requested a hippie, cuz she loves all the hippie culture.

Well, she liked it pretty much and so did I. Your comments are, as always, very welcomed.


---

While I was painting this, I thought that it wouldn't be a bad entry for ~Yumii--Chan and ~NeverStopNature's contest which is themed "Freedom":

When you say "Love and Peace", you night remind of hippies. Well, I think that love and peace are two very important pillars of freedom. Why? Because thiink about it: if there were love and peace in the world, there wouldn't be slavery and wars.
I know that the hippie ideology isn't the best, maybe because they take freedom to an extreme point, but at least freedom was something they fought for, and I think that that was really important.


---


:: Psychedelic Happiness :: [artwork] © ~by-nafm
Do not use without permission

Reply

Great coloring!

Reply

First of all, I would like to apologise to you, because I haven't been active for three months now and the contest thing kind of froze up. But I think I can get it running again - check my journal for other updates.

This is really amazing! I really really like it

good luck

<33

And again, I'm so sorry

Reply

No problem about the contest. I see you got it running again without problems! Congrats for that


And really, no problem about the contest, problems are always above all~
Reply

AHHHH sostengo k los dibujos k hiciste por "encargo" o mas bien en honor a alguien, son los k mejor te kedaron!

CONCLUSION: si sos bueeeeno y pensas en la gente k te importa cuando dibujas, te salen mejor

y como P implica Q .... la conclusion implica que sigas buscando inspiracion en las personas, explores nuevos temas y ... le des otra chance a la CAPOEIRA (A) (jajaja k le voy a hacer, amo mi dibujo de la niña rubia haciendo un Au batido (L)!!!)
Segui dibujando y mejorando como hasta ahora y en muy poco tiempo vas a coleccionar premios jeje

Espero k vengas a alguna roda de capoeira a ver en vivo y en directo movimientos k luego dibujaaar!!!
Beso!!! Flor
PD: HAPPY NEW YEAR

Reply

Hahaha ya te dije que va a haber más de Capoeira pronto!
Solamente tendría que dejar de meterme en concursos como un desquiciado xD
Y sí, cuando se busca inspiración en la gente que uno quiere, el trabajo tiene otro sentido y otro tipo de satisfaccion.
Y pronto iré a alguna roda con mi cámara, a ver que puedo dibujar!

PD: Happy Late New Year xD
Reply

Es tan... colorido o.o jajaja que puedo decir me encanto n.n y como dicen en los otros comments las sombras estan perfectas n_n
Reply

Muchas gracias, aunque estoy lejos de lograr la perfeccion.
Tengo que aprender a sombrear tramas, es algo que practicare
en el futuro.

Muchas gracias por tu comentario y por el

Reply

Muchos colores!
Kinda blinding jk xD
It's so retro and cool =3
Reply

Thanks!!


I discovered colours I didn't know that existed while doing this job xD
Thanks for the comment and the fave!

Reply

Te quedó buenisimo

Me gustó como hiciste el vestido y como quedó pintado el pelo de la chica :3
las sombras también, sobretodo la del collar

Reply

Muchas gracias!
El vestido quedo lindo por la trama, aunque todavia tengo que aprender bien el sombreado de la misma.
Nos vemos en el Animate, pero esta vez no te hagas la que no nos viste

Reply

Love the colours! So pretty! <3
Reply