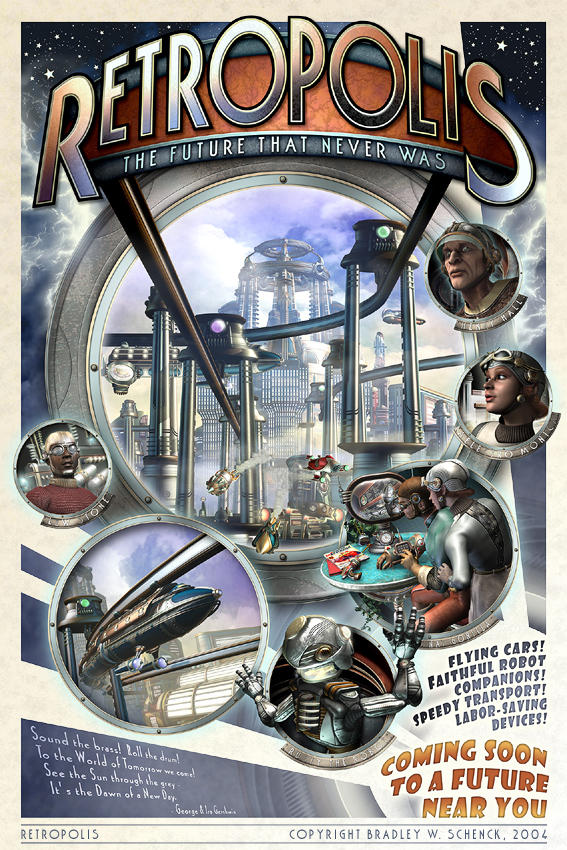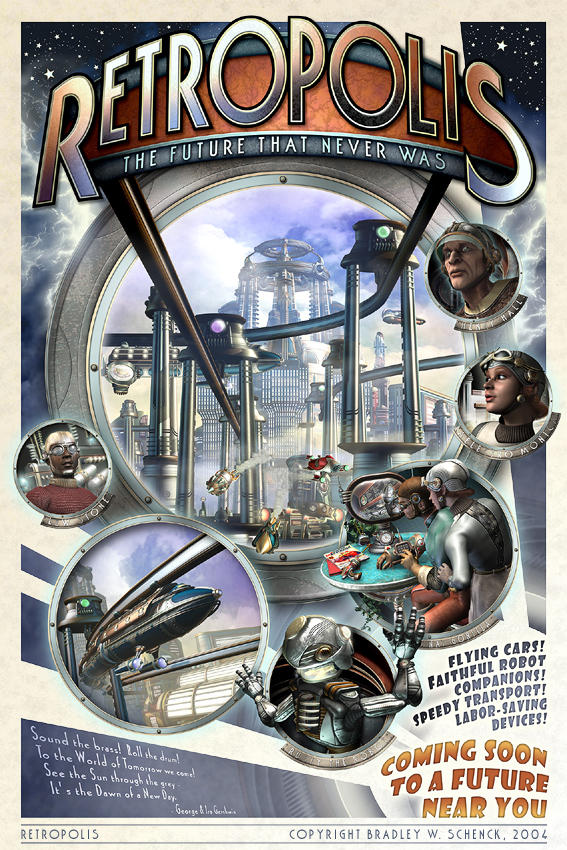 Watch
"Retropolis" is the name I've given to my Future That Never Was, and now it's also the name of this wild, movie poster-style montage of the places and people that fill that world. It pulls together a lot of elements I've been working with over the past year - in fact, I think I started the city itself about three and a half years ago - into one big joyful conglomeration of retro-futuristic enthusiasm. I'm pretty crazy about it, as maybe you can tell.

This is a city so big it has weather. Like in weather patterns. Don't mistake the fog and clouds for pollution, since that's not a problem here; the City Of The Future used to always be about transportation of a sleek, modern and desirable kind. This is no exception, with its thundering monorail and its high-flying, lighter-than-air airships - but it's not all public transportation either, since we were promised flying cars. Here we finally have them in the form of open cockpit roadster rockets that burst right out of the heart of the picture.

Arranged around the central image of the city are several of the folks you might meet there. For no reason I can explain, I've named the male characters after British band leaders of the 20's and 30's. We've got Nat Gonella, Henry Hall, and Lew Stone, and in her own vein there's their friend Aelectro Monica, along with Rusty, the original Faithful Robot Companion.

For those of us on my side of the water there's a nod to the Gershwins, too.

As always in these images I've combined elements of 3D rendering with 2D painted work, done afterwards in Photoshop. I sort of pulled out all the stops on this one - due to the demands of my Day Job I don't get nearly enough time during the year to do these, and I think I had a lot of something or other bottled up that just plain had to get out. It looks to me like most of it managed to.
Daily Deviation
Given 2005-08-20
Retropolis
by
Bradley W. Schenck
. The future that never was. Wait, not quite. Rare specimens of today's robot companions can be faithful in their limited functionality, speedy monorails and flying cars do exist exist abd be it only as prototypes and for sure we have labor saving devices! This yesterday's vision of tomorrow, as depicted, never really was, but as other past visions of the future are reality today, I am most certain one fine day Domest-O-Bot will make me delicious dinners, ready for consume right on time when I come home from work in my flying cobalt-metallic Cadillac! While we ponder about our future that is yet to come, let's get inspired by this fantastic movie-poster style artwork and build upon the ideas therein.
Also viewable as our
Print of the Day
. (
Featured by MidnightExigent
)