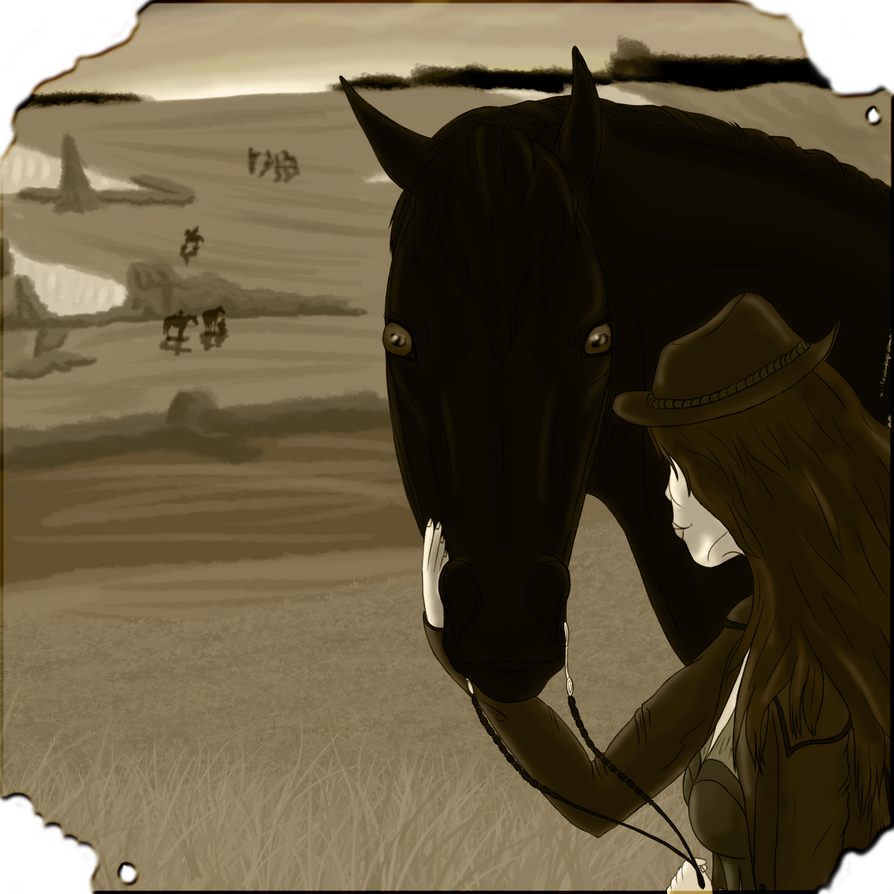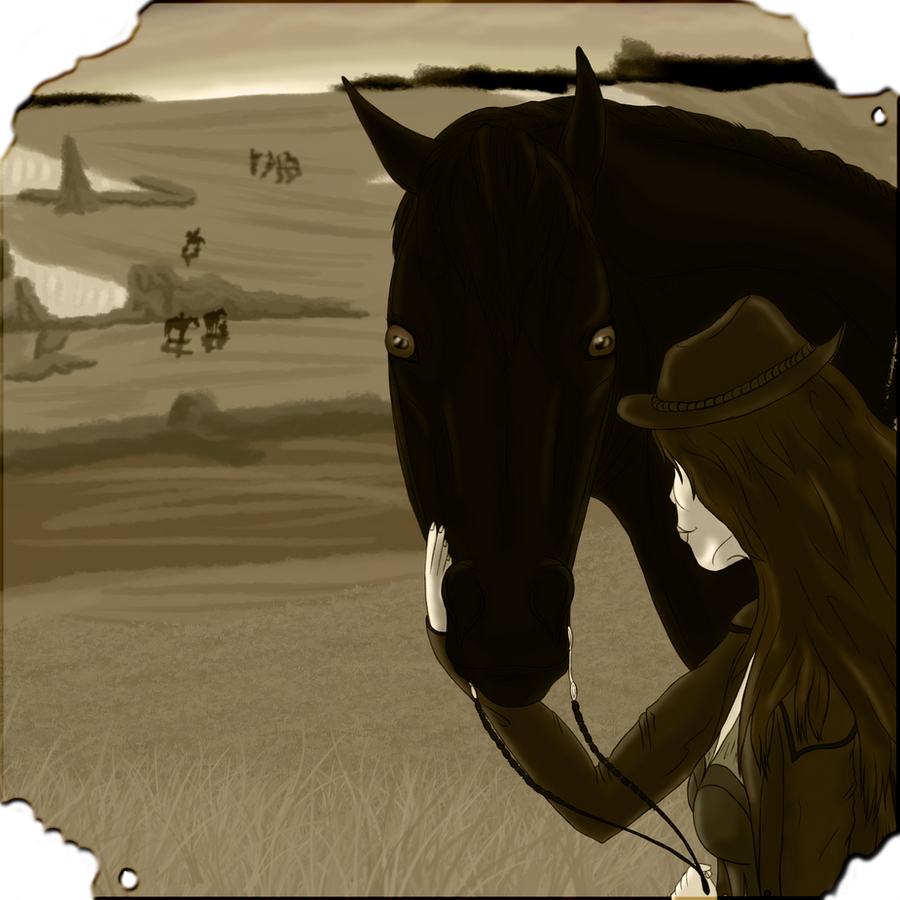 Watch
Arrival Bonus Picture for


Rider - Quinn Strauss
Horse - Mahfouzah 32
Outlaw Trail Ad - [link] *5 Points
Bonus Picture for Potential - *10 PointsColored Version -
______________________________________________
The sun was setting as the pair arrived in Autumn Vale. Many faces knew the black brindle mare, but no one knew the porcelain skinned, slender and stunning woman that was with her. When this mare was usually shown she was ridden by the owner of Day Break Valley. Who was this new face in a sea of old friends and affiliates?

She was shorter in stature but you could see she was no push over. And yet, there was this damsel in distress aura about her. The strikingly large mare by comparison seemed very tuned into this as well, keeping most at bay, simply by moving herself to stand between the woman and any approaching individuals.

A photographer taking shots of the gathering posses was the only individual who really spoke with the woman. It was for a brief moment, and concerned the mares antics towards his equipment and person. The woman turned to her determined guardian, and began whispering something into her neck. The large mare turned her head into the woman, listening intently.

The photographer set his equipment up, and managed to snap a quick portrait.

"I hope she is in a better mood for your portrait later on..." the man remarked.

Laying her ears flat against her head the mare stomped an irritated hind foot at the strange mans voice interrupting an obviously private conversation. He quickly packed up his belongings and moved on his way.

The woman took her horses reins and wound them around her right hand, then walked towards the town to find lodging for her and her steed for the night.

______________________________________________
Landscape ref-
[link]
Horse & Rider ref from a photo in the book
Of Women and Horses
written by GaWaNi PonyBoy
Will be uploading a version to my scraps shortly to provide link
-
[link]
Horse and Rider Silhouettes purchased from & © to 123rf.com

How do you make it Sepia ?
Reply

I use Photoshop, Going to the Image menu then adjustments, and Black & white. This pops up a smaller window with a tint option that allows me to decide how tinted to go with the sepia tone or not.
Reply

this is awsome do you know which way you are going?
Reply

Right now I am listed as outlaw being my preferred team, but I am not going to be disappointed if they set me with the lawmen.

It won't ruin the intended story line for my new char I'm introducing.
And thank you! I am uploading the colored version as well. I love it more then the sepia, but making the sepia's are so fun.


Reply

your welcome i dont knowwhere i want to go my rider is a good gal but she might want to have a bad side

.
Reply