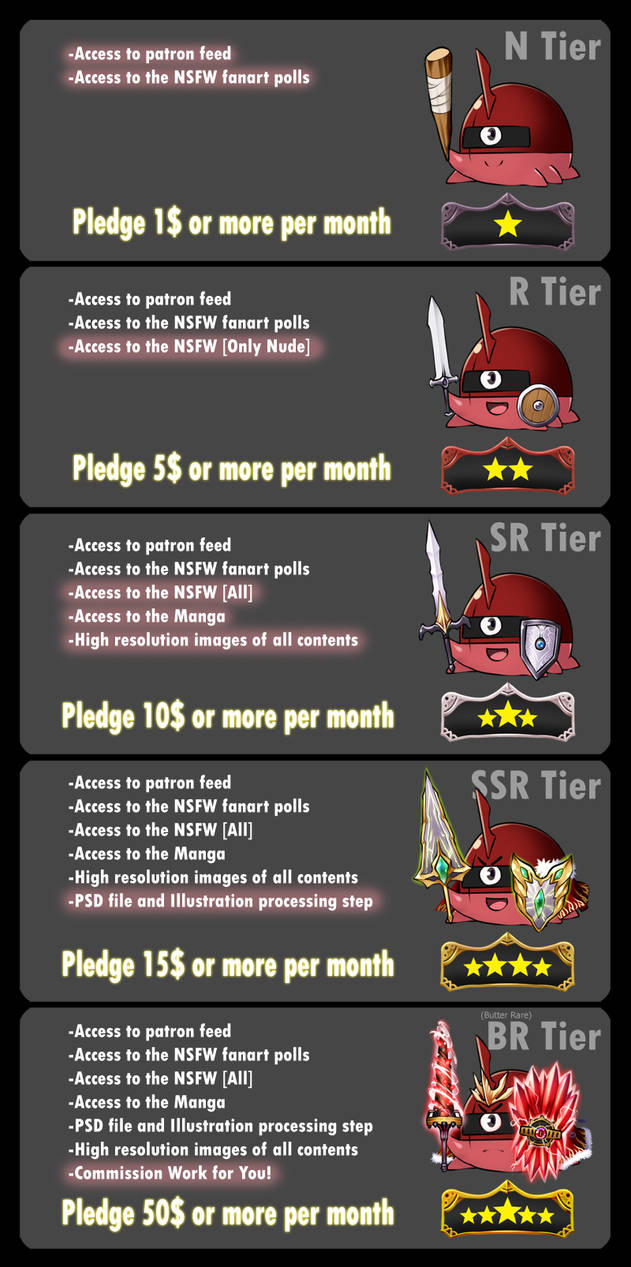 It has been half a year since I started Patreon, so I think it is
time for me to improve my Patrons System. This improvement is based on other
Creators and suggestions I received.Which leads to new Tiers as shown in a picture. (I wasn't into some gacha game. Believe me! (*avoid eye contact*))
Description for each Tier:
locked for Patrons only.
various polls. One vote can affect the result! Take a look at my recent poll.
intercourse, or cum. This is suitable for those who like nude drawings but
dislike intercourse action. This is light NSFW for beginners.
- (Access to NSFW [All])

You can see every kind of NSFW, nude or

intercourse. If you want all CG Set, this is the one for you.
- (Access to Manga)

In future, I will draw manga too. For those who

support in this Tier will get to see the manga that I drew.
posted on websites are small and low resolution (72 dpi). Those who support in
this Tier will receive big and high resolution (300 dpi) file too.
will get the steps that I use in each drawing. You can use these as references
and study my work. I like to look at these steps too, it looks like I can see
drawing procedures from start to end.
- (Commission for You!)

This is like taking commission. I will draw characters

(Original Characters or Fanart) in color. However, it will be half body and no
BG. For now, it is limited to 1 person only. I will open more when ready.
Today, I want to inform you the adjusted Tier/Rewards in advance. I
will change them on May 10th. Please consider which Tier you want to support
while waiting.
Last but not least, I hope you will still support me, so I can
continue to draw erotic drawings (LOL). Thank you very much.

www.patreon.com/Butter_T?ty=h