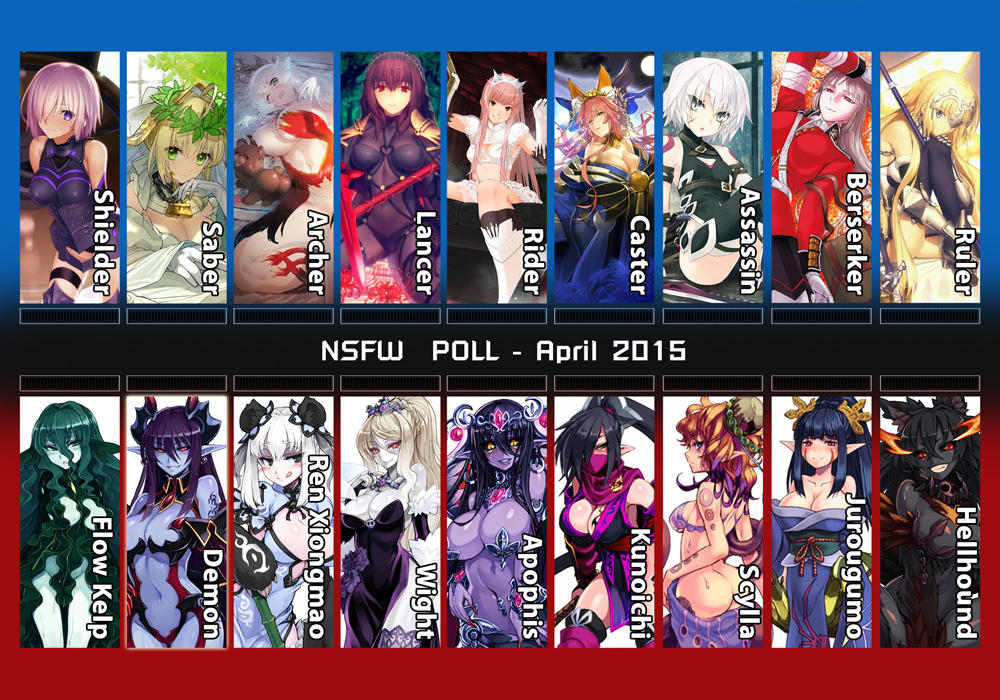 Hello everyone. Here is NSFW Poll for April!!
This time, it is 2 in 1 poll where you can vote 2 polls in 1 vote, and I will draw following the result of these 2 series.
Fate/Grand Order and Monster Girl Encyclopedia
The rule is easy, choose 1 character from each series (1 Blue, 1 Red)
(Ex. Sheilder, Flow Kelp)
[Fate/Grand Order]
Shielder [Matthew Kyrielite]
Saber [Nero Claudius (Bride)]
Archer [Orion]
Lancer [Scathach]
Rider [Medb]
Caster [Tamamo no Mae]
Assassin [Jack the Ripper]
Berserker [Nightingale]
Ruler [Jeanne d'Arc]
[Monster Girl Encyclopedia]
Flow Kelp

Demon
Ren Xiongmao
Wight
Apophis
Kunoichi
Scylla
Jurougumo
Hellhound
I will count the votes on April 9th's midnight.
Which character would you like me to draw? Give me their names. Hope to hear for you. >w<
PS. This poll is limited to Patrons only. > w < /

www.patreon.com/posts/5065267?…