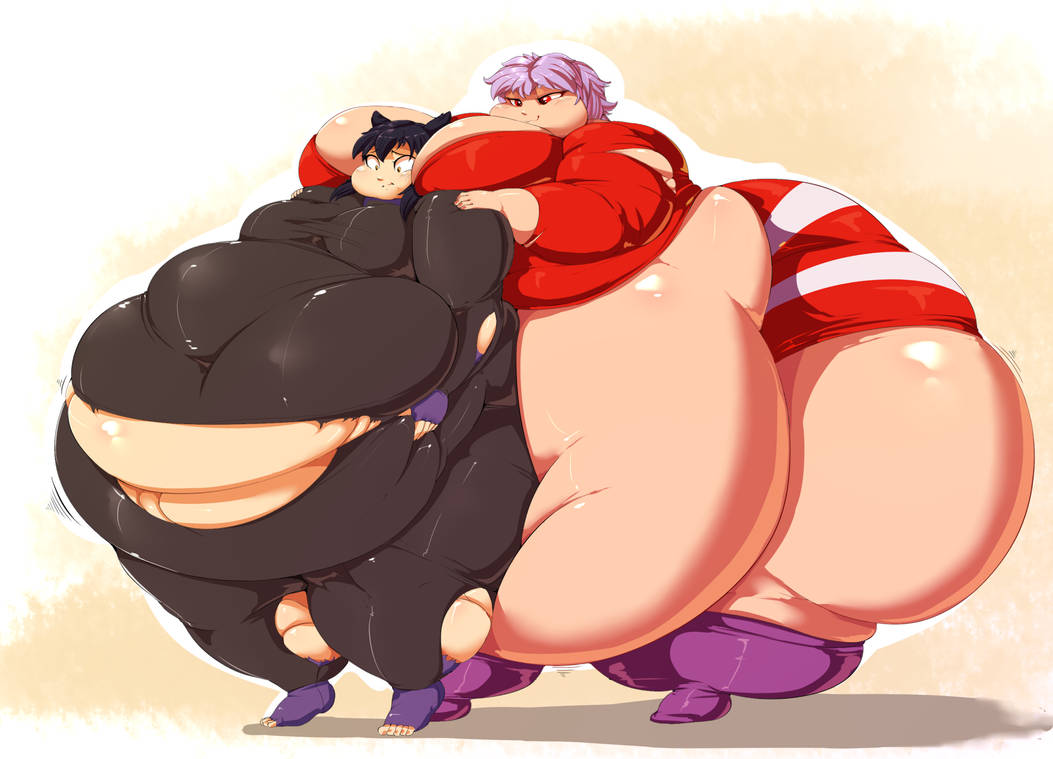 "Only a few more feet…"

Sneaking in and out her own apartment window was normally a simple and necessary affair for Felicia. She couldn't have anyone seeing her going out, it would be too obvious when valuables went missing around the neighborhood every time the cat-girl walked out the front doors of her shabby building. But this was only a problem if something actually got stolen.
The past few weeks had been awfully lean for the poor cat burglar. A couple run-ins with clever security systems, a feisty watchdog, and her own rear-end getting caught in a small pet-door had led to her already small nest egg getting eaten up. As of now, it had been several days since Felicia had had a meal, nevermind a warm one, and just creeping up the walls to her unlocked and cracked window was expending more energy than she had stored up.
Felicia had always been small, slight, and lithe: a perfect build for skulking around unseen. But without a solid income, her once skintight black suit had begun to lax in a handful of areas and started to get caught on snags. The tiny tears added to her defeated look. Ripped up, unwashed, and sunken. Even the old bricks on her own building had caused a fair amount, not to mention the ragged wood of her window sill.
Finally, she tugged her way onto the sill and flopped onto the waiting mattress on her own cold floor. Dust exploded from her impact, a credit to the state of the place more than her size, and settled in her long black hair and twitching pointed ears. She'd traded her sheets away for a meal last week, and every minute was spent trying to make ends meet rather than cleaning her apartment. It wasn't impressive anyway. A small closet of a bathroom and a large drafty room with a radiator next to a sizable mattress under the only window. It was more a place of rest than a home.
With a huff, Felicia forced herself up on her knees and slammed her window shut. It was freezing outside, to top it all off. Christmas right around the corner and all. At least she had avoided snow thus far. With a little effort, she stood up and pulled on the light bulb in the center of the room and started up the radiator. She might be hungry, but she wasn't going to freeze as well.
"Okay. " Felicia began to think. Without having to worry about getting home, she could focus on herself now. The Christmas season was usually an easy time for her. So many people leaving their homes to meet up with family, leaving all sorts of goodies in the fridge and pantry, and paying more attention to the stuff under the tree than to their own jewelry boxes. She frowned at the thought, resenting her luck. She should be laying on her bed, with *sheets*, and a warm full belly.
"Maybe tomorrow I can hit the Ditalini house… they always have way more than they know what to do with." But that was just a hollow threat. Felicia knew the Ditalini's were way too well protected by their own 'family' and 'legitimate business partners'. But the thought of snagging a sack full of goodies right from under those foxes made her smile. Anisette, the Ditalini heiress, was an over-bloated and snooty cow of a fox and the idea of eating a cinnamon and brown sugar glazed ham meant for that fat-ass while she threw a fit? Yeah, that was the good stuff. Stealing was all Felicia knew, so she had to make the best out of it. Even in her fantasies.
"Bells on bobtail ring
Making spirits bright
What fun it is to ride and sing a sleighing song tonight
Jingle bells, jingle bells!-"


Felicia turned and looked out her window. Red and green lights flashed off a passing double-decker bus, the sounds of voices inside chanting carols ringing out into the night before turning the corner and fading away. For a second, Felicia felt a twinge of sadness to see them go. She wasn't exactly a fan of Christmas, but she didn't hate it either. Christmas and other holidays were an opportunity for her and she enjoyed some of the atmosphere, but she didn't really celebrate them.


"Although…" Felicia stared up at the sky. Normally the filthy air of the city would have blocked out all the stars, but thanks to a nice stiff breeze, she could make out a few. Taking a deep breath, she picked out the brightest of the pack.


"Hey. This is Felicia. I don't really make many requests, but I was thinking… I could really use dinner. Nothing huge, just… just some luck, alright? For Christmas?"


Felicia stared at the star for a few more seconds and then burst out into a fit of laughter.


"I couldn't even get through it!" She giggled, falling back on her mattress. "That's some sappy shit." She smiled, cheered up from her little game.


"You laugh, but I know you weren't joking. Not completely anyway~"


Felicia froze. Someone just spoke to her. Slowly, she turned her eyes to her door.


"AAAAGH!" Felicia jumped nearly a foot in the air, her hair and tail standing up on end and her eyes as wide as saucers. She wasn't alone in her apartment anymore. And she didn't know how she could have missed the intruder enter.


They. Were. Massive.


Hips 10 feet wide took up half of her apartment, blocking off the doors to her bathroom and the hallway. Encased tightly in red and white striped underthings, the massive rear end on the mystery woman came off like a gigantic peppermint bed. Bulbous rosy cheeks smiled at her from behind a wall of silky cleavage. Red eyes stared lovingly at her, and short fuschia hair flittered and sparkled as if a breeze of sugar flowed through the apartment. The woman's massive calves were barely noticeable beneath an awe-inspiring dune of a gut bobbing gently with every breath the woman took. She was so large and imposing that it took Felicia time to notice the tiny wings, no bigger than her hand, that floated over the woman's soft sloping shoulders.


The woman giggled and allowed Felicia to take all of her in before speaking.


"Don't worry, don't worry. I'm just here because of your wish, Felicia. I'm Angela, an Angel of Plenty." Angela held out her arms and gestured at her body as if to give a demonstration of her 'plentifulness'.
"Wish? I was just-"

"No no no, no pretending! I already told you I didn't buy that, missy." Angela peered down over her heaving chest at Felicia and took a good look at her before shaking her head. "Oh dear, you are just wasting away aren't you? Well, there's no point to wasting time is there? There we go!"


Angela snapped her fingers, and Felicia's light went out. Felicia whined and winced, preparing for the worst from this massive monster woman. But in a second, they were back on, and a feast was laid out before her. On short tables, the perfect height for her position on the mattress, golden platters of meats, cakes, and sugared fruits surrounded her, and all within arm's reach. Her stomach growled, and saliva began to pool in her mouth. She hadn't seen anything like it before, much less in her own home.


Rare steaks glazed in their own juices, glistening with marbled fat. Fried fish, golden and crackling, still warm. A brown-sugar ham, with pineapple slices on top, surrounded by aromatic yeast rolls. A platter of sugar cookies, frosted and shaped like bells and wreaths. And so much more, she couldn't keep eyes on everything or even decided where to begin! She didn't even question the situation anymore. She was blinded by hunger.

"Now, before you dig in, there is one rule!" Angela boomed, as Felicia finally struck out for a steak with her bare hands.


She turned and looked at Angela, confused. As if she had forgotten there was someone else in the room.


"Only eat til you're full, or there will be a problem. You shouldn't take more than you need, after all, child~"


Felicia raised an eyebrow. Should this pile of blubber really be telling her to hold back? Well, whatever. She nodded vigorously. Free food was free food.


"Then chow down!~"


Felicia didn't allow the word 'chow' to clear Angela's plump lips before ripping into her desired steak. She was in heaven.


First, the steak, then three chocolate and creme bonbons, then a cup of chilled and peeled shrimp dipped in robust cocktail sauce. She barely finished chewing and tasting each bit of food before moving on to the next.


It wasn't long til she reached the point of being full, but she didn't care. Her suit had seen worse tests than a full belly.


Next: a glass of champagne, followed by a strawberry cannoli, then four juicy and crispily fried catfish fillets, and finally a slice of four-layer red velvet cake.


"My my my, you can really eat, can't you?" Angela mused, watching Felicia glut out. Her wings fluttered and then faded away. A grin crossed her face as Felicia ignored her.


Felicia had made her way around the tables once and was back to the steak before she began thinking with something other than her stomach again. She was uncomfortably full. Her stomach was taut and protruding as if she was smuggling a pot roast out of a supermarket. The small tears in the midriff of her outfit showed tiny bits of her own flesh now. It was probably time to stop.


Mournfully, Felicia looked at the food around her one last time and put the half-eaten slab of meat in her hands down.
"Thank you, Miss Angela…" Felicia murmured, laying back on her bed. It might be uncomfortable, but she felt good being this full. It was far better to have a full belly than an empty one.
"Oh, child, I should be the one thanking *you*"
"W-why?" Felicia hauled herself upright. Her stomach was getting in the way more than she expected. How much did she eat? She raised a hand and felt her gut again. But it wasn't taut like a drum anymore. It was soft.
"Because, I made a bet with my boss, dearie. I bet that you would give into temptation, and boy was I right!"
Felicia's mouth began to tingle and her teeth hurt. She was getting stressed out. Something wasn't right. Angela's loving and motherly gaze had been replaced by one of sadistic joy. She tried to stand up but found herself huffing and puffing just to get on her legs. And she was… jiggling?
Felicia looked down at herself. She wasn't just full anymore. Her body was swelling like a marshmallow in the microwave. Her toned and slim thighs had begun to touch, her bottom bounced behind her, and her gut continued to soften and rise like a possessed loaf of bread. She had doubled her weight in about a minute.
Felicia began breathing quicker, frantically trying to push at her stomach, but it wouldn't go back. Of course, it wouldn't. She was just acting in panic now. It was like holding a basketball sized jelly donut, squishy and warm. It was surreal, she didn't have a gut. She never had.
The small tears on her jumpsuit began to stretch and groan before finally ripping as Felicia continued to ripen up, making way for new and milky kilograms to pile onto her form. Her hips began to widen and merge into her burgeoning love-handles and lard-caked thighs. Felica spun trying to take in everything happening to her at once. She stumbled over the food tables in front of her and toppled over into Angela's stomach. In another minute she had doubled in size again. She could feel her own cheeks touching down on her over-inflated neck fat, like apples resting on a bed of nougat.
Angela grabbed Felicia by the shoulders and pulled her closer into her own countenance.
"Feel all of this, Felicia? It'll be yours soon enough~"
"Why!?" Felicia grabbed her stomach. It was growing faster than ever, she couldn't reach the bottom of it anymore. After a second, she felt it sag down and rub up against her knees. She couldn't see down that far anymore. Her breasts weren't in the way, they had gained little from the change so far, but her stomach had developed an upper dome which was nice and hammocked in her lower belly's encroaching softness.
"It was the deal, my little creme puff. If you didn't follow my rules, there would be consequences."


Felicia began to feel her resting place in Angela's gut diminish. As her own body grew and bloated, Angela's felt slighter and slighter.


"My boss gave me a deal you see, for each person I tempt into a sin or two, I can punish them with a burden befitting it." Angela let go of Felicia's shoulders and turned her around.
Felicia's ankles had begun to become buried in her own calf meat, as her waistline and BMI continued to surge. She had to be six feet wide at least now, her mattress would be more of a cushion than anything now. Felicia stared at Angela and gasped, her body billowing in response.
Half the woman that had appeared in her room stood before her now. Around the same size as Felicia had become distended too. Still large, but far less so.
"And I like this punishment~ You see, I *love* eating and eating and eating, but it's Hell on the waistline. So, now I get to share it with you." Angela waddled around Felicia's side and bent over slightly (a feat not achievable in her former size) and slapped the cat girl's sizable rear.

"Yep, most of it found its way down here, huh? Just like me. Well, dearie, it was nice doing business with you. I'll leave the rest of the food and junk here for ya. It's the least I can do. Toodle-oo!~"
And as strange as she appeared, Angela was gone.
Felicia didn't know what to do. She was alone, and almost seven times heavier than an hour earlier. The floor underneath her creaked with every step, and her spacious apartment felt so much smaller. She wasn't sure if she could fit out the door anymore, much less sneak out the window. The only saving grace was that her growth spurt seemed to have come to a stop. Dejected and confused, she lumbered back to her mattress, tenderly trying to avoid bumping into walls. It would only make her change in size hit her harder.
*clink clank clingclingcling*
Her swollen feet had knocked over one of the tables holding her once lauded, now cursed, feast. She cursed under her breath. She couldn't see the floor past her own magnitude anymore. With a heave, she let herself fall onto her mattress and winced at a distressing creak from her impact. Her body spread and settled around her, gravity doing its work to support her weight.
Felicia looked up and out of her window, and saw the stars twinkling as if mocking her.


"Ah, screw you" she pouted, tearing her eyes back to her room. But she didn't stop seeing twinkling. The table she'd knocked over left a bowl of bonbons upside down, still gleaming gold.
Felicia's eyes grew wide, and with great effort, she launched her massive body onto its side and grabbed the bowl with the tips of her sausage-y fingers.
"Gold…" Felicia purred, a smile creeping up her face. She sniffed it, bit it, and grinned at the tooth marks. She began to giggle.
And the giggle evolved into a chuckle.
And the chuckle into a hearty laugh.
"GOLD! Real gold!" She gazed at the tables filled with goodies in front of her. What was a few hundred pounds?! That angel, demon, whatever she was? She'd left Felicia with enough food for a real Christmas feast, and a glittering fortune.
Felicia reached to the nearest platter and picked up a cookie shaped like an angel, gave a sharp toothy grin, and bit off the head.