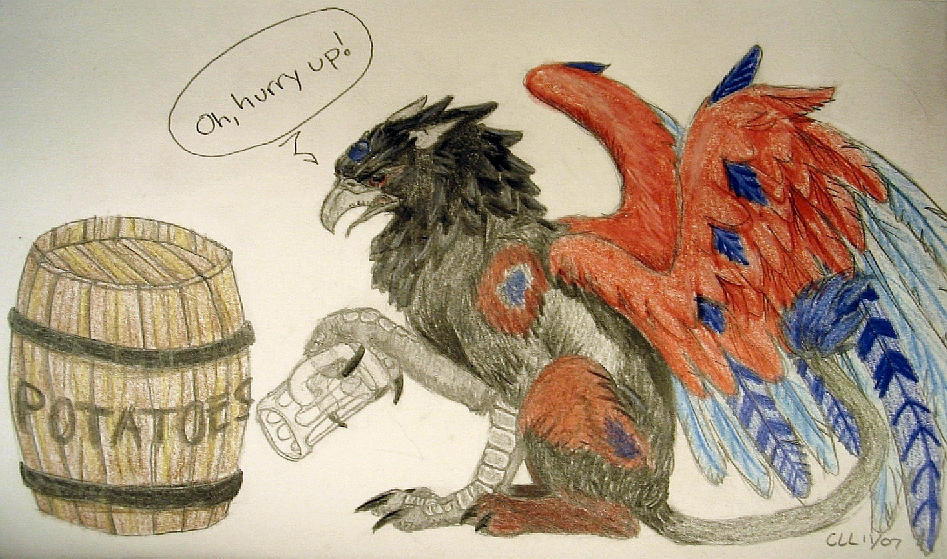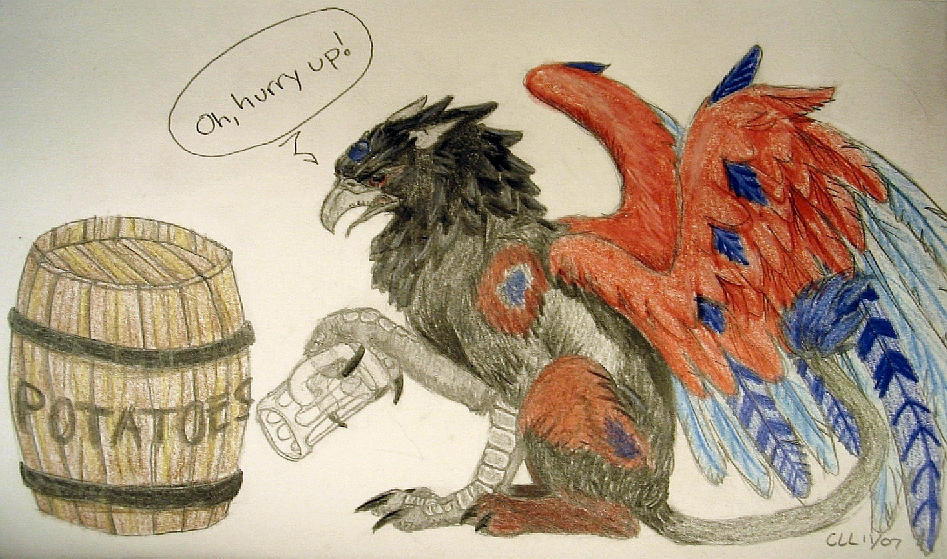 Watch
I had the urge to draw a gryphon, and use colored pencils, and this is what happened. No scanner, so this is the best digital photo I could get, with a little tweaking to make it look more like the actual art.
Celtic
's original design belongs to
And, in case it's not clear, she's waiting for the potatoes to ferment.
The quality of this is somewhere between "pretty good" and "urgh" so... sorry. XD

Better "oop!"
Aside fralm that I like it so. Not just because I'm a big fan of the Celtic character but this is really pretty and also funny! I'd totally print it off and put it on my fridge with a gold star sticker on it...if I had a printer!

Reply

Not bad, but I'd like to see you operate outside of your safe zone some time and draw things other than gryphons and kappas.
Reply

I don't get the urge to draw just for pleasure much, so I do it to please myself, and that's what pleases me! I enjoyed drawing it and coloring it -- I wasn't looking to better myself, and I had a good couple hours tonight.
Reply

YEAH WELL

YOU GO OUTSIDE YOUR SAFE ZONE AND DRAW THINGS OTHER THAN... EVERYTHING

SHUT UP
Reply








** good work on this deviation





Reply

Oh, this /definitely/ gave me a chuckle. :3 Nice job on the anatomy too.
Reply

*grin*
Thanks! I'm glad I could come up with something other than "gryphon standing there looking all regal and all that usual gryphon nonsense."

The hardest part was figuring out how to have her hold the mug. She surely can't hold it like a human hand, so it got kind of awkward. I imagine if the mug were full, she'd just grip the whole thing, rather than using the handle.
Reply

LOL, love it! It is really well done. I know how hard it is to work with colored pencil.

Reply

Whoo, fast comment! XD
Thanks so much!

I'd rather use Prismacolors, but my set is a five hour drive away, so I used what was here.

I'm glad you like it!
Reply

I will tell you what is even BETTER than Prismas, if you can get your hands on them..Lyra pencils. But you didn't hear it from ME..mwahahaha..I used to think Prismas were the best until I got the Lyras for my birthday.
LOL, I have had years of typing experience, how sad is that?

And yeah, it rocks! You're so welcome!
Reply