Welcome to Bumblebee Buddies, a group that focuses on the Autobot known as Bumblebee. Whether he's from G1, Animated, the Bay movies, video games, or Prime doesn't matter - we show love for all reincarnations of everyone's favorite yellow Volkswagen. Any fan of Bumblebee is welcome here.






Alright, it's been a while - I went through and organized the gallery, so now everything is sorted neatly by series and such. If you're going to submit a deviation, please submit it to the proper folder! It's rather easy to see what goes where and if you have any questions, feel free to note me.
Also, last blog (over a year ago, lol oops) I mentioned a contest and several of your were interested. Please comment with themes or ideas for a contest and I will list them below to kind of be tallied and voted on. We will definitely get a contest going soon!
Contest Themes/Ideas:
- Bumblebee continuity cross-over meetings
- Bumblebee's Birthday
- Green
- Summer Vacation
Other than that, I will try to keep the club updated more - I just got caught up in life. I hope everyone is doing well.


TaintedTamer





How To Join
All you have to do to join is click the 'Join Group' button/icon above! Its that simple!
Also, be sure to advertise the club and tell your friends about it. The more the merrier!
How do I submit Deviations?
To submit a deviation is simple - to submit a new deviation to both your gallery and the club, click the 'Submit Art' above in the bar. To submit a current deviation, go to our main gallery and click 'Browse Folder', then click 'Submit to this Gallery' and choose 'Contribute an Existing Deviation' - simple as that.






















Featured Bees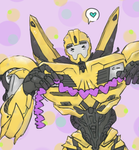 :