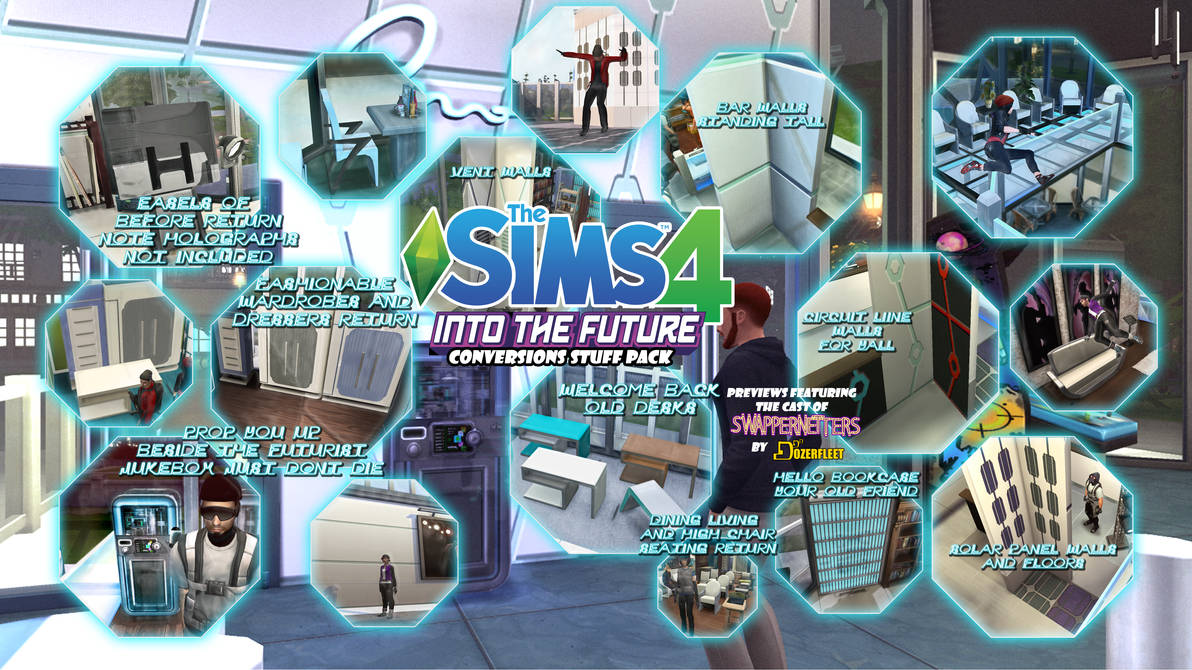 Feeling nostalgic about The Sims 3: Into the Future, but not enough to go back to playing it? If you started with The Sims 4, why should you have to?

You can now recapture the aesthetic of TS3 ITF inside Sims 4, just by downloading this free packet of content conversions.
Note
Games themselves are ® and © Electronic Arts. Dozerfleet is not affiliated with EA Games.

Pack contains
- A wardrobe from the original expansion pack, with two of the original swatches restored.
- A dresser from the original pack
- Four (4) original pack wallpapers, plus custom recolor swatches

- High chair from the original pack
- Living room chair
- Dining room chair
- Solar panel flooring
- Futurist pavement terrain paint
- Jukebox
- Original pack bookcase
- Original pack desk
Bonus
If you'd like the cars from that old game inside
Sims 4
as well, you can get them separately from
Nenpy at Tumblr.
Recommended
The Sims 4 Parenthood Game Pack

Download

Do you have any of the lab machine stuff? Also looking for stuff from strangerville if you know where I can find items from there

Reply

I made this before TS4 Strangerville was even announced. So I really can't help with that. The items above were those that my limited knowledge of Blender was able to replicate.

There's a ton of stuff from TS3 I wanted to convert, but the way the UV maps were assigned made it prohibitively complex. Rabbithholes were something I direly wanted to convert, but couldn't.

Reply

Reply

Welcome. Glad to know someone actually noticed.
Reply

Will there be more conversions?
Reply

If I can accrue sufficient demand, or else need them for my own reasons.

Currently working on Emeraldon and Gray Champion costume parts, now that I have working Ciem suits, it's time other Geroshans had their outfits completed. Less time editing in Photoshop, and faster render outputs.
Reply