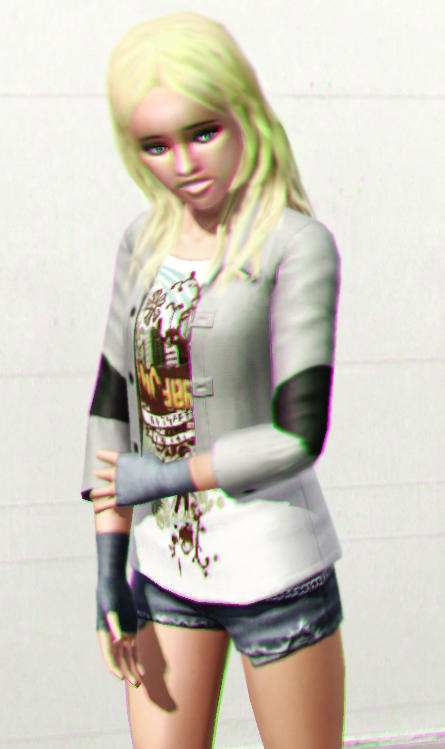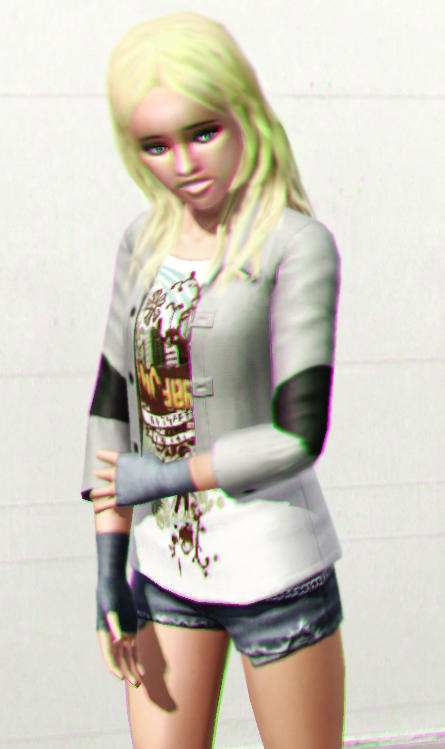 Scene from: "Sodality"
Made with: "The Sims 3: Into the Future"
Character likeness modeled after:

BACKGROUND
============
One would think at first that Celia Winehart is all sweetness and light. However...her taste in men is sometimes not what it should be. She becomes part of the Sodality's advisory panel after being rescued from Wayne the Vampire and being desperately in need of new friends, monitoring the headquarters along with the help of Jacks' friends and with Laurie Pegol.

In a pinch, she'll dress up in sack cloth and help out however she can as "the Taterbug," a parkour-skilled infiltrator and expert cat burglar. That isn't very often, since she is limited in what she can do.

When she becomes the target of wrath of a very aggressive and above-the-law rogue SCALLOP agent, Jim Oisdaat, she forges a friendship with the Sapphire King to help him be rid of their common enemy. However heroic their saving Toklisana from this monster may have been; their methods drew the ire of the Society of the Icy Finger down harder on Texas. The Screwworm attacks resulting from Rappaccini losing his main spy inside of SCALLOP led to Kirby Act citations and Beliah Amendment citations against both Jordan and Celia both.
As their friendship budded into romance, the fledgling couple observed SCALLOP being forced by law to turn against them. Celia tearfully had to say goodbye to her Sodality of Gerosha friends. She and Jordan were now fugitives, and she'd continue doing her part to protect the world as an outlaw apart from them.
Other than getting right with God and finding a new life for herself and her soon-to-be husband Jordan, Celia's other main goal in life is to find her missing mother. She is willing if need to be to help her old friends out. However, she knows doing so comes at serious risk of being captured.

She didn't
want
to become a criminal. However, SCALLOP and the Icy Finger
made
her one - and the latter would wish they hadn't! Whenever she isn't enough, the Sapphire King arrives to settle the score. And he doesn't always play nice!