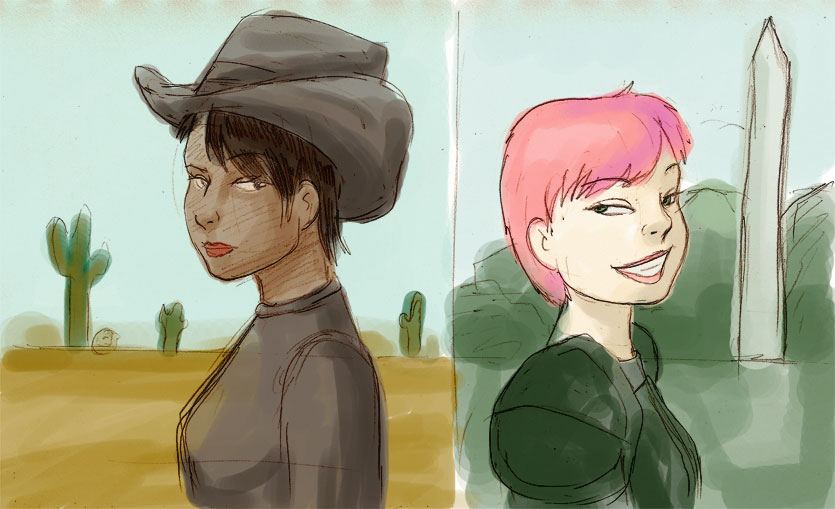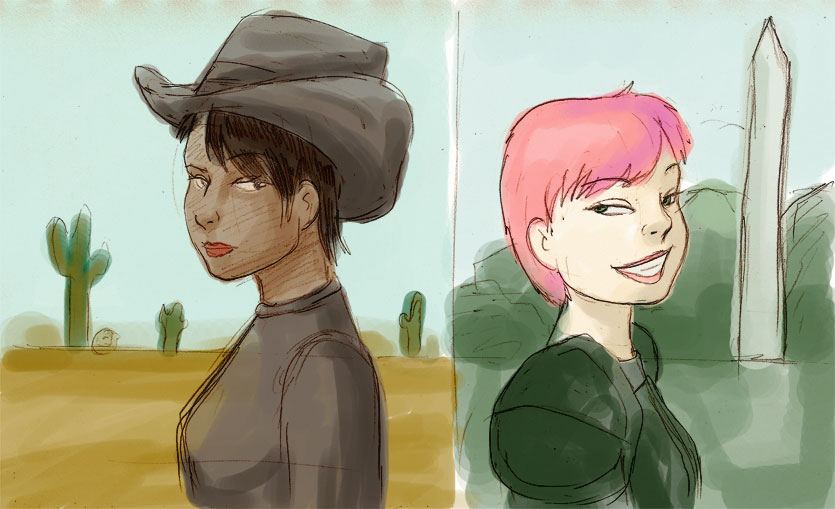 Watch
A sketch of my Fallout girls: Carmen and Kayla. I was trying to see if I could draw more ethnic diversity; Carmen's Hispanic and Kayla is Asian. Then, I figured I wanted to lay some colors down and started playing and figured I liked it enough to post.

So far, I've only started New Vegas, so I'm not sure what kind of personality Carmen will have. Nor have I decided on her outfit yet, but she likes cowboy hats.
Kayla, on the other hand, is the heroine of the Capital Wasteland. When she's not hanging around Rivet City, she can be found wandering the Wasteland doing good deeds with her trusty hound, Dogmeat, and her friend Fawkes. She changes her hairstyle quite often but keeps it dyed pink because she likes pink. She also has a bit of a crush on Harkness/A3-21 and loves plasma weapons. A lot.
Fallout 3 and New Vegas © Bethesda softworks and Obsidian Entertainment

FALLOUT IS AWESOME!!!!!
Scott is my guy.
Reply

It is, isn't it? I'm having loads of fun with New Vegas.
Is Scott your Player Character?

Reply

YAY! FALLOUT!

Your girls look awesome! New Vegas plays a bit differently from FO3 but it's also fun. Your Kayla reminds me of my FO3 gal, Charley, except Charley dyed her hair blue.
I just love the Black Widow perk in New Vegas. My Courier, Soleil, is a bit more sexual than Charley and is not afraid to sleep with men to get the job done.

Reply

Maybe you should draw your girls sometime too!

I'd love to see them.
I'm enjoying NV, now that I've got Boone to back me up and stop things from killing me. Boone!

I also love how NV lets you talk your way out of things more than FO3. Carmen's spending a lot more time schmoozing than Kayla ever did, even though both girls love to talk.
I always get the Black Widow perk, but it does seem like NV has more sexual encounters for girls than FO3.

I think Carmen and Soleil would get along just fine on the Strip.

Reply

I'd love to draw them someday. I'm just so damn lazy sometimes.

And yes, NV improved on a lot of things.

Even the endings in NV are a lot more satisfying than in FO3.
Boone is awesome! He's saved my butt from deathclaws a many times! Soleil fancies him but he broods too much over his dead wife.

Pity you can't romance anyone in the FO series. There are some NPCs my FO girls would love to romance.
Speaking of romance, have you heard about Bethesda's plan on making your character have the ability to have romantic relationships in Skyrim?

Reply

Haha, I hear you. Poor Harkness would have no chance against Kayla. XD
Romantic relationships in Skyrim?

That just made my day!

I guess Bethesda realized that some people would like romance in their worlds.

Reply

Hehe, Harkness is pretty cute.

And maybe my Charley would have actually gotten physical with Karl. He's that one member of The Family you could seduce into giving you the password for the Blood Ties quest in FO3, if you're wondering.

Yep!

And according to this
[link]
(see question #7) you could get married as well.

Reply

Uhm, this is the first time, you draw something about Fallout right ? , if you play on PC, or simply just new to find some cool armor for your courier to draw, tell me, you can say i'm a Mod freaks , i know a lot of very good mod
Reply

Thank you! But unfortunately, I'm playing on the PS3 so I don't think there's any modding available.
Reply

I think you'll enjoy New Vegas. For me, it ended up being just as good as Fallout 3, just with a different flavor.

I love how different your Courier is from your Wanderer. Kayla looks like a mischief maker.

Reply

Oh good! I'm enjoying it, but I only have an hour at a time to play at the moment and an hour in bethesda games is so not enough time, especially when you spend half of it getting lost. XD I'm still trying to get used to the new system, where food doesn't give you as much HP as stimpacks. Thank goodness for very easy mode!

And Kayla is a bit of a mischief maker. Watch out, raiders! She's got your number!

Reply