Facebook
l
Gallery
l
dA Portfolio
l
Watch Me
l
Note Me
So Built4ever is test printing his first portfolio book. Finally found the time (made the time?) to finish one of these. This is a small plan collection for House 382, seen elsewhere in the gallery. It's a Tudor style TND traditional neighborhood home for a narrow town lot, 2500 SF two-story home with alley access garage. There are no other plans that I have posted except the link to summary page I am posting. There's a total of 18 pages so far, including a contents/index page up front, along with full color front cover. Pages include: contents, pages 2-5 are full color watercolor portrait and various 3D model views of exterior and interior, pages 6-7 are floor plan and elevation sketches done in small scale 1/16" = one foot, pages 8-11 are basement, first floor, sec floor, and roof plan full construction framing plans executed in scale 1/8" = one foot, (very detailed, you won't generally ever see me posting these types of drawings on the web,) pages 12-14 framing cross sections and solutions in same scale, page 15 wall cross sections in scale 1/4" = one foot and interior door patterns, pages 16-17 are two variants, a larger version and a different garage version, both drawn at scale 1/16" = one foot, and last page facing back cover is another garage variant and a pencil portrait of house 382.
Almost all of these drawings have never been see. They will provide a prospective builder or client with enough info to build the house, with all interior framing dimensions given, all door and window centers noted and sizes noted, beams called out, HVAC general layout proposed, suggested insulation, on and on. There is NO electric plan, at least not yet.
Results of test print will reveal: did the drawings print in EXACT scale? This is crucial! Also looking for legibility, clarity, good color, etc. After I think about the results, I'll do an improved version with corrections, and quite possibly additional material.
I have not come up with a pricing scheme yet. Keep in mind this type of plan set can be used to build the house. Competing plan sets, usually sold as rolled large size sheets, can sell for anywhere from $700-$1500 and up! This is what a home-owner or builder can expect to pay for a plan set. I have to gauge who is my market for this booklet, and what will the market bear. Also considered doing a super limited first edition, premium paper, hardcover, signed by me and marked with a number, sold at a higher price and collectible, as well as less expensive "regular" copies.
I'll keep everybody posted on progress. There's more of these portfolios on the way.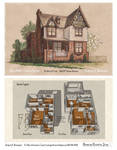 CSS made by
TwiggyTeeluck
Texture by
LilySanches

"The "Castles and Villages " book will be more like what I call a coffee table book."
I would 100% buy that!

I love looking at all your designs, but the historical/fantasy pieces are my favorites.


Ok good, I like feedback like that. The home plans portfolios will really be for a specialized audience. A Castles and Villages book will be for anybody really, just for fun. Thanks.

I agree with the above comments, I'm not in the market for building plans, but I would love a coffee table book of your work.

Are you just going to print for people interesting in using the plans to build? Or are you also contemplating a coffee table style book? Because I would be super interested in the latter.

Well, this particular one is too small for a real coffee table book, it would have to be a lot more pages. The "Castles and Villages " book will be more like what I call a coffee table book. BUT, to answer your question, I'm not sure yet on final print format and pricing. I could price a portfolio like this very high and just plan to sell 10-20 copies to people ONLY interested in building it, or I could price it at a give-away price 2-3 times the print cost, and I would have to sell thousands of copies to make up for my time involved in drawing the plans, graphics, 3D model, on and on. That's why I'm wrestling with the question: "who is my market?" Thanks for inquiry, I'll definitely keep you posted on this stuff...

You have two markets! builders and art book collectors. Whatever you decide be sure to include your contact information! I'm glad you are on DA.

Yeah that's what I figgered this afternoon after I posted this, the two extremes really, builder-client wanting a custom home or a just reg'ler folks who like nice illustrated books.

You know, your work has a good reputation in the art field and the building/architecture field. Guess you are famous!!!

Thanks! I'm probably not very aware of that. I wouldn't know. I would certainly hope to influence other designers and architects in a positive way, even if I don't really derive a direct benefit from it. I have come across people who use my illustrations in class presentations, for example.

Here's the thing: I have watched your work for a long time on DA, and have admired the fact that you work with other artists to create models, drawings, and the finished product including text. You work well with others, is what I am saying. So, imagine my surprise when a student of mine says she has always wanted to live in a Francois Beauregard home, even before I mentioned that your alias on DA was Built4ever. So she proceeds to accurately state your style, and voila, the whole class was looking at your work on the internet on the computers in our theatre design/drafting lab. There ya go!

Wow! A great honor, thanks for sharing that. Yes, working with other creative types is delicate stuff. When I went to D&D/Wizards of the coast HQ for 3 weeks I worked alongside and was surrounded by IMMENSE talent, very awestruck. But with huge talent levels like that and a corporate culture that held artists and writers in the highest esteem, they were able to get a large bunch of creatives to gel and create multi-author works like new D and D campaign books. Stress level was super low and I never heard an argument or conflict. Critique comes carefully, and being sensitive is important. Artists are not always good team players. A good art director steers this ship full of talent through uncharted waters. They have a lot of statements built into their corporate culture (hanging on wall in breakroom) about teamwork, people working AND playing together, respecting other people's turf, on and on, very different from other corporations. But in the end, witnessing HOW to get a rag-tag bunch of artist-genius people to all come together (synergy) and BOOST each other instead of compete or critique each other to death, was a great experience. I'm sure doing stage/set design you're in the same boat, with lots of visual talent, writing talent, and performing talent that all has to be blended together with minimal conflict.